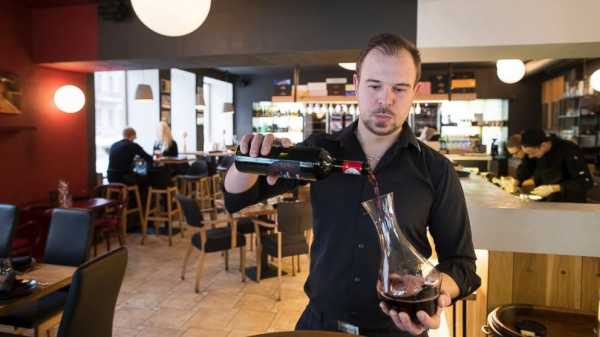 One of the heaviest drinking nations in the world is facing a severe hangover.
Lithuania's new liquor law has increased the legal drinking age from 18 to 20, banned alcohol advertising, and drastically curtailed opening hours for liquor stores. The law, in effect since Jan. 1, has stirred major controversy in this Baltic nation of 2.9 million people.
According to the World Health Organization, Lithuanians' per-capita alcohol consumption jumped more than 22 percent in a decade — from 14.9 liters (15.7 quarts) of pure alcohol annually in 2006 to 18.2 liters (19.2 quarts) in 2016. Authorities felt drastic measures were needed.
"We had to do something about it," said Health Minister Aurelijus Veryga, the main proponent of the new legislation. (Alcoholism) "makes Lithuania unattractive to foreign investments and tourism."
"Especially shocking are surveys showing that a third of our 15- and 16-year-olds consume alcohol regularly," Veryga noted.
With 36 per 100,000 people, Lithuania has the highest suicide rate in Europe, and suicide rates among alcoholics are consistently high, according to a study conducted by health specialists at Vilnius University.
"These were hard decisions," Veryga said, noting that opponents of the new law were trying "to make fools" of its supporters, including him.
Veryga became minister in late 2016 when his party — Union of Farmers and Greens Union — claimed most seats at the national elections. The party has pushed ahead with several conservative law changes in family policy, despite public protests and disagreements with coalition partners.
On a mural covering a wall of a popular Vilnius restaurant, Veryga is depicted as a Taliban fighter holding an AK-47 machine gun under the heading "the party is over," reflecting concerns that Lithuania is entering a dark era of radical bans and restrictions.
Some columnists suggested Lithuania should start censoring classic literature describing the consumption of spirits, while members of the opposition have already filed amendments seeking to repeal the harshest aspects of the law. Even the country's president, Dalia Grybauskaite, has called for amendments.
"It reminds me of the Middle Ages and it causes huge international harm to Lithuania's image and reputation abroad," Grybauskaite said, speaking about pages having to be torn out of foreign magazines.
Publishers have rushed to remove — or cover with red stickers — liquor ads from foreign publications distributed in the country to avoid fines of 30,000 euros ($37,480) per ad.
Analysts point out that the new laws are being pushed through without any dialogue, disregarding unwanted side-effects, international practices or even common sense.
"Their political program is a collection of random ideas wrapped in Messianism and shrouded in hypocrisy," said Zilvinas Silenas, president of the Lithuania Free Market Institute, a Vilnius-based think tank. "But they are very consistently prohibitionist about regulating personal choice and lifestyle."
"The party has no identity except for a crusade against what people put in their mouths," Silenas added.
Restaurants have also been affected. Wine bottles are no longer allowed to be displayed after 8 p.m. as its labels are considered advertising and patrons have a choice of buying wine by the glass or having it served in a decanter.
"This is just ridiculous," said Arunas Starkus, study director at the Sommelier School of Lithuania, calling the new rules "simply irrational and naive."
"It takes decades to change people's customs and it has to be done by changing the culture, not by implementing restrictions and penalties," Starkus said.
Underage drinkers are still welcome at many downtown bars, with owners highly skeptical about the new regulations.
"Of course, we let in everybody, even those who are under 20," said Raminta Ruibyte, manager of a popular Vilnius bar. "We can offer them non-alcoholic beverages."
Minister Veryga, for his part, was unmoved.
"Nobody will solve these problems for us," Veryga said. "We must … help the new generation grow up not thinking that alcohol is the main factor that unites and keeps our society together."
Sourse: abcnews.go.com