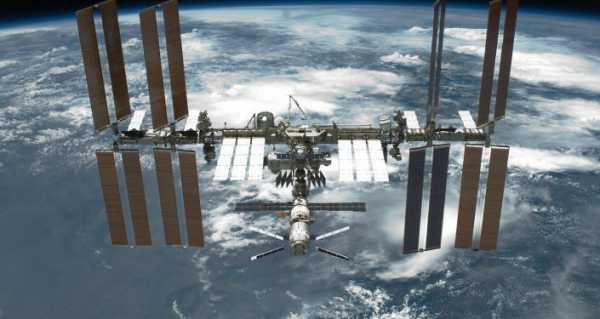 MOSCOW (Sputnik) – A commission of Russian State Space Corporation Roscosmos believes that cracks in Russia's Zvezda module at the International Space Station (ISS) were most likely formed due to metal fatigue or micrometeorite impact, a source in the rocket and space sphere said on Wednesday.
The commission unites experts from Roscosmos, the Rocket and Space Corporation Energia, the Central Research Institute of Machine Building, the Tekhnomash Scientific Production Association and the Khrunichev State Research and Production Space Center.
According to the source, Russian cosmonauts will examine the Zvezda module's surface during a spacewalk in the summer to detect the micrometeorite's impact that could cause an air leak.
The source added that during the spacewalk the cosmonauts would be able to corroborate or refute Roscosmos' assumption regarding the reason for the air leak.
The ISS began leaking air in September 2019. The Russian crew sealed a 1.8-inch jagged tear in the Zvezda module in October 2020, but ISS Russian Segment Flight Director Vladimir Solovyov said in January that the orbital outpost was still leaking tiny amounts of air.
Roscosmos chief Dmitry Rogozin earlier expressed the belief the leak could be caused by a micrometeorite impact.
Currently, the members of the 64th expedition are operating on the ISS, including Russian cosmonauts Sergey Ryzhikov and Sergey Kud-Sverchkov; US astronauts Kathleen Rubins, Victor Glove, Shannon Walker, and Mike Hopkins; and Japanese astronaut Soichi Noguchi.
Sourse: sputniknews.com