Democrats had a good night. So did abortion rights. Glenn Youngkin, not so much.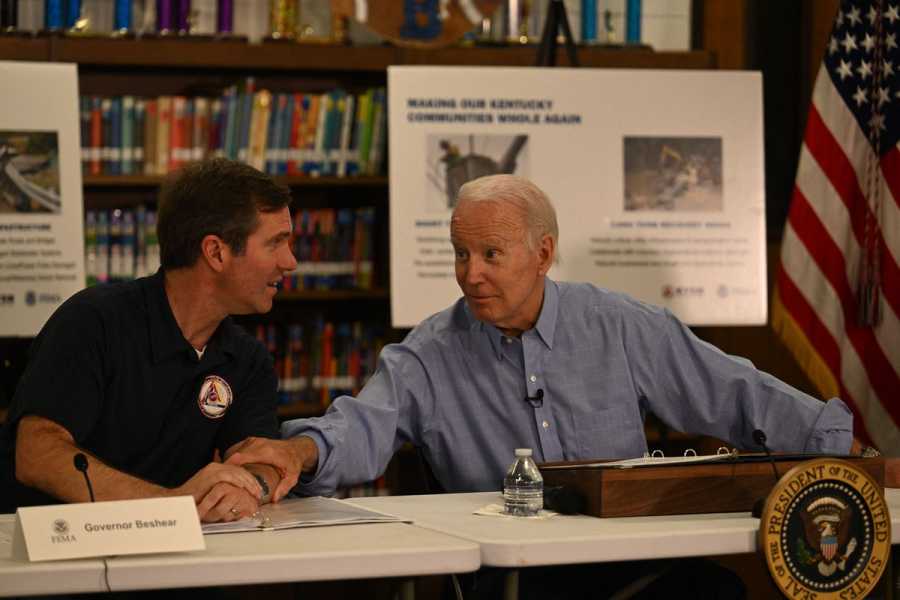 US President Joe Biden (right) and Kentucky Gov. Andy Beshear participate in a briefing on response efforts to the flooding at Marie Roberts Elementary School, in Lost Creek, Kentucky on August 8, 2022. Jim Watson/AFP via Getty Andrew Prokop is a senior politics correspondent at Vox, covering the White House, elections, and political scandals and investigations. He's worked at Vox since the site's launch in 2014, and before that, he worked as a research assistant at the New Yorker's Washington, DC, bureau.
The 2023 general election on Tuesday, November 7, featured only a grab-bag group of contests, but there was one clear overall theme in the results: Democrats did well.
Gov. Andy Beshear (D) won reelection in deep-red Kentucky. Democrats seemed set to hold onto the Virginia state Senate and take over the Virginia state House, blocking Republican Gov. Glenn Youngkin's hopes of passing conservative policies (and perhaps his ambitions in national politics). Meanwhile, Ohio voters enshrined the protection of abortion rights in the state constitution and legalized recreational cannabis.
Strangely, all this happened while President Joe Biden has been getting some of his worst polling numbers yet. As in the 2022 midterms, though, national dissatisfaction with Biden did not lead to a red wave sweeping out Democrats across the country or to wins for conservative policy proposals in ballot initiatives.
If you're looking for tea leaves about how 2024 will go, don't get carried away. Many of these outcomes were driven by local personalities, issues, and circumstances. And they took place in so few states that the results hardly present a clear picture of where opinion in the country is, or where it will be next year. But wins are wins, and Democrats got some significant ones on Tuesday.
Winner: Democrats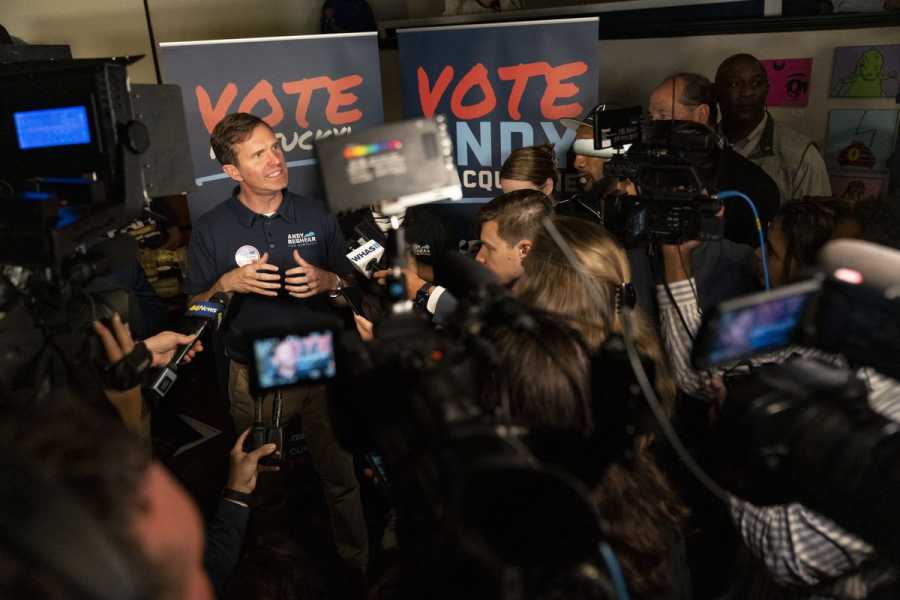 Incumbent Democratic Gov. Andy Beshear speaks to the press and supporters on his last campaign stop before the election, on November 6, 2023, in Louisville, Kentucky. Michael Swensen/Getty
Democrats had about as good a night on Tuesday as they could have reasonably expected.
Gov. Beshear's reelection in Kentucky proves that Democrats can still win in Trump Country, especially if they happen to be the son of a popular former governor. Though Republicans won the other statewide races on the ballot in Kentucky, Beshear beat back the candidacy of Daniel Cameron (R), who had been hyped as a Republican rising star, to win a second term.
The other governor's race on the ballot was in Mississippi, where Brandon Presley (D) put forth a surprisingly strong challenge to Gov. Tate Reeves (R) in this red state but ultimately conceded the race late Tuesday night.
Then, in Virginia, Democrats held onto their majority in the Virginia state Senate, prevailing in an expensive contest against Gov. Youngkin and Virginia Republicans. Legislative races in the other states on the ballot this year — New Jersey, Louisiana, and Mississippi — appeared to show little change. A Democrat won in Pennsylvania's state Supreme Court race as well, preserving the party's 5-2 majority in a court that heard many election-related challenges in 2020.
This wasn't a blue wave sweeping the nation, exactly. And the margins of key Virginia races looked more similar to 2021's than 2020's (when Biden won the state big). But considering how the incumbent president's party usually suffers in off-year elections, and how bad Biden's national numbers have been, Democrats should be pretty pleased with these outcomes.
Winner: abortion rights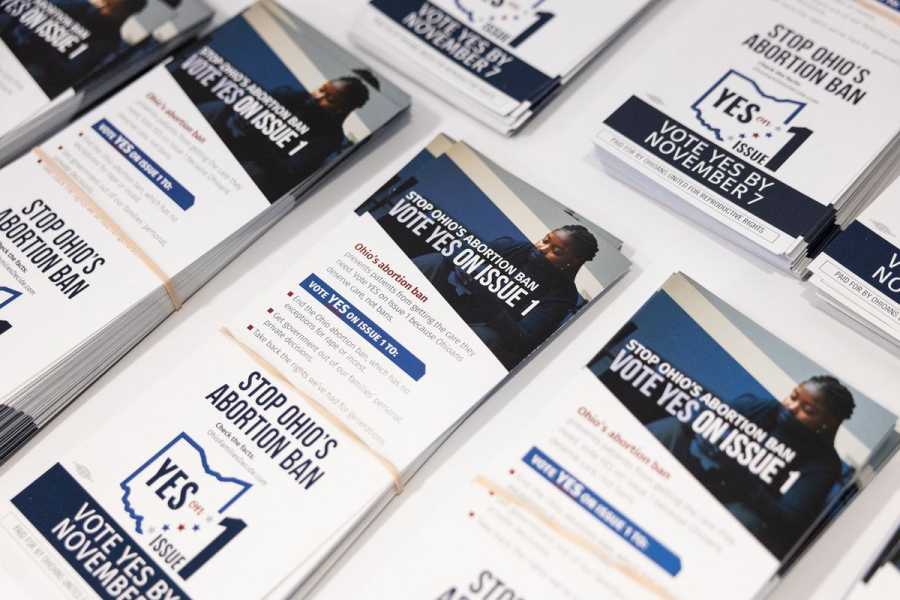 AFP via Getty Images
Tuesday was an excellent night for supporters of abortion rights — again.
Their biggest victory was in the ballot referendum in Ohio, which both codified abortion access up to the point when a fetus is viable and made clear abortions would be permitted even after viability if a doctor deems it necessary to protect a patient's health. Ohio Republicans had previously passed a law banning abortion after six weeks of pregnancy, but it had been blocked in court, with the state Supreme Court hearing arguments about it in September. Now that's off the table.
But abortion rights were a major theme in Beshear's reelection campaign in Kentucky and Youngkin's attempt to flip the state legislature in Virginia, as well as in the Pennsylvania Supreme Court race. In election after election and referendum after referendum in the post-Dobbs era, voters have made clear — even in many red states — that they are not enthusiastic about major abortion restrictions.
Yet Republicans remain beholden to right-wing voters and activists demanding such restrictions — and it keeps backfiring on them in elections.
Loser: Virginia Gov. Glenn Youngkin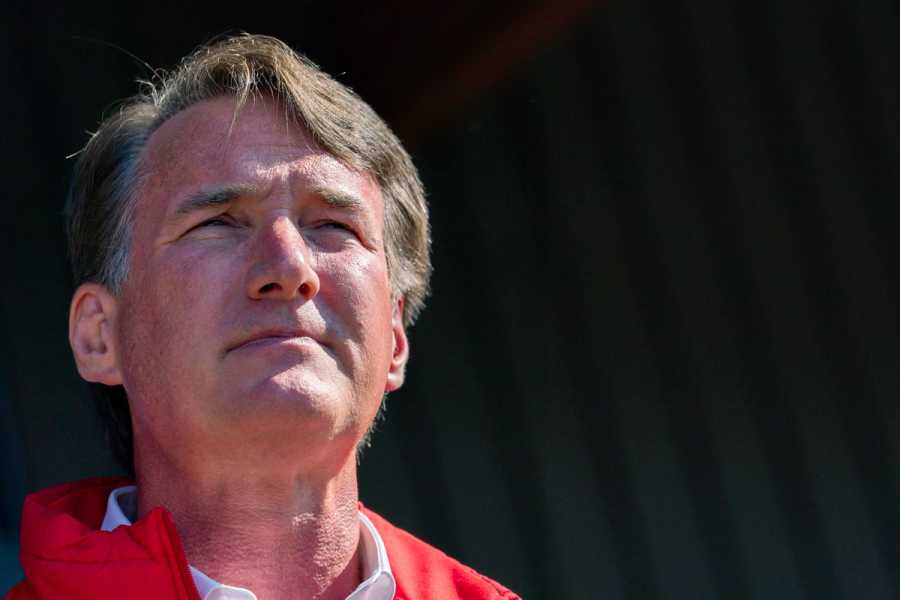 Glenn Youngkin, governor of Virginia, speaks during a "Get Out the Vote" rally in Richmond, Virginia, on November 5, 2023. Nathan Howard/Bloomberg via Getty
Every so often this year, a story would pop up claiming that Youngkin was considering challenging Donald Trump in the GOP presidential primary. However, these stories all claimed, Youngkin would wait to make up his mind until after his state's legislative elections, in which he was hoping to wrest control of the state Senate from Democrats. Big wins for Virginia Republicans, the theory went, would prove Youngkin was a political powerhouse who could win nationally too.
This never made a ton of sense, both because there are such things as ballot deadlines that would make the timing extremely difficult, and because national GOP voters have been quite loyal to Trump. More likely, Youngkin hoped that full control of Virginia's government could let him pass laws like a ban on abortions after 15 weeks of pregnancy, making himself a champion of the right and positioning him well for the 2028 presidential race. He made no secret of his abortion policy — hoping that he could show Republicans how to run on the issue and win.
But he didn't win. Republicans fell short of retaking the state Senate, likely in part because Democrats campaigned on abortion. The state House results had not yet been called by the Associated Press as of 11:30 pm Eastern Tuesday, but Democratic control of even one chamber will be enough to prevent Youngkin from using the legislature to cozy up to the national right. And Youngkin won't get another shot — Virginia governors can't run for reelection. So while it may be too sweeping to say his presidential ambitions have been squashed, they've certainly taken a serious hit.
Winner: Joe Biden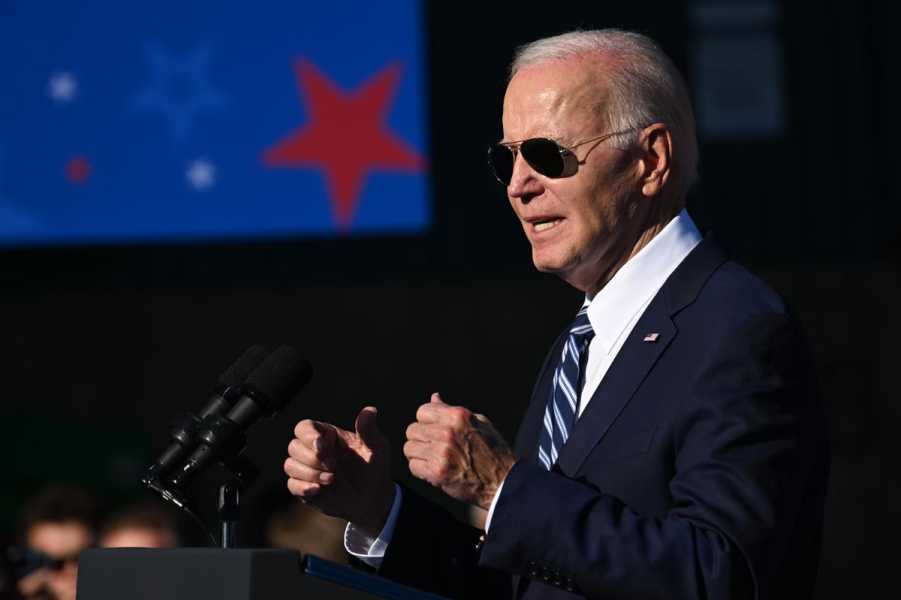 President Joe Biden speaks at Tioga Marine Terminal on October 13, 2023, in Philadelphia, Pennsylvania. Mark Makela/Getty Images
Biden was not on the ballot in any state this year, and it would be a mistake to think that Tuesday's results have any real connection to how he'll do in 2024.
But, as mentioned above, the president has been dogged by a series of brutal polls of late showing him trailing Donald Trump nationally and in most battleground states.
Democrats and political analysts have hotly debated what to make of these polls, with some arguing that they show Biden is a badly flawed candidate who might put Trump back into the White House if he persists in running again. Former Obama adviser David Axelrod tweeted this weekend that Biden needed to consider whether it would be "wise" for him to run again. Recent news reports spoke of some Democrats' "worry," "frustrations," and "panic."
But others have argued that these polls tell us little of value. After all, they're being taken a year in advance of the election at a time when Biden's likely opponent, Trump, has had a relatively minor (for him) role in the news cycle. Such a panic occurred before the 2022 midterms, they point out, and yet Democrats did better than expected there. Biden's numbers will likely recover once the choice is clearly framed for voters as Biden or Trump, the argument goes.
Democrats' wins Tuesday will likely ease some of the pressure on Biden, feeding a sense that in the party, regardless of what the polls say, Democrats' strategy and coalition turn out to be solid when people actually vote.
Now it's not clear whether that inference would actually be correct. I said just a few paragraphs ago that it would be a mistake to connect these races to 2024, which will feature a very different electorate. (It's possible that Democrats are now the party that is structurally advantaged in non-presidential-year elections, since they now do so well among college-educated voters, who are more likely to vote consistently.) And even if Biden's party does well now, it's still possible that he himself is a uniquely vulnerable candidate, either due to his age or his record in office.
Still, winning is better than losing. So regardless of what the future holds, Biden has good reason to be happy about Tuesday's results.
Sourse: vox.com