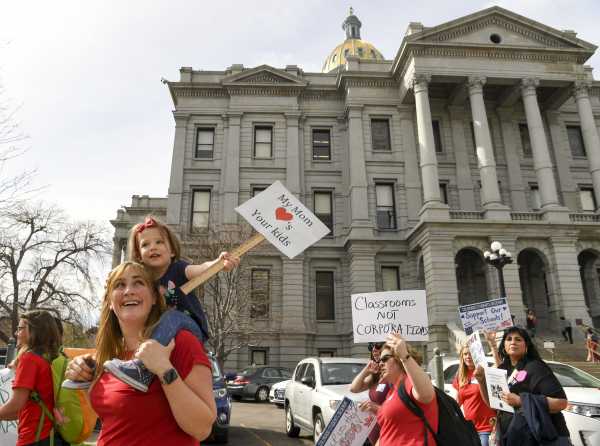 Two Republican state lawmakers are trying to shut down a potential teachers strike in Colorado with the threat of jail time.
The bill, introduced in the state Senate Friday, prohibits districts from supporting a teachers strike and requires schools to dock a teacher's pay for each day they participate in a walkout. The teachers could also face up to six months in jail and a $500 daily fine if they violate a court order to stop striking. Under the new law, sponsored by state Sen. Bob Gardner (R) and state Rep. Paul Lundeen (R), a teacher could be immediately fired without a hearing.
The harsh punishment comes in reaction to the teacher strikes sweeping red and purple states, including Oklahoma, West Virginia, Arizona, and Kentucky. Thousands of teachers in Colorado have joined the grassroots movement, holding rallies at the state capitol in recent weeks to demand a pay raise and more funding.
Teachers are planning to walk out of class on April 27 to protest low teacher pay and school spending. Several school districts, including Denver schools, have announced they will close that day.
Colorado teachers are among the lowest paid in the country, earning an average $46,155 in 2016 — ranking Colorado 46th in average teacher pay according to the National Education Association. The state also spends about $2,500 less per student each year than the national average.
The Colorado Education Association is supporting the teacher walkout, and the Senate bill proposed on Friday would also punish the organization in the event of an illegal strike. The law would allow school districts to seek a court injunction against teachers and teacher organizations that are threatening to strike. If the organization (either a union or a professional association) violates the court order, it faces a fine of up to $10,000 a day and a ban on representing teachers in the state for up to a year.
The chances of passing SB 18-264 are slim if Democrats don't get on board. (At least one Democratic senator has publicly slammed the bill.) While Republicans have control over the state Senate, Democrats control the House and governor's mansion.
Sourse: vox.com