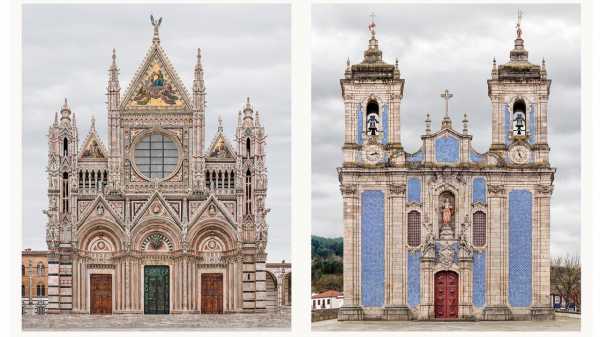 Markus Brunetti's pictures of church façades have nothing to do with
religion but you still have to take them on faith. If you stood in
front of one of these majestic buildings in Europe or Britain, what
Brunetti's work reveals is not what you'd see. Each image is an
amalgamation of thousands of photographs, which Brunetti takes from the
street with a large-format camera in the course of weeks or even, in
some cases, months. (Brunetti, who is German, started the series in
2005, after trading in a job in advertising to live in a mobile computer
lab with his partner, the photographer Betty Schöner.) Then he spends
years digitally stitching the ornate details together, while erasing
pesky signs of modern life. Gone are the tourists, the postcard venders,
lampposts, scaffolding, pigeons, and most of the trees (a few remain to
establish a sense of scale). A smattering of gravestones at the base of
a medieval wooden stave church in Borgund, Norway, might seem like the
closest that Brunetti comes to acknowledging the human race. But
consider the countless anonymous stonemasons, wood-carvers, ironworkers, tile setters, gilders, sculptors, and stained-glass makers
whose painstaking work he memorializes, most of whom didn't live to see
the magnificent results of their labor. If eight years sounds like a
long time to complete an image of the Duomo di Santa Maria Nascente, in
Milan, which Brunetti worked on from 2009 to 2017, reflect on the fact
that the church itself took six hundred years to complete.
"Milano, Duomo di Santa Maria Nascente," 2009-2017.
Because of its typological bent and architectural focus, Brunetti's
project is often compared to that of the great German artists Bernd and
Hilla Becher, who spent decades documenting Europe's industrial
structures—gas tanks, blast furnaces, water towers—in impassive
black-and-white photographs that rank as some of the best of the
twentieth century, on a par with Walker Evans's admittedly more
tenderhearted pictures of the churches, storefronts, and roadside
architecture of the American South. Brunetti's work has a laborious,
even clinical edge that holds it back from the ranks of the greats, but
there is a noteworthy similarity between his "Facades" and the Bechers'
"Anonymous Sculptures": the skies are consistently gray. Brunetti favors
the light of overcast days, or of the very early morning, because it
minimizes shadow. This pursuit of pictorial flatness is arguably more
akin to the idealized geometry of an architectural drawing than it is to
a photograph. As Brunetti has said of his category-defying work, "the
right term hasn't been found yet."
"Borgund, Stavkyrkje," 2016-2017.
"Wells Cathedral Church of St. Andrews," 2015-2016.
"Druskininkai, Visų liūdinčiųjų Džiaugsmas cerkvė," 2016-2017.
"Potsdam, Alexander-Newski-Gedächtniskirche," 2015-2017.
"Amiens, Cathédrale Notre-Dame," 2009-2016.
"Beverley, Minster," 2014-2015.
"Orleans, Cathédrale Sainte-Croix," 2008-2016.
"Siena, Cattedrale di Santa Maria Assunta," 2008-2017.
"Vendome, Eglise de la Trinité," 2013–2018.
"Ribeira de Pena, Igreja Matriz do Salvador," 2013-2017.
Sourse: newyorker.com