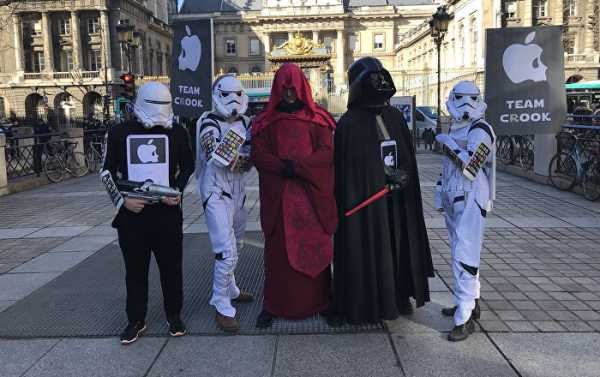 Activists from the Association for the Taxation of Financial Transactions and Citizens' Action (Attac) protested Apple, Inc. while wearing "Star Wars" saga costumes and playing the series' famous soundtrack.
The activists protested Apple's lawsuit demanding Attac be prohibited from conducting demonstrations inside Apple outlets. In December 2017, Attac activists entered and occupied several Apple stores in France, claiming the Silicon Valley-based company is evading taxes.
As Sputnik reported in December, Attac claims Apple's "tax optimization methods have allowed it to accumulate more than $230 billion in tax havens" and that the company sends a portion of profits to its Irish subsidiaries in order to avoid paying taxes.
"Apple must stop denying the tax practices highlighted by the European Commission's investigation, withdraw its appeal to the European Court of Justice and pay its fine of 13 billion euros as quickly as possible," Aurélie Trouvé, spokesman for Attac, said at the time.
On February 12, the company filed a lawsuit asking that the activists be blocked from entering and occupying the company's stores. The activists reacted with another protest — this time, in "Star Wars" franchise costumes, equating Apple to The Empire and CEO Tim Cook to Emperor Palpatine.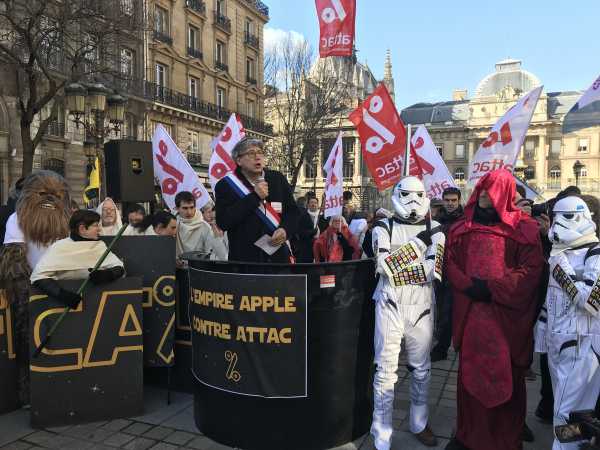 Apple Contre Attac, 12 February 2018
According to the lawsuit, Apple states that it has "a long tradition of supporting individuals and groups that peacefully express their opinions," but it also believes that vandalism of its stores and potential danger to its customers are unacceptable.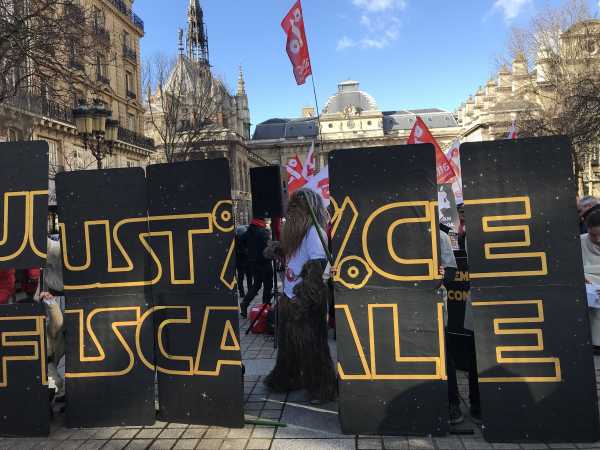 Apple Contre Attac, 12 February 2018
In addition to the 3,000 euros in compensation, Apple is seeking a French court order to ban Attac from future protests with a penalty of 150,000 euros if that ban is broken.
Dominique Plihon, a spokesman for Attac France, said the lawsuit was "an attempt to gag Attac and prevent us from holding new citizen actions to condemn tax evasion by multinationals," according to 9to5Mac.com.
"These demands are totally out of proportion with regard to the superior principle of freedom of expression and freedom to demonstrate, which is guaranteed by French law and the European convention on human rights," Attac's lawyer Julien Pignon told France Info.
Sourse: sputniknews.com