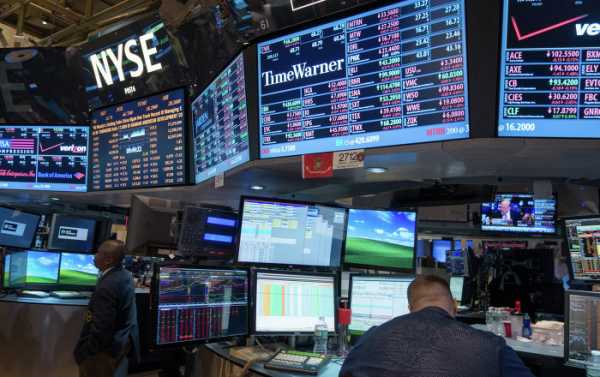 WASHINGTON (Sputnik) – Values of the US stock market are likely to fluctuate sharply for some time before finding a new level of stability as corrections are made to inflated prices and hedging interest rate risk, analysts told Sputnik.
On Monday, the Dow Jones Industrial Average regained more than 400 points in volatile trading after losing more than 2,000 points or 10 percent in value — more than $1 trillion — since late January. Last week was the worst that US markets had experienced in two years.
More Turbulence Ahead
Last week's sell-off came amid rising bond yields, an indicator of possible inflation, MarketWatch reported on Friday. Strategists also said equity markets were due for a pullback after big gains in January and throughout 2017, the report added.
"We had several days of declining stock prices — 're-pricing of risk' — or correction, and now one may expect a period of choppy trading that eventually finds a stabilizing range, but with more variation than before," retired Brown University Assistant Professor of Economics Barry Friedman said.
A correction in the market was overdue this year because stock prices were widely recognized as being inflated beyond their true value, Friedman explained.
"It was clear to most analysts you would see in January on CNBC or read in Bloomberg View that the euphoric and steady rise in the stock averages were not sustainable for a long period," he said.
Investors were building into their expectations the increased profit potential for businesses after the Trump administration's anticipated new tax policy was enacted, Friedman noted.
"At the same time, a corresponding expectation was that at some time in the future we would see higher interest rates and rising inflation, both to a gradual degree if all went well," he said.
Major investors in the market were already prepared to sell holdings in anticipation of a downturn, Friedman pointed out.
"Any money manager should be fired if he didn't have a plan to lighten up somewhat on stocks and head for the exit door at a sign of reversal," Friedman added.
The US markets overreacted to news that was negative but not extreme, Friedman maintained.
"With the triggering news of a blip in wage growth and higher interest rates in world markets, there was a rush for the exits,'" he said. "Traders have a saying that the market goes up on an escalator and comes down on the elevator."
Some of the market selloffs in the past week had been undertaken to give money managers the cash on hand, or liquidity to take advantage of undervalued stocks after the anticipated market correction, or limited downturn took place, Friedman assessed.
"So there is a priority to lighten up quickly to be able to pick up some bargains late," he said. "You will hear about some derivative funds that crashed, but that is not the main story."
Friedman said he saw "reasonable evidence" of global growth to provide underlying strength and he added that President Donald Trump's tax policy was clearly favorable to company profits in that environment.
US President Ronald Reagan said after the 1987 one-day crash, "the fundamentals are strong," Friedman reminded. Many stocks have been vulnerable to sudden declines as news affects sentiment and expectations, but investors should not overreact, Friedman cautioned.
"Don't panic, get some specific strategic advice on dealing with variations, and good," he recommended.
Overdue Correction
Independent Institute Center for Peace & Freedom Director Ivan Eland told Sputnik that US stocks had been overvalued so that a correction in the market had been inevitable given the price-to-earnings and adjusted price-to-earnings ratios were "out of kilter."
However, Eland said he too expected the market to stabilize after the current period of volatility.
"The underlying US economy is good, so I don't think it's worrisome," Eland said.
The US stock market has been going up for over two years with no correction, analysts have noted.
Last week's Dow Jones plunge caused a chain reaction, hitting exchanges around the globe over anxieties of interest rate hikes. On Friday, Tokyo stocks dropped 3.4 percent in the morning trade while China's benchmark indexes posted significant losses for the first time in more than two years.
Sourse: sputniknews.com