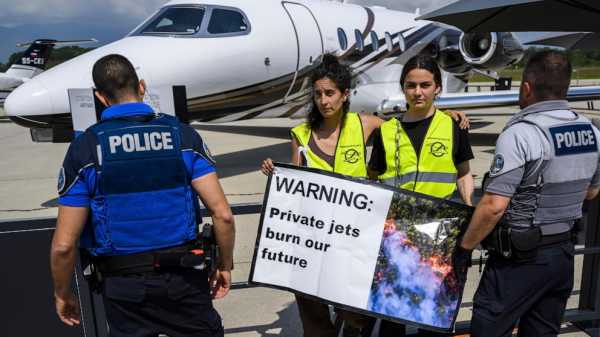 GENEVA — Geneva's airport was briefly closed to flights on Tuesday as climate activists stormed a private jet fair on a nearby tarmac by ripping down or scaling fences, handcuffing themselves to landing gear and other material, and scuffling with police and security before being hauled away. City police said about 80 people were detained.
The protest involved about 100 activists from 17 countries and groups, including Greenpeace, Scientist Rebellion, Stay Grounded and Extinction Rebellion, who disrupted the annual European Business Aviation Convention and Exhibition — one of the industry's premier events, which is taking place in Geneva this week.
Video images showed yellow-vested protesters pulling down a wire fence as police tried to tackle them or douse them with pepper spray while an alarm sounded. Others, arriving by bicycle and wielding ladders, scaled a fence in a separate area with less security to access the tarmac.
Some demonstrators were spotted smiling as they took cellphone images of the incursion onto the static displays on the fringes of the Geneva airport.
Once inside, demonstrators stuck warning labels on planes with messages such as "Private jets burn our future" or chanted "Climate justice!"
Sandy Bouchat, spokeswoman for the Geneva airport, said it was temporarily shut to both outbound and inbound flights for about an hour, for security reasons. Seven flights were diverted and others were delayed.
Airport operators said they planned to file criminal complaints, adding that four people, including activists and private security staff, were injured in the protest.
The protest comes months after climate activists blocked private jets at Amsterdam Schiphol airport, arguing that the super-rich should be stopped from causing vastly more greenhouse gas emissions than the rest of the world's population.
"Whilst many can't afford food and rent anymore, the super rich wreck our planet, unless we put an end to it," said Mira Kapfinger of the group Stay Grounded. "Apart from banning private jets, it's also time to end air miles schemes which reward frequent flying, and instead tax frequent flyers. We need fair climate solutions."
Added Joel Perret, a spokesperson from Extinction Rebellion: "Geneva is home to one of the airports with the most private jet traffic in Europe. This is where change must begin: We need to drastically reduce aviation to halt climate catastrophe and the destruction of life."
The Brussels-based environmental think tank Transport & Environment said that emissions from private jets increased faster than those from other forms of aviation between 2005 and 2019. In a report published two years ago, it found that private jets generate between five and 14 times more pollution per passenger than regular passenger planes.
Top officials of the European Business Aviation Association and Washington-based National Business Aviation Association, which jointly organized the expo, said the protesters missed a chance for "constructive dialogue" about sustainability in the sector.
"This is a completely unacceptable form of protest," NBAA President and CEO Ed Bolen and EBAA Chairman Juergen Wiese said in a statement. They insisted business aviation was "deeply committed to climate action" and the industry has cut its carbon emissions by 40% over the past 40 years, and is working toward achieving net-zero emissions by 2050.
Organizers of the show also suggested that visitors could support sustainability by using recycling bins and Geneva public transportation; bringing their favorite reusable water bottle or utensils; asking their hotel not to replace towels every day; and encouraging them to "opt for a vegetarian meal at least once during each day of the show."
___
Frank Jordans in Berlin contributed to this report.
Sourse: abcnews.go.com