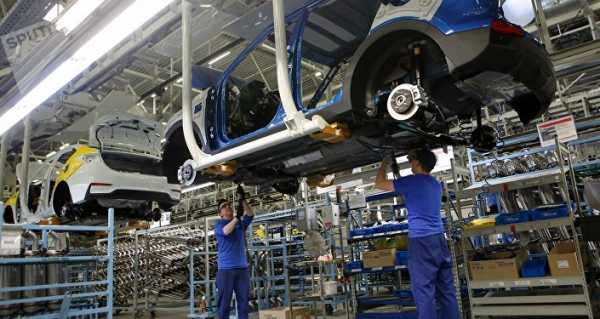 Major industries around the world have been hit by the ongoing semiconductor shortage, with many firms bracing for further headaches as supplies continue to worsen amid skyrocketing demand for chips for numerous consumer electronics.
South Korean automaker Hyundai Motor Co announced on Friday it will halt production at its Asan plant due to the ongoing global semiconductor shortage, Yonhap News Agency reported on Friday.
The firm said it would suspend production from Monday due to "supply conditions" for powertrain control units, it said.
Hyundai's Asan factory manufactures 300,000 vehicles each year, including the Grandeur and Sonata, the report said.
The news comes after the auto giant announced in March it would halt production at its Ulsan factory amid the ongoing US-China trade war, which has also led to further destabilised supply chains around the world, sparking a funding race between the United States and China to decouple from key foreign technologies.
Automotive Industry
The automotive industry has been the worst affect by the ongoing shortage as multiple automakers have shuttered production at factories temporarily until supply lines can stabilise.
Semiconductors are used in a massive amount of control systems and smart technologies in the automotive industry, including artificial intelligence, connected car and sensor monitoring systems, among many others.
Firms such as Hyundai, Honda, Ford, General Motors, Stellantis and others have seen operations hit by the chip crunch.
Souring conditions have triggered lobbying efforts from the Alliance for Auto Innovation, who requested US president Joe Biden to boost production for key components due to the looming threat,
Vehicle production could potentially see a reduction of over 1m vehicles, Forbes reported in April.
Biden has requested relief from multiple Federal agencies to tackle the crisis and requested $37bn to ramp up chip production.
Further woes for the global chip industry came after a major fire at the Renesas Electronic Corporation in Tokyo on 19 March, damaging roughly 23 machines used for processors at its Naka Factory, a press statement revealed.
Consumer Electronics, Medical
Several major tech giants such as Apple, Intel and Samsung have struggled with rising demand for consumer electronics amid the ongoing COVID-19 pandemic, which has forced many to work remotely and communicate online.
Apple Computers was forced to scale down production for its iPad and MacBook product lines amid the shortage as several supply chains for mounting semiconductors on integrated circuit boards were backlogged, Nikkei Asia reported, adding despite the firm's "massive procurement power", Apple expects the crisis to worsen in the coming months.
Other industries such as medical instruments and telecoms infrastructure are likely to be affected, reports revealed.
Efforts to Boost Global Production Amid the Trade War

Intel has offered to boost capacity with two fab plants in Arizona worth $20bn despite failed efforts to compete with Taiwan Semiconductor Manufacturing Corp, the world's largest and most advanced chipmaking firm.
TSMC chairman Mark Liu slammed nations working to build tech self-sufficiency, citing the ongoing US-China trade war.
Ongoing tech nationalism efforts had led to "double booking" but resolutions to the global crisis depended on future negotiations between Washington and Beijing, he said at a meeting in Hsinchu.
The UK's largest chipmaker, Newport Wafer Fab, raised more than £50m earlier this year to boost production, adding it would use the capital to double chip wafer manufacturing from 8,000 to 14,000, the Telegraph reported in January.
Demand for chips had "absolutely skyrocketed" in Q4 over the last three months, Newport chairman Drew Nelson said.
Sourse: sputniknews.com