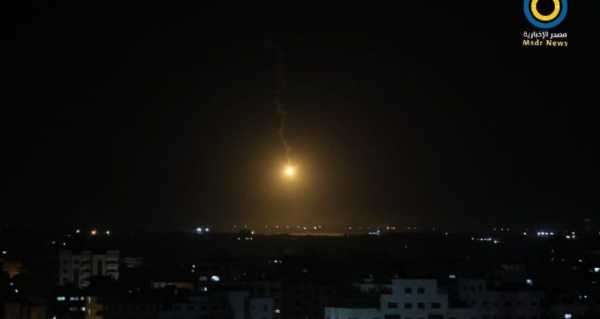 In mid-May, Israel and Hamas were embroiled in a fierce confrontation that lasted 11 days, ending May 20 in an Egypt-brokered ceasefire. After days of skirmishes in East Jerusalem between the Arab community and Israeli police over an Israeli court decision to expel several Palestinian families from their neighborhood, violence erupted.
The Israeli Air Force struck the territory of the Palestinian Gaza Strip in the area of Khan Younis on Monday night, local media reported, citing eyewitnesses.
According to initial reports, the target of the airstrike was likely a Hamas facility in southern Gaza. Some media speculated that the strike was in retaliation for incendiary balloons launched earlier by Palestinian militants.
The IDF claimed the site which was attacked was located in a populated area, near "cultural sites, mosques and a water facility," blaming Hamas for what it says are retaliatory strikes.
Several videos emerged on social media showing the explosions and the aftermath of the airstrikes, including what appears to be heavy fire.
In some videos, the alleged secondary explosions following the airstrike are visible, in connection with which some media suggest that the target was a cache of missiles belonging to the military wing of Hamas.
Some local reporters stated that in response to the airstrikes conducted by the IDF, heavy machine gun fire could be heard, aimed at the jets flying over Gaza City.
According to The Jerusalem Post, at least three fires broke out in the Sha'ar Hanegev Regional Council earlier on Monday, and an investigator asserted that they were caused by incendiary balloons flown across from Gaza.
In mid-August, the IDF said its Iron Dome anti-missile system had thwarted a rocket attack from Gaza Strip launched toward the southern city of Sderot, located near Gaza, as sirens were activated in the area. Sderot, 1.5 kilometers from the Gaza border, was one of the hardest-hit areas during the previous escalation between Israel and Hamas.
Sourse: sputniknews.com