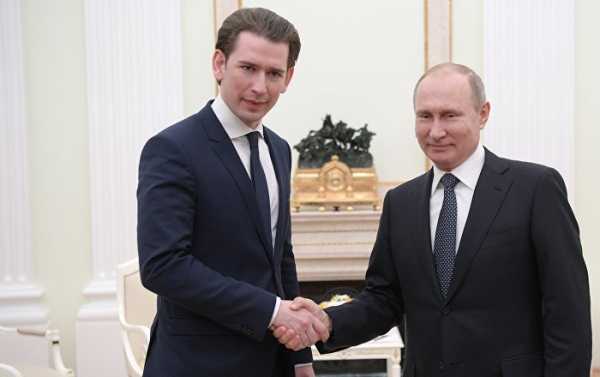 The former Chancellor of the country expressed dissatisfaction with the position in Vienna, in the case Skripal and accused the current government of inconsistency.
The ex-Chancellor of Austria, Christian Kern, said that the current leadership of the country made the mistake of refusing to expel Russian diplomats along with 25 other Western countries.
"A man has symbolically supported the decision of the [EU summit]," said Kern, given the Kleine Zeitung. "We are not the first to support the resolution and then to refrain from taking measures," he added.
Kern called the current policy of the Chancellor of Austria Sebastian Kurz inconsistent and wrong. He recalled that during the summit of EU leaders in March, Austria along with other EU countries, expressed solidarity with the Kingdom, but then suddenly refused to expel Russian diplomats, contrary to the expectations of other countries.
"It will cost [Austria] the trust of its European partners", – he warned, adding that the zigzag policy of the veins pushes the country into a corner.
He also noted that Austria is part of the West, and therefore must adhere to Western values.
But "obviously, Kurtz and strache feel better with Kaczynski and Orban, than Merkel and macron," Kern concluded.
The Austrian people's party (övp), led by Sebastian Kurz answered core critics with restraint, stating that "Christian Kern, obviously, heading to the NATO membership", adding that "the Federal Chancellor of Austria Sebastian Kurz, on the other hand, using a proven method of building bridges."
Earlier, the Chancellor of Austria Sebastian Kurz called several reasons for the decision of Vienna not to expel Russian diplomats at the behest of London in the background of scandalous cases Skripal.
"Now we have good relations with Russia. We are a neutral country and home to the headquarters of many international organizations such as the UN and the OSCE; hundreds of diplomats come here to hold talks on neutral territory. That's why we can develop the role of a bridge between peoples," said Kurtz.
His announcement came a few days after Britain expelled more than 20 Russian diplomats and urged other countries to adopt the same measures, accusing Moscow of poisoning Russian ex-spy Sergei Skripal. More than 25 countries, including most member countries of the EU, other European countries and also the USA, Canada and Australia followed the example.
March 4, Skripal and his daughter Julia was found unconscious on a bench at a shopping center in Salisbury, England, and currently are being treated for exposure as described by the British experts were 234 nerve gas. The UK claims that this substance was developed in the Soviet Union and accused Russia in the attack.
Russia categorically denies the accusations and has offered assistance in the investigation. However, a request for samples of chemical substances used for poisoning Skripal was denied.
Sourse: sputniknews.com