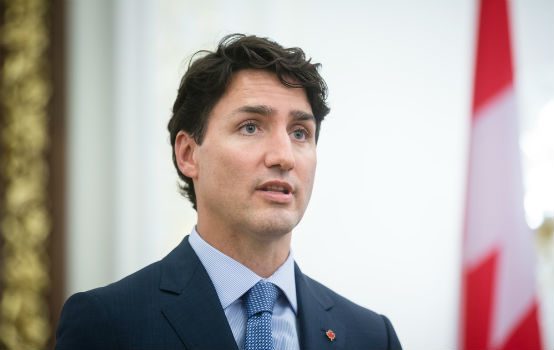 Canada's elections are coming up on October 21, and the country is in a bit of a tizzy. Liberal Prime Minister Justin Trudeau is still reeling from the uncovering of multiple blackface scandals in his past, a controversial decision to unilaterally push forward a protested pipeline project, and a nasty corruption incident that saw the departure of his indigenous female attorney general Jody Wilson-Raybould, who accused him of bullying her. Much has changed in Canada since the 2015 election of Trudeau and a majority Liberal government.
Whatever the outcome this coming Monday, Canadian politics is done being as polite as the stereotypes about Canadian propriety and niceness might lead some to believe. The election has reached new levels of bitterness and tension. At a recent rally Trudeau wore a bulletproof vest and was tagged by a tactical squad because of an unnamed security concern. Police say threats have picked up sharply online, and there seems to be an increasing tenor of stark partisanship in which both left and right have come to view each other as irredeemably bad and unpatriotic rather than just politically divergent.
Although Trudeau's support is being slightly eroded to further-left parties—the democratic socialist NDP and the environmentally focused Green Party—his main problem is waning enthusiasm among would-be and past supporters. On what passes for the Canadian right, the Conservatives led by Andrew Scheer are still putting in a mostly underwhelming performance in a near-deadlock, slightly sapped by some who have gone over to the purportedly populist People's Party of Canada and their leader, Conservative defector and immigration skeptic Maxime Bernier.
Nonetheless, due to the unforced errors of the Liberals, the disorganized opposition, and a savvy tack toward "anti-establishment" politics that poses them as the champion of working families and giving ordinary Canadians a boost, the Conservatives have a real shot at helping Scheer move into 24 Sussex—the Prime Minister's official residence. According to some of the latest polls, the Conservatives are indeed leading by several points, though within the margin of error.
Canada's small parties could well become kingmakers, especially as some analysts predict an overall low voter turnout. In the case of a Conservative victory for a minority government, they could well see their initiatives blocked by a left-coalition comprised of Liberals, NDP, and Greens. In the case that they hold on to executive power while losing their majority, a minority Liberal government will have one less thing to worry about, since the NDP and its leader Jagmeet Singh have categorically refused to work with the Conservatives in any way, although Green Party leader Elizabeth May says she is keeping her options open.
Future coalitions and alliances may turn out to be crucial to consider, not to mention the possible share of power that could be obtained by the increasingly popular Bloc Québécois led by Yves-François Blanchet. The Bloc's mission is focused on Quebec sovereignty and it is in a good position to elect up to 50 federal members of parliament in Canada's French-speaking province of Quebec—the second-biggest population center in the country. Indeed, the strength of the Bloc could well push a weaker party out of third-party status or deny the Conservatives or the Liberals a majority government, with Blanchet consistently campaigning well and standing out as the best performer in the October 7 leaders' debate.
Going forward Trudeau and Scheer have simple and overlapping missions: both must try to nab undecided voters and get them to the ballot box on October 21. Rallying the base may make for some catchy TV moments, but when the electoral rubber hits the road they need those on the sidelines to step forward and cast a vote. In Trudeau's case, harping on the potential for Conservatives to cut social programs and make life worse as well as generally be the big bogeyman of liberal nightmares has been his primary messaging focus; in Scheer's case, arguing that Trudeau is an untrustworthy hypocrite who will make life more expensive for Canadians with his proposed carbon tax and out-of-control deficits has been his main claim. In contrast, Scheer and his party's platform vows to balance the budget by 2025, give more tax credits to families, and end "corporate welfare" business subsidies and foreign aid.
Regardless of the muted enthusiasm of their respective bases, the polling on this election indicates that a Prime Minister Trudeau or a Prime Minister Andrew Scheer will come down to undecided voters who could swing either way on election day—or no way at all.
Paul Brian is a freelance journalist. He has reported for the BBC, Reuters, and Foreign Policy, and contributed to The Week, The Federalist, and others. You can follow him on Twitter @paulrbrian or visit his website www.paulrbrian.com.
Sourse: theamericanconservative.com