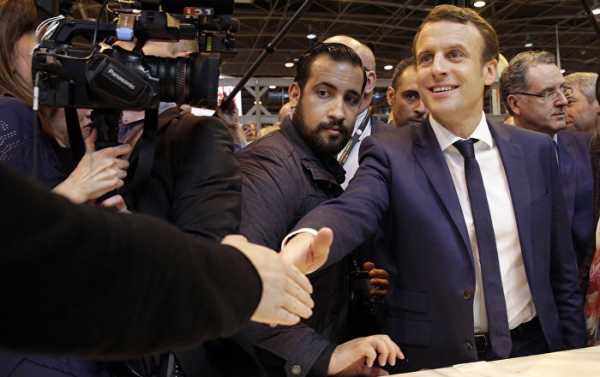 After the French president reacted to an incident involving his former security aide Alexandre Benalla, who was accused of hitting a May Day protester, by taking the blame for it and criticizing the media, rival politicians slammed the move as provocative and dangerous.
The head of the conservative party in the upper house of Parliament, Bruno Retailleau, told the broadcaster France 2 that French President Emmanuel Macron shouldn't have spoken to his own people first about his aide Alexandre Benalla's faux pas.
"It's sort of giving the finger, what he did yesterday night, a finger to the opposition, journalists, the press, and even the French when he says, 'They can come and get me,'" the politician told the media.
A lawmaker from the left-wing La France Insoumise, Alexis Corbière, also lambasted Macron for his publicity stunt and provocation.
​In front of his only friends #Macron affirms "the only person responsible, it is me" "that they come to seek me". Chiche, Mr. President! So you have to be auditioned, we can even move to you. Do you accept? If not, what is the meaning of this provocation? #AlexandreBenalla
Éric Ciotti, representing Les Républicains, also took aim at the French president for giving the account only to his supporters.
​#Macron confirms what we say from the beginning and admits he is responsible in the #Benalla state scandal. He prefers to explain himself to his own little caste rather than give explanations the French are waiting for.
Representatives of opposition parties have repeatedly urged Macron to express his opinion on Benalla, who was a close presidential aide and reportedly a member of the president's inner circle, since the high-profile case broke out last week after a May 1 video emerged with Benalla tackling a young rioter to the ground and punching him repeatedly before fleeing. Following the uproar, Benalla was placed under judicial control and slapped with multiple charges, including violent acts, interfering in the work of public services, wearing official insignia without authorization, concealing video materials and breaching professional secrecy.
On July 24, Macron met with lawmakers from his party La Republique En Marche! and denounced Benalla's behavior as betrayal.
"I'm to blame. … If anyone is looking for who is responsible, it's me and me alone. I'm the one who trusted Alexandre Benalla," Macron said later on Tuesday talking to supporters in Paris as quoted by The Guardian newspaper.
His 30-minute speech was not all self-flagellation, as Macron also tried to jokingly defuse rumors that relations between him and Benalla, who was fired last week, were too close.
"Alexandre Benalla has never had the nuclear codes. … Alexandre Benalla is not my lover," he said.
The French president also took aim at the media, claiming they publish "rubbish" rather than try to find out the truth.
"We have a press that no longer seeks truth. It says look! Looped images of a scene [of the incident], which is unacceptable and which I condemn. But I would like to see the scene before, the scene after, the context, what happened," he stressed, claiming, "Media power wants to become judicial power."
This jab has been slammed by Human Rights Watch's boss in France, Benedicte Jeannerot, who described it as "dangerous rhetoric while journalists across the world are under attack by populist leaders and autocrats to discredit or stifle any criticism of power."
Sourse: sputniknews.com