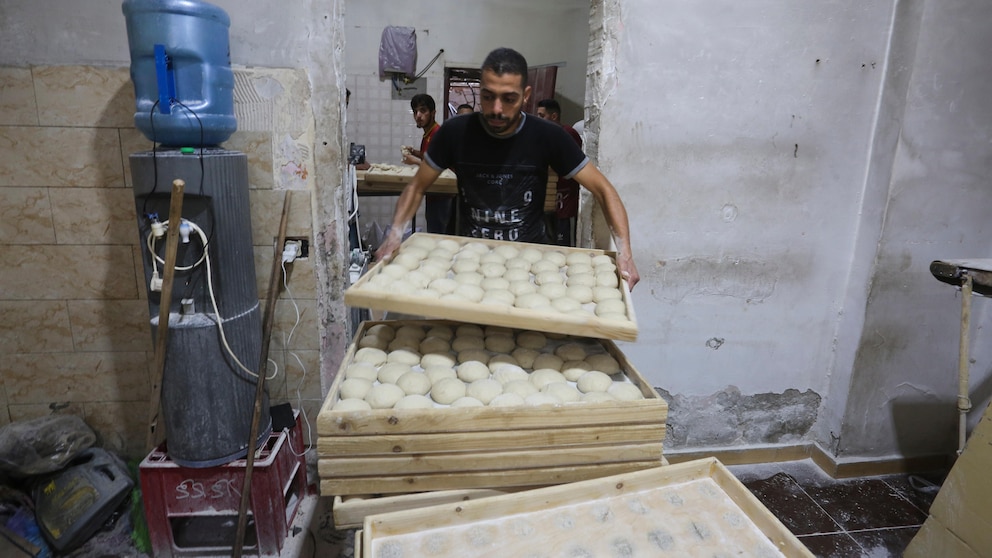 The Israeli military intensified airstrikes in Gaza on Sunday, including near its largest hospital, and another hospital was damaged by bombardment close by.
Thousands of people desperate for food and basic items broke into aid warehouses in the besieged enclave.
Internet and phone connectivity were restored for many people after Israel knocked out most communications in the territory late Friday.
Prime Minister Benjamin Netanyahu announced on Saturday a "second stage" in the 3-week-old war and said Israel is determined to bring back 229 hostages taken by the militant group during its deadly Oct. 7 incursion. Four of the hostages have been released.
The Palestinian death toll passed 8,000, most of them women and children, according to the Health Ministry in Gaza. In the occupied West Bank, more than 110 Palestinians have been killed in violence and Israeli raids, and on Sunday, a Jewish settler fatally shot a Palestinian man harvesting olives near the city of Nablus.
More than 1,400 people died in Israel during a surprise incursion by Hamas, including at least 310 soldiers, according to the Israeli government.
Currently:
1. Internet, phone service gradually returns to Gaza

2. Spiderweb of Hamas tunnels raises risks for Israeli ground offensive

3. Israeli settler kills Palestinian harvester as violence surges in the West Bank

4. Mission impossible? Biden says Mideast leaders must consider a two-state solution after the war ends

5. Mass graves, unclaimed bodies and overcrowded cemeteries replace funeral rites

6. AP Photos: Scenes of sorrow and despair on both sides of Israel-Gaza border on week 3 of war

7. Find more of AP's coverage at https://apnews.com/hub/israel-hamas-war.
Here's what is happening in the latest Israel-Hamas war:
On a beach in Gaza, a young boy hunches over a plastic tub full of soapy water and laundry. Nearby, a woman uses sand to clean metal pots and pans. A man stands waist-deep in the sea cleaning a pair of sweatpants, while elsewhere, three women sit in the salty Mediterranean and let the lapping waves rinse their dresses.
The besieged Gaza Strip's 2.3 million people don't have access to clean, running water after Israel cut off water and electricity to the enclave. If water does trickle from the tap, residents have said it's so contaminated with sewage and seawater that it's undrinkable. Under these circumstances, some are forced to use the sea to bathe, wash clothes and clean their cookware.
On Sunday, 33 trucks carrying water, food and medicine entered the only border crossing from Egypt. Israel said it has opened two water lines in southern Gaza within the past week. The AP could not independently verify that either line was functioning.
The Israeli military struck targets in Lebanon and Syria on Sunday after projectiles were fired into Israel.
Clashes have been taking place across Israel's tense border with Lebanon since the onset of the Hamas-Israel war, mostly contained to several border towns.
Israel's military provided video of multiple strikes inside Lebanon, showing explosions erupting among trees and missiles hitting a building on a hillside. The military said it shot down a drone and killed a militant who tried to approach the border fence.
On Sunday evening, Hamas said its forces in Lebanon had fired 16 missiles at the northern Israeli town of Nahariya. The Lebanese militant group Hezbollah, a Hamas ally, also announced it had fired missiles at several sites across the border Sunday afternoon, including one that it said had hit an Israeli infantry unit near the town of Birket Risha and caused "confirmed injuries."
Rockets were fired from Syria as well on Sunday, falling into open Israeli territory, the military said, which fired back at the site where the rockets were launched. It did not report any injuries.
Russian news agencies and social media say hundreds of people have stormed into the main airport in the Dagestan region and onto the landing field to protest the arrival of an airliner from Tel Aviv.
Authorities closed the airport in Makhachkala, capital of the predominantly Muslim region, and police converged on the facility. There were no immediate reports of injuries or arrests.
Russian news reports said people in the crowd were shouting antisemitic slogans and tried to storm the airliner belonging to Russian carrier Red Wings that had landed from Tel Aviv.
In a statement released Sunday night, Prime Minister Benjamin Netanyahu's office said Israel "expects the Russian law enforcement authorities to protect the safety of all Israeli citizens and Jews wherever they may be and to act resolutely against the rioters and against the wild incitement directed against Jews and Israelis."
Netanyahu's office added that the Israeli ambassador to Russia was working with Russia to keep Israelis and Jews safe.
BEIRUT — An analysis of video evidence and witness testimonies from the scene of strikes that killed one journalist and injured six others in south Lebanon this month found that the journalists were "explicitly targeted," the watchdog group Reporters Without Borders said in a statement Sunday.
Reuters journalist Issam Abdallah was killed near the village of Alma al-Shaab while covering an exchange of fire along the border between Israeli troops and members of Lebanon's militant Hezbollah group.
"Two strikes in the same place in such a short space of time … from the same direction, clearly indicate precise targeting," the statement said.
The analysis found that journalists had been standing and filming on a hillside for more than an hour until the strikes hit about 37 to 38 seconds apart, both coming from the east — the direction of the Israeli border. The first killed Abdallah; the second hit a vehicle belonging to an Al Jazeera team, injuring journalists standing next to it, the statement said. It noted that the journalists were wearing helmets and vests marked "press," and the car was marked "press" on the roof.
It added that witnesses reported seeing an Israeli helicopter fly over the scene shortly before the strikes. The report did not specifically say Israel was responsible for the fire, saying the investigation was ongoing.
The Israeli military did not immediately respond Sunday to a request for comment on the analysis.
Military spokesperson Lt. Col. Richard Hecht previously said Israel was "looking into" the episode. He did not confirm whether the journalists had been hit by Israeli shelling.
KHAN YOUNIS, Gaza Strip — A convoy of International Committee of the Red Cross aid trucks arrived at the overcrowded Nasser hospital in the southern city of Khan Younis Sunday, bringing vital medical supplies to emergency departments and operation rooms.
"This is the first aid convoy that reached Nasser medical complex though the Red Cross association," said Dr. Nahed Abu Taemma, the hospital's director. Doctors at the hospital say that apart from the many wounded, the building is also serving as shelter for thousands of civilians.
"The most important thing in these shortages is anesthesia, devices to fix bones, ICU devices," all of which are in short supply, he said.
The ICRC has said that 10 staff members, including a surgery team, crossed into Gaza via the Rafah border crossing on Friday.
CAIRO— An aid worker in norther Gaza said they witnessed "the most vicious attacks" by Israel during about two days of communication blackout.
Gaza residents spent two anxious nights amid relentless bombardment and rumors that Israel had begun its large-scale ground invasion.
Mahmoud Shalabi, senior program manager with Medical Aid for Palestinians, who lives in Beit Lahia said his young daughter was terrified by a massive explosion close to their home.
"She started screaming and frantically, hysterically crying," he said. "I hugged her."
Shalabi rushed outside to find out his neighbor's house was bombed. At least 10 people were killed, including women and children, and many others were wounded, he said.
"The fear I saw in the eyes of the people in my neighborhood is full of the color gray," he said. "I hate the color gray."
BEIRUT — The International Criminal Court's chief prosecutor said Sunday that people caught in the ongoing Hamas-Israel war since Oct. 7 deserve justice.
Karim Khan at a press conference at the Rafah border crossing in Egypt expressed concern about the devastation and strikes that have taken place near churches, schools, and hospitals. Khan said wasn't able to enter the Gaza Strip and speak to Palestinians.
He called on Israel to respect international law but stopped short of accusing Israel of committing war crimes.
"They have lawyers, advisors, and they will be under no misapprehension after their obligations," he said, adding that these obligations apply to Palestinian militant group Hamas as well. He called Hamas' surprise attack a serious violation of international humanitarian law.
The ICC has been investigating the actions of both Israeli and Palestinian authorities since 2014.
BEIRUT — The Palestinian Red Crescent Society said Israeli strikes Sunday damaged sections in the jam-packed Al-Quds Hospital in Gaza City, after receiving two phone calls from the Israeli military to evacuate.
A video the Red Crescent posted on X, formerly Twitter, of the hospital following the strikes shows rooms covered in debris and dust and the windows blown out. People covered their noses and mouths, panicking as they tried to leave the hospital with their children.
The PRCS-run hospital administration said that evacuating the hospital was impossible, as its hundreds of patients included children in incubators and wounded people in the intensive-care unit. In a statement, it said many of the 14,000 people seeking shelter there are Palestinians displaced by the ongoing Hamas-Israel war.
Israeli strikes targeted areas around the hospital throughout Sunday. The director-general of the World Health Organization said that it would be "impossible" to evacuate hospitals without endangering people's lives.
JERUSALEM — Israel's military said Sunday that ground forces killed a number of Hamas militants as they were exiting a tunnel near the Erez crossing, which was the sole pedestrian passageway out of the coastal enclave into Israel before it was destroyed in the fighting. It was unclear how many militants were killed.
Videos of the ground operation released by the military showed tanks traversing small, sandy hills and bulldozers clearing mountains of debris. Hamas has a sprawling network of tunnels underneath Gaza where it is believed to be stockpiling weapons, food, and other supplies.
BEIRUT — The number of children killed in the blockaded Gaza Strip since the start of the Hamas-Israel earlier this month has exceeded the number of children killed in armed conflict every year globally since 2019, international charity Save the Children said Sunday.
In a statement, the charity cited numbers from the Gaza Health Ministry of at least 3,195 children killed in the war that was sparked following a surprise Hamas attack on Oct. 7. It also mentioned the deaths of 33 children in the occupied West Bank and 29 children killed in Israel.
"The numbers are harrowing and with violence not only continuing but expanding in Gaza right now, many more children remain at grave risk," Save the Children Country Director in the occupied Palestinian territory Jason Lee said in a statement. "A cease-fire is the only way to ensure their safety."
JERUSALEM — Israel's military, which has said repeatedly that it is not at war with civilians in Gaza but rather with Hamas, dropped leaflets on the Gaza Strip on Sunday asking civilians to "surrender." Written in Arabic, the leaflets told civilians to lay down all their weapons, put their hands up, wave white flags and follow instructions from the Israeli military.
"Hamas leaders are exploiting you," the flyers read. "They and their families are in safe places, while you die in vain."
BEIRUT — The U.N. mission in Lebanon says one peacekeeper was lightly wounded after his base in the country's south was hit by a mortar shell.
The militant group Hezbollah, Hamas' allies in Lebanon, has clashed with Israeli troops along the Lebanon-Israeli border since the Gaza war erupted on Oct. 7. The skirmishes have remained relatively contained and mostly along a handful of border towns.
Two mortar shells hit a UNIFIL base near the southeastern border village of Houla, the U.N. mission said. The wounded peacekeeper suffered minor injuries and is in stable condition. Earlier Saturday, a shell hit UNIFIL's headquarters in the southern coastal town of Naqoura, but there was no mention of injuries.
UNIFIL officials did not specify where the shelling came from, and said that they were investigating both episodes.
UNIFIL was created to oversee the withdrawal of Israeli troops from southern Lebanon after a 1978 invasion. The mission was expanded after the 2006 war, allowing peacekeepers to deploy along the Lebanon-Israel border to help Lebanese troops extend their authority into their country's south for the first time in decades.
VATICAN CITY — Pope Francis repeatedly called for a cease-fire in Gaza on Sunday.
"Let's continue to pray for Ukraine and for the serious situation in Palestine and Israel and for other regions with wars," Francis said.
"In particular, in Gaza, leave space to guarantee humanitarian aid. And let the hostages be freed immediately. Let no one abandon the possibility to stop the arms. Cease fire," he added, speaking from the window of the Apostolic Palace above St. Peter's Square.
The pope cited the Rev. Ibrahim Faltas, the vicar of the Holy Land, as joining him in the urgent plea for a cease-fire.
"Stop yourselves brothers and sisters, war is always defeat. Always! Always!" he concluded.
DEIR AL-BALAH, Gaza Strip — The Health Ministry in Hamas-ruled Gaza says over 8,000 Palestinians have been killed since war broke out on Oct. 7.
It said Sunday that the toll has risen to 8,005 Palestinians, including more than 3,300 minors and over 2,000 women.
The Health Ministry is part of the Hamas-run government but includes doctors and veteran civil servants who are not affiliated with the group. Its tolls from previous wars have held up to U.N. scrutiny, independent investigations and even Israel's tallies. The ministry released detailed records last week showing the names, ages and ID numbers of most of the deaths it has recorded, saying some bodies have not yet been identified.
More than 1,400 people have been killed on the Israeli side, the vast majority civilians killed by Hamas in its bloody Oct. 7 incursion into Israel.
KATHMANDU, Nepal — U.N. Secretary-General António Guterres has reiterated his appeal for an immediate humanitarian cease-fire in Gaza and called for an unconditional release of all hostages and the delivery of sustained relief to the people in the territory.
Guterres, who is on an official visit to Nepal, condemned the "appalling attacks perpetrated by Hamas" and said "there is no justification, ever, for the killing, injuring and abduction of civilians." He also said he regretted Israel's move to intensify its military operations in Gaza.
He also reminded Israel and Hamas about their obligations under international humanitarian law.
"The world is witnessing a humanitarian catastrophe taking place before our eyes," he added.
JERUSALEM — A spokesperson for the Palestinian Red Crescent says Al-Quds Hospital in Gaza City received two calls from Israeli authorities Sunday morning demanding it evacuate.
A statement released by the organization said that the calls constituted a "clear and direct threat that the hospital must be evacuated at once, otherwise PRCS holds full responsibility for the lives of everyone inside the hospital."
Spokesperson Nebal Farsakh said that since Sunday morning, Israeli airstrikes have been increasing in the area, reaching buildings as close as 50 meters (yards).
She said that 12,000 people are currently sheltering in the hospital. The intensive care unit is predominantly occupied by children injured in the latest airstrikes. "Most of them are connected to oxygen machines," she said. "Evacuating them would be killing them."
The Israeli military did not comment immediately Sunday. The military has told some 1 million people to evacuate to the southern part of the Gaza Strip ahead of an expected ground invasion.
DEIR AL-BALAH, Gaza Strip — The U.N. agency for Palestinian refugees says thousands of people broke into its Gaza aid warehouses to take food and other "basic survival items."
Thomas White, the agency's director in Gaza, said Sunday that the break-in was "a worrying sign that civil order is starting to break down" after three weeks of war between Israel and Gaza's Hamas rulers.
The agency, known as UNRWA, provides basic services to hundreds of thousands of people in Gaza. Its schools across the territory have been transformed into packed shelters housing Palestinians displaced by the conflict.
DAMASCUS, Syria — An Iranian-backed Iraqi militia says it launched drone strikes on a base housing U.S. forces in eastern Syria.
The Islamic Resistance in Iraq, which has claimed responsibility for a series of strikes on U.S. forces in Iraq and Syria over the past two weeks, claimed responsibility on Sunday for the latest attack. The group has said the attacks are in retaliation for U.S. support for Israel.
According to the Pentagon, as of Friday there had been at least 20 attacks on U.S. bases and personnel in Iraq and Syria since Oct. 17, and 21 U.S. personnel were injured in two of those assaults when drones targeted al-Assad airbase in Iraq and al-Tanf garrison in Syria.
Sourse: abcnews.go.com