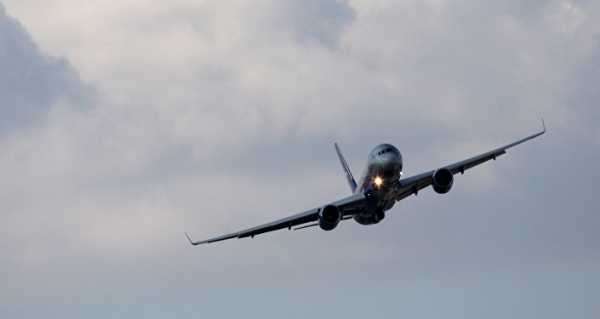 Although US President Joe Biden quickly renewed the New Strategic Arms Reduction Treaty after taking office, he has done little to undo the prior administration's withdrawal from a slew of international arms treaties, despite having spoken out against the moves when they occurred.
While Democrats have been calling former US President Donald Trump's withdrawal from the Treaty on Open Skies "illegal," the Biden administration has privately been telling its allies that returning to the treaty would give Russia the "wrong message."
"While we recognize that Russia's Open Skies violations are not of the same magnitude as its material breach of the INF Treaty, they are part of a pattern of Russian disregard for international commitments – in arms control and beyond – that raises questions about Russia's readiness to participate cooperatively in a confidence-building regime," the memo continues. 
Russian Air Force Tupolev Tu-214ON which will be operated under the Open Skies treaty
In the case of the Open Skies Treaty, the US left 34 partner states hanging, which were allowed the same mutually approved overflights as Russia and the US. All the equipment, including the cameras, had to be carefully approved, as did the flight paths, but the overflights helped partner nations sleep a little easier in their beds knowing a sneak attack wasn't in the works.
Democrat Double Talk
When Trump announced the US withdrawal from OST in May 2020, Democratic lawmakers denounced the move as "illegal" because the administration hadn't notified them 120 days prior to the move, as required by the National Defense Authorization Act. In a letter to then-Defense Secretary Mark Esper and then-Secretary of State Mike Pompeo, a group of senators called it "an obvious political maneuver in an attempt to bind a future administration."
Their hope was not without reason: the day after Trump announced the withdrawal, Biden said the move would "exacerbate growing tensions between the West and Russia, and increase the risks of miscalculation and conflict." 
Boeing OC-135B Open Skies
The US' chief objection has been Russia's denial of certain specific flights over Kaliningrad Oblast and over territory adjacent to Abkhazia and South Ossetia; however, Russia has said the Kaliningrad decision was within the confines of the treaty because it concerned airspace safety. Abkhazia and South Ossetia are breakaway states from Georgia that are recognized by Russia but not by the US, creating a dispute about whether they're international borders or not.
On Tuesday, the US Air Force announced its decision to retire the aging OC-135 Open Skies aircraft specially constructed to fit the confines of the treaty, without replacing them. Russia's own specialized aircraft, the Tu-214ON, which entered service in 2019, has been repurposed for other reconnaissance duties.
Sourse: sputniknews.com