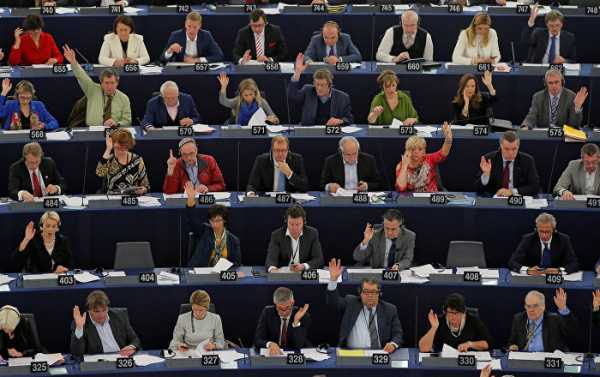 BRUSSELS (Sputnik) – The European Parliament said on Wednesday that it had voted to reduce the number of parliament seats by 46 — from 751 to 705 — in anticipation of the United Kingdom withdrawal from the bloc.
Some or all of the 46 seats may be reserved for new countries joining the bloc or left empty to keep the legislature smaller. The United Kingdom's remaining 27 seats will be reallocated among 14 under-represented EU member states.
On January 23, the Constitutional Affairs Committee of the European Parliament approved an amendment seeking to reduce the number of seats in the legislature. Now, the decision must be unanimously approved by the European Council, after which it has to be approved by the European Parliament. The composition of the European Parliament for 2019-2024 will be discussed by EU leaders during an informal EU summit later in the month.
​The European Parliament's next elections are scheduled for May 23-26, 2019.
The United Kingdom held the Brexit referendum on June 23, 2016. In late March, UK Prime Minister Theresa May officially invoked Article 50 of the Lisbon Treaty, launching the country's EU withdrawal process. Brexit negotiations between London and Brussels, which started on June 19, are expected to conclude by the end of March 2019, after which the two sides will likely adjust to new regulations during a two-year transition period.
Sourse: sputniknews.com