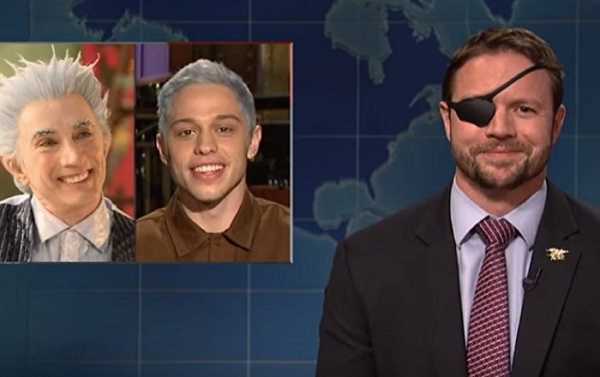 Comedian Pete Davidson earlier jeered at the Afghanistan veteran's appearance, meeting a barrage of criticism online, but Den Crenshaw, who was specially invited to SNL to hear a public apology, appeared to have the last laugh, offering in a most natural way reciprocal comments on Davidson's 'clownish' looks.
NBC's famed Saturday Night Live invited the Navy SEAL-turned GOP congressman elect Dan Crenshaw, who was last week mocked by comedian and host Pete Davidson. At the time, he likened the veteran to a pornography character.
Despite a backlash from the general public, Crenshaw himself dismissed the dis earlier this week, coming up with a noble remark on the subject:
"SEALs don't get offended. That's just not what we do. That doesn't mean it wasn't offensive, but let's stop demanding apologies and firings of people. Let's just… demand that comedy actually be funny, but let's be good people".
When invited to the studio, he accepted Davidson's apology and was then proposed to make fun of the comedian by offering analogous 'first impression' comments on Davidson and his picture. After a moment's hesitation, Crenshaw said:
"This is Pete Davidson. He looks like if the meth from 'Breaking Bad' was a person".
Crenshaw didn't stop at that, however, coming up with an even more laughable utterance:
"He looks like a troll doll with a tapeworm," he said, prompting Davidson to suggest "wrapping this all up". "Boss Move!" one Twitterian exclaimed.
However, Lieutenant Commander Crenshaw had something more to share:
"Pete looks like Martin Short [famed US comedian of the 1970s-1980s] in his Santa Clause 3. One of the, was good on this show," Crenshaw noted, to bursts of laughter from the studio.
The point, however, didn't strike a chord with multiple Twitter users, who suggested it is a too big an honour for Davidson to be compared to the genius comedian, who at one point also appeared on SNL:
Others agreed that Crenshaw was really 'funny' and demonstrated 'an incredible gesture' when accepted the invitation for the show.
Crenshaw's pacifist, but ironic stance couldn't naturally go unnoticed on social networks:
On last week's SNL broadcast, Davidson picked up on then Texas election candidate Dan Crenshaw wearing a patch over an eye lost in a military operation in Afghanistan. In particular, he drew a parallel between the honoured veteran and a porno movie hit-man, which the public universally deemed to be well over the top.
Sourse: sputniknews.com