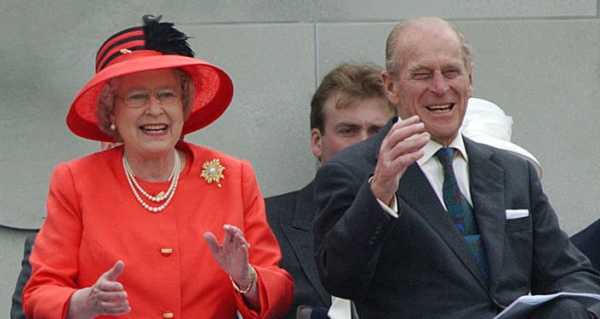 The Duke of Edinburgh, whose passing was announced on 9 April, has over the years gained the reputation of a non-nonsense man who as a norm wouldn't hold back at the chance to crack a joke and even make inappropriate comments.
The flag at Buckingham Palace in London was lowered to half-staff on Friday, following the announcement of Prince Philip's death. During his years as the husband of Queen Elizabeth II and the member of the royal family, Prince Philip attended thousands of social events, official meetings and informal gatherings. 
The royal's remarks and comments during such social encounters have been well-documented throughout the years, often making it to news headlines. 
When in 2003 Prince Philip met with the former president of Nigeria, Olusegun Obasanjo, he mistook his traditional African garments for pyjamas, saying: "You look like you're ready for bed."
Back in 2009, during a visit from US President Barack Obama, Mr Obama told the Queen and Prince Philip: "I had breakfast with the prime minister; I had meetings with the Chinese, the Russians…," to which Prince Phillip responded: "Can you tell the difference between them?"
During a visit to Luton and Dunstable Hospital, the 91-year-old royal at the time, told a nurse from the Philippines that her country must be "half empty" – because so many of her compatriots were in the UK "running the NHS ."
During an official visit in 1998, the Duke of Edinburgh asked a British student who had trekked in Papua New Guinea: "You managed not to get eaten then?"
He famously asked a Scottish driving instructor in 1995: "How do you keep the natives off the booze long enough to pass the test?"
Prince Philip was harsh in his judgment of the cooking skills of British women, when his verdict on the matter at the Scottish Women's Institute in 1961 was: "British women can't cook." 
The royal may have been left confused when to his question "And what exotic part of the world do you come from?" – directed at Tory politician Lord Taylor of Warwick, whose parents are Jamaican – he heard: "Birmingham."
During Elton John's performance at the show in 2001: "I wish he'd turn the microphone off!"
An exchange between the royal and the editor-in-chief of the Independent at a reception to mark the Golden Jubilee in 2002 could leave many speechless: 

 

 
During his visit to the Science Museum in 2000, he wondered while looking at two robots bumping into each other: "They're not mating are they?" 
Prince Philip passed away "peacefully this morning at Windsor Castle," at the age of 99. The Kensington Palace said on Friday that further announcements will be made in due course. 
Sourse: sputniknews.com