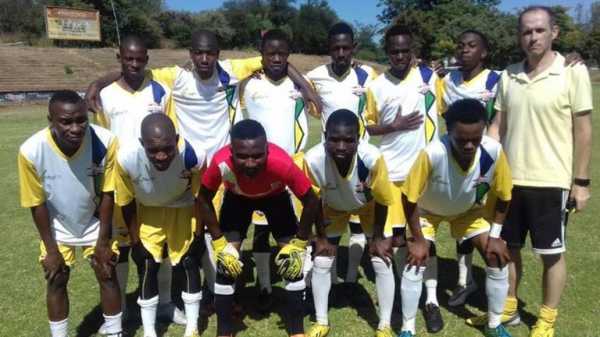 Justin Walley has experienced both the highest and lowest points of his tenure as Matabeleland manager in the space of the last few days, and neither has hinged on the result of a football match.
His players, who represent the inhabitants of a stretch of western Zimbabwe roughly the size of England, are in London for the CONIFA World Football Cup, which starts on Thursday. Their journey to the 16-team tournament has been fraught with difficulty.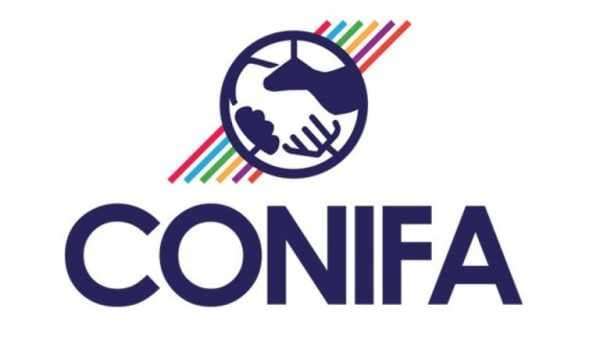 "The best moment was getting that phone call to say the players have got through customs and immigration, and they're here," says Walley, speaking to Sky Sports from his home in Hinckley in Leicestershire. He'd flown in early to oversee preparations, but at one point feared the whole logistical operation could fall apart. "The biggest low was less than a week ago – there were some major question marks around the flights, and it really looked like we might not make it."
Participation is everything in the World Football Cup. It's the showpiece tournament of the Confederation of Independent Football Associations (CONIFA), an organisation for "people, nations and sportingly isolated regions who share the joy of playing international football". Founded only five years ago, CONIFA currently comprises 47 members from around the world. Some hail from places more familiar for war reporting than sports, such as Darfur, South Ossetia and Rohingya. Many are peaceful but on the further fringes of the global game, like Quebec, Sapmi (Lapland) and Zanzibar. Each member has its own reasons for being an independent FA; for some, it's a simple statement of identity – one of the newest members is Yorkshire, who joined in January, too late to qualify for London. But binding them together is a unified belief that football truly transcends borders, however marginalised the territory or tribe. The CONIFA teams represent states and communities totalling 334m people from across the globe.
World Football Cup, Group C
Padania: Winners of CONIFA's Euro 2015 and 2017 tournaments and three-time champions of the now defunct VIVA World Cup, they represent eight northern regions of Italy
Szekely Land: A team representing ethnic Hungarians living in a central region of present-day Romania
Tuvalu: Still only an associate member of FIFA's Oceania Football Confederation, the Pacific islands nation is part of the Commonwealth
Matabeleland: Representing the peoples of regions in western Zimbabwe, many of whom suffered under the Mugabe regime
Matabeleland's history is scarred by the massacres and other abuses perpetrated on its citizens during the Robert Mugabe era. Having seen Mugabe's 37-year rule brought to an end late last year, the region's Ndebele people are now looking towards a more hopeful future; taking pride in its fledgling football team – also known as Ingqungqulu, or 'The Warrior Birds' – will help in that long-term healing process. The Matabeleland Football Confederacy only joined CONIFA in 2016, and earned their qualification for London through results in a series of local friendlies against club sides – they couldn't afford to go any further afield. Even when the chance arose to play a match across the border in South Africa, red tape got in the way. "We had a lot of last-minute headaches organising the visas for that trip," recalls Walley. "We'd had flights held for several weeks and then they were released by the airline, because it was within three or four days of travelling. We did end up travelling to South Africa at the very last moment – but had to call off the game itself."
Unsurprisingly, the complications of getting 21 players to the UK have proved to be even more daunting, explains Walley. For starters, they needed to raise US $25,000 to cover costs. "Essentially, all the money has come from crowdfunding. We have no sponsors and no government money.
"It's all come from a combination of people kindly donating to us, and from selling replica shirts and pennants." Fortunately for Matabeleland, those new home and away shirts for the tournament have proved to be hugely popular – the designs were chosen in a competition held on social media. "They're beautiful, so in that sense I'm not surprised they've sold. Everyone is really impressed. But then again, we're also an unknown team – so it's absolutely incredible in a way that we've sold something like 150 shirts, for a team that nobody's ever seen play before."
"But let's just see if they can get used to the pitch quickly. Their close control, and one-touch, two-touch football is of a really high standard – and that's from playing on poor surfaces. I hope that means that playing on a really decent surface will be a positive for us. But you can't be sure until you get down on the training pitch."
"For sure, they must know next to nothing about us, because there's just nothing out there – no videos of us playing, or anything. So that's a psychological advantage to have, going into the first match."
Group A
Barawa: Tournament hosts, representing the Somali diaspora in England
Ellan Vannin: An Isle of Man team, runners-up at the first CONIFA World Football Cup in Ostersund in 2014
Tamil Eelam: A team drawn from the Sri Lankan Tamil diaspora community in the UK, Canada and Switzerland
Cascadia: Representing the region of the Pacific Northwest from Vancouver down to Portland
Matabeleland's journey is just one of many backstories and pre-tournament tales related to the 16 teams from five continents that are taking part in London. Flicking through the programme, it's clear how committed CONIFA are to embracing culture and celebrating differences. General secretary Sascha Duerkop writes: "CONIFA aims to build bridges between people, where others have built walls. We aim to give a voice to the voiceless and unheard. We want to make international football and grassroots support a natural fit – not a contradiction." There's even a film festival running alongside the actual match action, which will be played on 10 non-league grounds in and around the capital's suburbs, running through to the final at Enfield Town FC on Sunday, June 10.
This is the third edition of the World Football Cup (worded carefully, so as not to upset FIFA's lawyers). The first, held in Sweden in 2014, was won by the County of Nice, proud standard bearers for the history and heritage of their part of south-east France; the second such tournament, in 2016, saw hosts Abkhazia – a disputed territory on the Black Sea, in northwestern Georgia – beat Panjab on penalties in a thrilling final.
One extra element of interest for 2018 is the introduction of a green card for referees to wield. The tournament rules explain the use of this 'intermediate' disciplinary measure as follows: "[A green card] will be shown to a player by the match official for dissent by a player towards a match official, opposition player, or management and spectators; and for simulation of any kind to seek to gain an advantage for the player's team. A player who receives a green card must leave the field of play immediately, but can be replaced if his team have not used all of their substitutes. A player receiving a green card is not excluded from his team's next match." It's been inspired by a similar system in GAA, and should clamp down on bad behaviour such as abusive language and diving. It's something new for the men in the middle, one of whom will be former Premier League referee Mark Clattenburg, now overseeing officiating in Saudi Arabia, who takes charge of the opening night match in Bromley between tournament 'hosts' Barawa (a Somali community team based in London) and Tamil Eelam (also founded in the capital, and representing the Tamil people of northeastern Sri Lanka).
Group B
Abkhazia: The holders, representing a partially recognised Eastern European state on the Black Sea's east coast
Northern Cyprus: Runners-up on home soil at CONIFA's Euro 2017, the state only has international recognition from Turkey
Karpatalja: Translating into English as 'Carpathian Ruthenia', they represent ethnic Hungarians in southwestern Ukraine
Tibet: Formed by players in exile from Tibet, whose independence movement continues to seek political separation from China
The long-term aim of CONIFA is to give back to the people whose passion for football has helped bring their teams to London. President Per-Anders Blind lays out his vision in the programme, writing: "Historically, many of our members have suffered in the past, and even today, some of our members are facing their own personal hells every day. They live in refugee camps, they run from their homes to escape war and genocide. Some live in disaster areas.
"When CONIFA reaches financial stability, we would like to start a humanitarian foundation and create different programmes and projects to help and support people in need. Football is a tool for a higher purpose."
Group D
Panjab: Beaten finalists at Abkhazia 2016, a UK-founded team representing the Punjabi diaspora of emigrants from northern India and eastern Pakistan
United Koreans in Japan: Partly consisting of players from FC Korea, a team in Japan's regional leagues. An Yong-hak, who played for North Korea at the 2010 FIFA World Cup, is in the squad
Western Armenia: Representing indigenous Armenian people from parts of what is now eastern Turkey
Kabylia: Representing a region of northern Algeria
As for Walley's players, whose main purpose this month was just to make it to London and compete, it's the promise of so much more – a chance for the game to flourish in their homeland, to one day have a pitch that's at least flat and free of sharp stones, and to find a place in the world through football. With their stylish new shirts turning heads even before a ball has been kicked at London 2018, Matabeleland are proving that even when the odds are stacked against you, in football, you can always depend on the kindness of strangers.
The CONIFA World Football Cup begins on Thursday, with matches to be played at Queen Elizabeth II Stadium, Enfield Town FC; Colston Avenue, Carshalton Athletic FC; Hayes Lane, Bromley FC; Larges Lane, Bracknell Town FC; Gander Green Lane, Sutton Utd FC; Arbour Park, Slough Town FC; Coles Park, Haringey Borough FC; Recreation Ground, Bedfont Sports FC; St Paul's, Fisher FC (Rotherhithe); and Parkside, Aveley FC. Tickets cost £11 for adults, and £5.50 for Under-18s.
Also See:
CONIFA World Football Cup
CONIFA on Twitter
Sourse: skysports.com