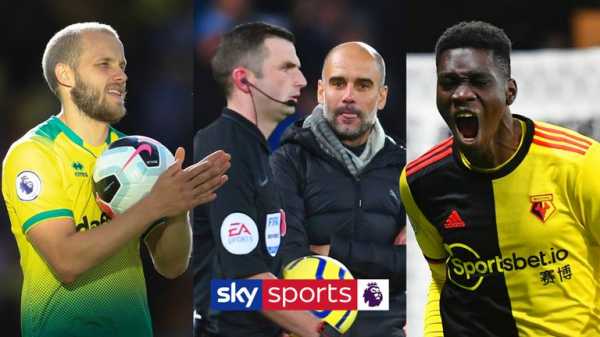 2:49 Here's a reminder of some of the magic, drama and controversies from the Premier League season so far… and there's not long to wait until it's back!
So when can Liverpool now win the title?
It looks very much a matter of when, not if, Liverpool will win the title, and they could need only 90 minutes more to secure their first Premier League trophy.
If Arsenal beat City in that rearranged game, then Liverpool will be only three points from the title. That would mean victory at Everton (the venue for this clash is still to be confirmed) – live on Sky Sports and Sky Pick on June 21 – would be enough and confirm champions status in the sweetest style for Jurgen Klopp's men.
Failing that, wins in any of their other eight remaining games, or even three draws along the way, would do it. If City don't slip up against Arsenal, two wins, or any other combination of six points, would be enough for the Reds.
Liverpool are Invincible no more – but what records could they still break?
The points record of 100 (City 2017/18) could be smashed; Liverpool will have 109 points if they win every game.
The biggest points gap between first and second is 19 points (City 2017/18) – the gap now is 25. City need to better Liverpool's results between now and the end of the season by six points to protect that record.
Liverpool need six wins from their final nine games to beat the win record of 32 (City 2017/18).
Sourse: skysports.com