By Michael Moynihan
Wexford 0-21
Cork 1-14
Wexford were the winners in this NHL 1A at Wexford Park, with 7,300 in attendance, the home side making heavy weather of this encounter when they could have won with something to spare.
Cork attacked the scoreboard end in the first half, backed by a slight breeze, and had a good solo goal by Conor Lehane on four minutes. He might have had another a minute later but Mark Fanning saved well.
On ten minutes Cork led 1-2 to 0-1, and needed Conor O'Sullivan to take a Cathal Dunbar effort of the line as Wexford settled, Lee Chin, Paul Morris and Aidan Nolan cutting into Cork's lead, 1-2 to 0-4 by the end of the first quarter.
The sides exchanged points but Patrick Horgan and Bill Cooper pushed Cork 1-6 to 0-7 ahead on 26 minutes; Lee Chin carried the Wexford fight with some fine points. Kevin Foley's late point for the home side made it 1-9 to 0-10 at the half.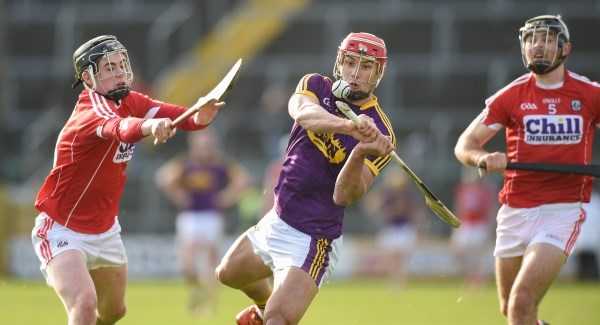 Lee Chin of Wexford in action against Darragh Fitzgibbon and Christopher Joyce of Cork during the Allianz Hurling League Division 1A Round 2 match between Wexford and Cork at Innovate Wexford Park, in Wexford.
Wexford hit three good points on the resumption through Aidan Nolan, Morris and a Mark Fanning free, Cork responding through Lehane and Alan Cadogan: 1-11 to 0-13 on 44 minutes, and Kevin Foley's equaliser raised the roof in Wexford Park.
The home side then hit four wides before Morris gave them the lead going into the final quarter – and then added three more wides before Foley put them two up.
Wexford were in control everywhere at this point but Cork, despite a lengthy scoring drought, were one up with eight minutes left thanks to three quick points, 1-14 to 0-16.
Sub Jack Guiney levelled the game and Nolan gave Wexford the lead, with five minutes left. Wexford hung onto the lead, with a monster Guiney free, Diarmuid O'Keeffe and Harry Kehoe making it more or less comfortable.
Scorers for Wexford: L. Chin (0-6)(3 frees, 1 65); P. Morris, K. Foley, A. Nolan (0-3 each); J. Guiney (1 free, 0-2); C. McDonald, M. Fanning (free), D. O'Keeffe, H. Kehoe (0-1 each).
Scorers for Cork: P. Horgan (0-4)(3 frees); C. Lehane (1-2, 1 free); A. Cadogan (0-2); S. Harnedy, R. O'Flynn, B. Cooper, D. Fitzgibbon, S. Kingston, M. Cahalane (0-1 each).
Wexford: M. Fanning, D. Reck, L. Ryan, S. Murphy, P. Foley, M. O'Hanlon (jc), S. Donohue, K. Foley, D. O'Keeffe, A. Nolan, L. Chin (jc), J. O'Connor, P. Morris, D. Dunne, C. McDonald.
Subs: A. Maddock for Reck (inj, 27); J. Guiney for J. O'Connor (53); H. Kehoe for Dunbar (61).
Cork: P. Collins, S. O'Donoghue, E. Cadogan, C. O'Sullivan, C. Joyce, T. O'Mahony, M. Ellis, D. Fitzgibbon, D. Kearney, R. O'Flynn, C. Lehane, B. Cooper, A. Cadogan, P. Horgan, S. Harnedy.
Subs: L. Meade for Harnedy (HT); S. Kingston and B. Lawton for Fitzgibbon and Cooper (47); D. Cahalane for Kearney (54); M. Cahalane for Horgan (60); J. O'Connor for A. Cadogan (66).
Referee: J. Keenan (Wicklow).
Sourse: breakingnews.ie