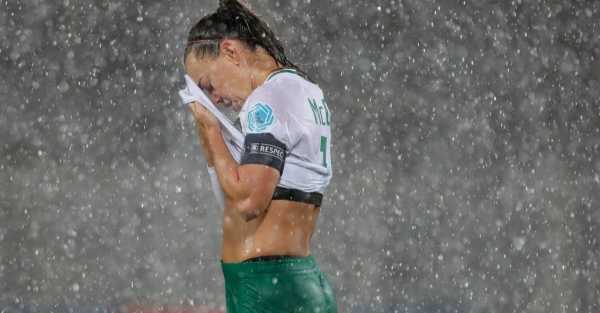 Ireland secured promotion to League A of the Women's Nations League with a 1-0 win away to Albania on Tuesday, but had to come through torrential rain, thunderstorms, and a pitch which resembled a lake.
"Wettest game in history but job done and top of the group with the girlsss," Ireland captain Katie McCabe posted on Instagram after the match in Shkoder.
"Ballon Pour," Ireland team mate Louise Quinn commented under the post, a reference to McCabe, like many others, missing the Ballon d'Or ceremony on Monday despite her nomination.
McCabe scored a hat-trick when these two sides met in Dublin last Friday as Ireland romped to a 5-1 win, but it was a whole different ball game in Albania, and water polo would probably have been more appropriate.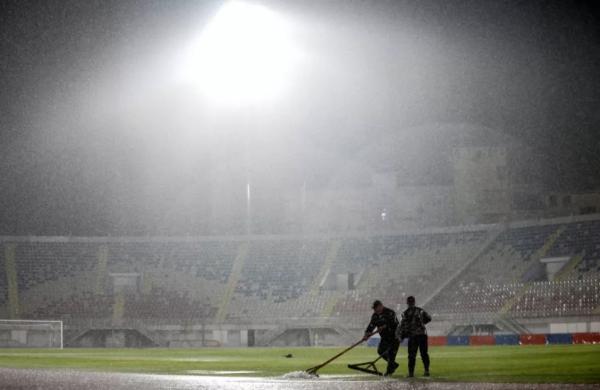 Staff work to clear water from the pitch after play was suspended. Photo: Nikola Krstic/Inpho
After 20 minutes of play the first rumbles were heard, accompanied by torrential rain. The surface soon suffered with the ball constantly stuck under players' feet, and any attempt at a pass along the ground rarely reached its target.
The game was scoreless at half-time and play was suspended for an hour as ground staff cleared the waterlogged pitch. Their efforts paid off as the second half finally got underway in more playable conditions.
Denise O'Sullivan scored the winner in the 88th minute, and with four wins from four games, Ireland have secured the group win and promotion with two games still to play.
"Have never laughed so hard during a game before, the conditions were absolutely absurd, but we got it done," Sinead Farrelly said on Instagram, alongside photos and a video which showed the midfielder enjoying the weather.
Sourse: breakingnews.ie