Tennis star Katie Boulter admits to being her "biggest critic" but the British No 1 is ready to get back to the "nitty-gritty" in order to keep improving in 2024; head to the Sky Sports website and app, for live scores, reports, analysis and features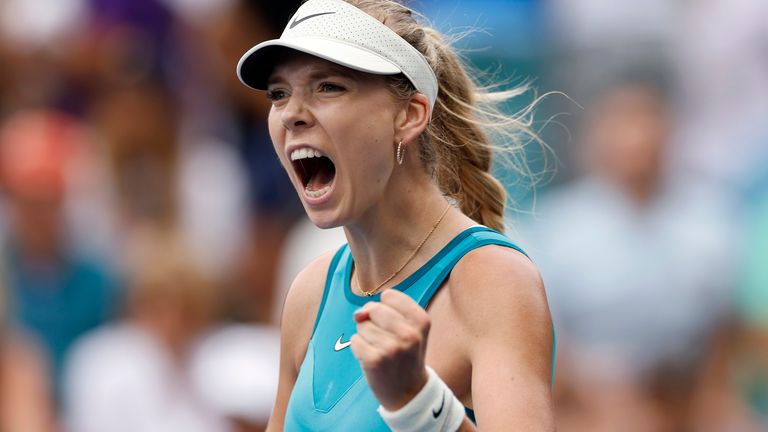 Image: Katie Boulter says British women's tennis has a bright future after the recent success of Hannah Klugman and Mimi Xu
Katie Boulter admits she has obsessive tendencies and is her "biggest critic" after finding so many aspects of her game she wants to improve despite having climbed to a career-high No 50 in her breakthrough year on the WTA Tour.
Boulter has enjoyed one of the best seasons of her career. Since competing in Great Britain's Billie Jean King Cup qualifying tie against France, she has picked up her maiden WTA title at the Rothesay Open, Nottingham, become the new British No 1 and reached world No 50.
She's earned more than £1m in prize money since turning pro in 2013, and has penned sponsorship deals with Nike and Wilson, but the 27-year-old admits to having a perspective shift which has helped motivate her.
Stream all your favourite sports and more with NOW I Get Sky Sports
Tim Henman on Emma Raducanu's coaching changes: It's horses for courses
Coco Gauff splits with coach Pere Riba but still working alongside Brad Gilbert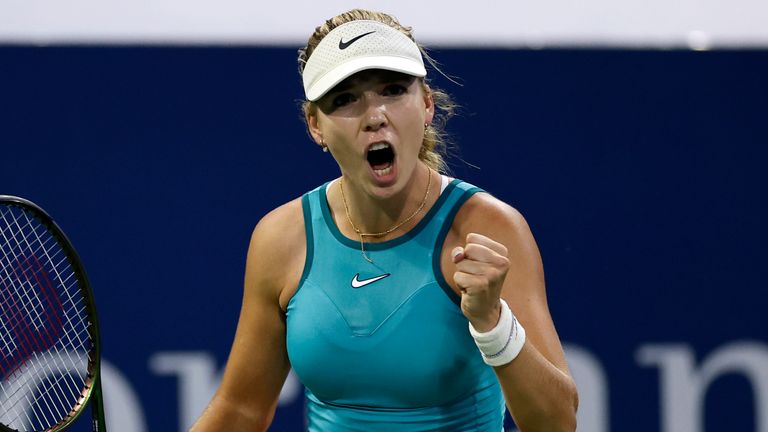 "To have worked so hard my whole career and to finally have things go my way and to feel as though I'm making some headway, all the work that I'm putting in is actually paying off," Boulter told Sky Sports' Emma Paton at the National Tennis Centre (NTC).
"That for me, if anything, is more of a motivator going into next year. I'm super excited!
"I feel like I've done a lot but we also have a lot more to do and that for me is what keeps me going every single day when I'm training."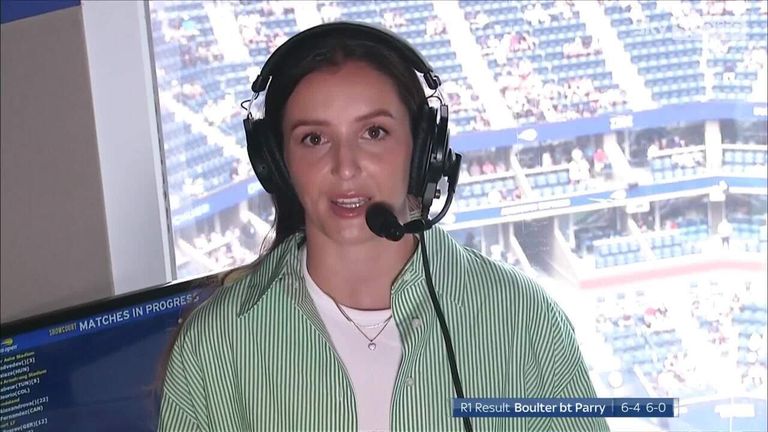 Laura Robson believes an improved mentality has helped Katie Boulter achieve better results in recent times
The LTA's men's and women's programme both have access to sports psychologists and Boulter says she has made full use of the scheme in order to change her mindset.
She said: "I worked with a psychologist [because] I had a couple of things which happened to me off the court which completely changed my thinking and the way I saw tennis as an importance.
"I love playing tennis but at the same time you've got to have a smile on your face, you've got to be out there and also remember there are more important things in life. That was something that was big for me."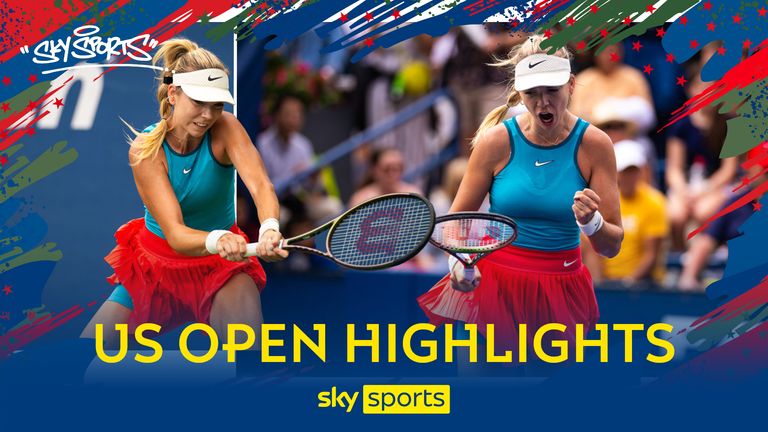 Highlights of Boulter's first-round match against Diane Parry at the US Open
Boulter is a firm believer in trusting the process, reminding herself to keep the faith and maintain patience in her pursuit of her mini-goals.
The Brit has already sat down with her team consisting of her coach Biljana Vesilinovic, physio Rory Mee and her fitness personnel to discuss her plans.
"I'm having conversations about things I want to work on for next year," admitted Boulter. "That's when I learnt that I'm a little OCD [obsessive compulsive disorder] because I found so many things I want to keep improving and as a team we've got lots we can improve on. I think that's the exciting part because I know that I'm not an established player and I know I have a lot more to come.
"I think we all have perspectives and they're all in my team because I value their perspective. It is interesting to me because you can miss things. I haven't got the best memory in the world and my biggest critic but you do miss things but that's the beauty of having a team."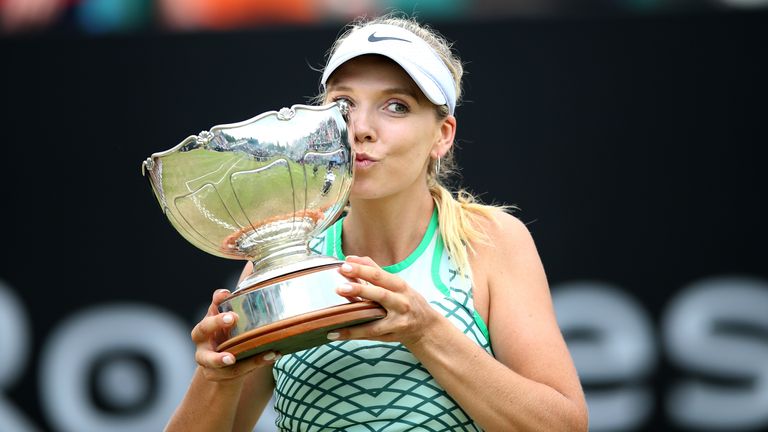 Image: Boulter won her first WTA Tour title in Nottingham this summer
Currently ranked No 55, the Leicestershire star seems determined to get back to the "nitty-gritty" tennis lifestyle in order to continue improving her game.
"I've got quite a few goals for next year which might be a good thing or a bad thing. I'm not really huge on rankings goals, I'm more of a process person. I like to go back to the nitty-gritty, the little things; the daily basis stuff," said Boulter. "There are a few things in my head I want to tweak.
"I'm going to be me asking myself every single day next year if I'm doing everything I possibly can and much more to be where I want to be. That's going to be the challenge for me.
"I've always wanted to be inside the top 100 but I've also been there before so it was never about getting back into the top 100. It was about pushing past my career high. I wanted to get closer to 50 so I had small mini-goals through the year, but I wouldn't say I had a massive goal."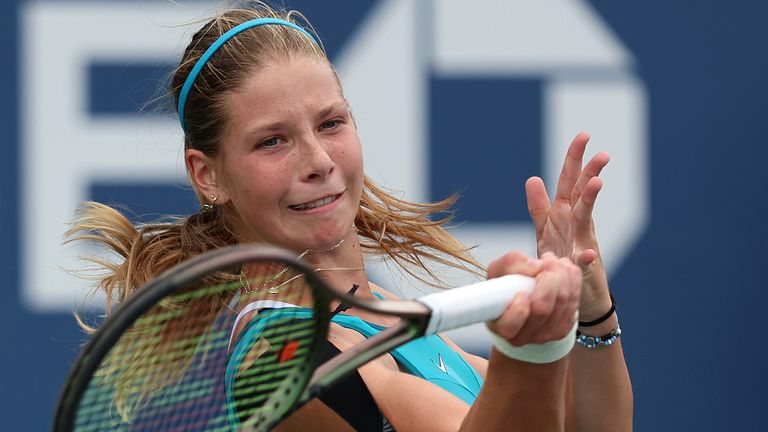 Image: Hannah Klugman eclipsed Coco Gauff as the youngest player to qualify for a W100 event in Shrewsbury where she reached the quarter-finals
With Hannah Klugman, 14, having reached the US Open girls' singles quarter-finals before eclipsing Coco Gauff as the youngest player to qualify for a W100 event in Shrewsbury and 16-year-old Mimi Xu winning the U18 ITF J300 in Beijing last month, Boulter feels the future of British tennis is in good hands.
"I feel like we're in a place where I always believed and I do believe that we have so much more coming," she said. "I'm looking forward to the next couple of years because it's going to be very interesting. We've got Jodie Burrage having cracked the top 100 and some great girls coming through like Hannah and Mimi.
"I think we're in a place that we can really push on. I think it's going to be an exciting couple of years."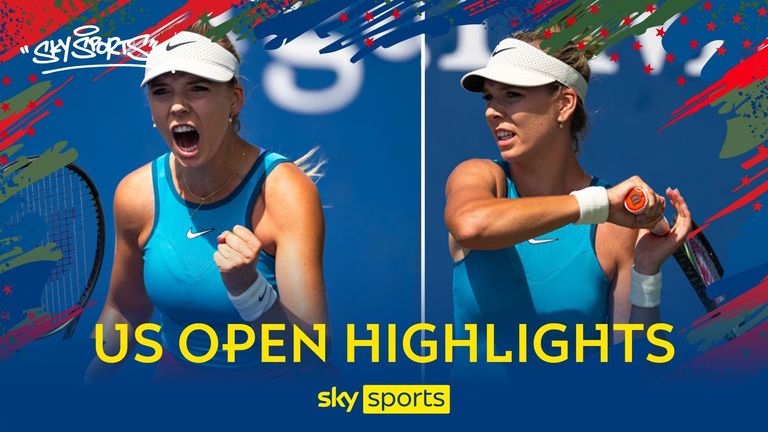 Highlights of Boulter's second-round match against Wang Yafan at the US Open
Billie Jean King: Coco Gauff's US Open win was fitting on equal-pay anniversary
The story of Djokovic I Serena: The career of an icon I Serena Williams' legacy
Federer: A gift from the tennis gods | Download the Sky Sports App I Watch with NOW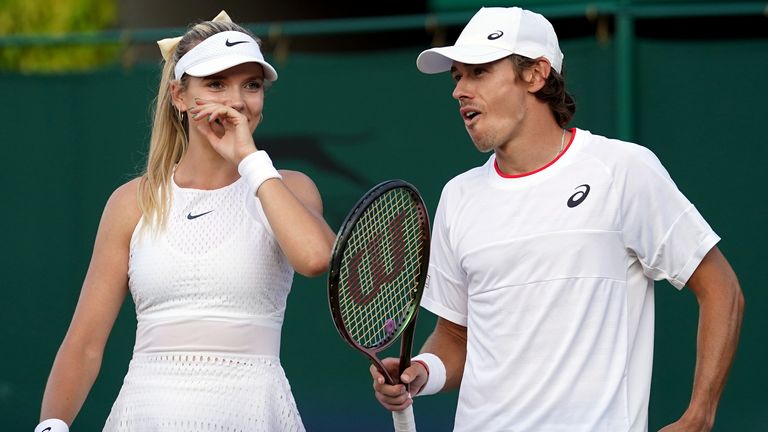 Image: Boulter and her partner Alex de Minaur teamed up for mixed-doubles action at Wimbledon
Boulter will start 2024 by playing the United Cup as Great Britain take on Australia where she will go up against her partner and fellow professional, Alex de Minaur.
She will then play Adelaide before the opening Grand Slam of the year in Melbourne.
"After that it kind of varies on the schedule a little bit on whether I go indoors or Abu Dhabi, Doha and then Indian Wells and Miami," Boulter said. "I think it's a perfect start to the year and a great opportunity to really push on."
Stream all your favourite sports and more with NOW
Sourse: skysports.com