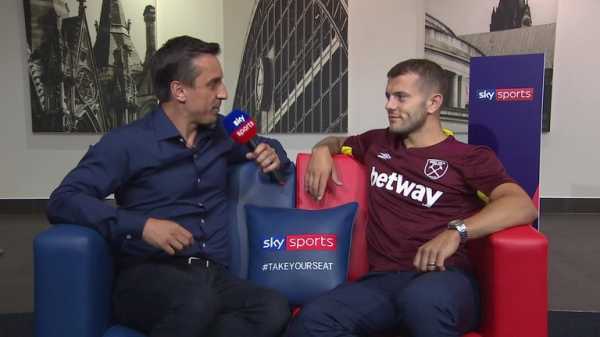 7:09
Jack Wilshere discussed England, West Ham and Arsenal with Gary Neville at Sky Sports' Premier League launch
Gary Neville caught up with West Ham midfielder Jack Wilshere, who discussed England, ambitions, and expectations ahead of a new season in new surroundings.
Wilshere called time on his 17-year spell at Arsenal when joining West Ham as a free agent earlier this summer.
The move followed an omission from England's World Cup squad, with Wilshere failing to convince Gareth Southgate he was worthy of a midfield spot ahead of Jordan Henderson, Eric Dier and Ruben Loftus-Cheek.
Speaking at Sky Sports' Premier League launch, Wilshere sat down with Neville to discuss what he must do to force his way back into Southgate's plans, while also reflecting on his career to date and how he has settled in at West Ham…
'England selection reflects club performance'
Neville: You were quite vocal in terms of being left out of the World Cup squad. I was over there for a month and everyone kept saying, 'England miss a player that can unlock the door or can find a pass'. Were you frustrated watching it?
Wilshere: I wouldn't say frustrated watching it. I was frustrated at the start, of being left out. Of course I wanted to go, I'm proud to play for my country. I've done it a lot of times and I felt I could give something to the squad, that's why I was vocal.
It's easy for people to say they haven't got a player in midfield that can do that, and needed someone like that, but I didn't get caught up in all that. I was like a fan, watched every game and wanted them to do well. Unfortunately they couldn't do it, but they did well.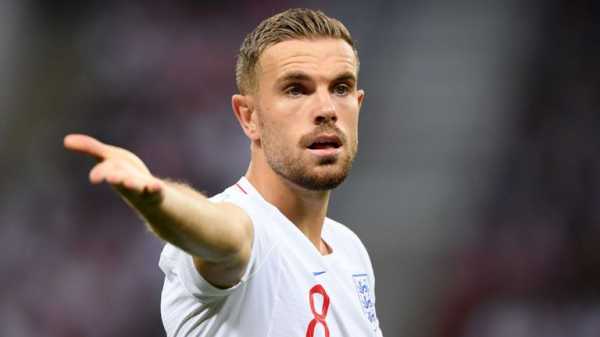 (Jordan) Henderson did well. He's good at what he does in that position, giving license to players like (Jesse) Lingard, who I thought had a good tournament as well. I'm happy for them.
Neville: Is it a big ambition for you to work your way back into that squad?
Wilshere: Of course. I want to be playing for my country. That's a reflection, if you're doing well for your club then you will get into the national squad. First and foremost, I've got to concentrate on doing well and hit the ground running at Anfield [against Liverpool]. And then we'll see.
Pre-season at West Ham
Neville: Are you fit and ready to go? There have been times where you've missed pre-season and that's held you back a little bit.
Wilshere: I can't remember the last time I completed a full pre-season. It has been good. When I was making the decision in the summer, I wanted to do it early so I could get a full pre-season in and get to know my new team-mates. I feel good.
Neville: What has pre-season at West Ham been like, compared to ones at Arsenal?
Wilshere: A little bit different. With Arsenal, we went long distance, more commercial things. I've had a chance at West Ham to get to know the new manager, new players and new formation. It has been different, but I've enjoyed it.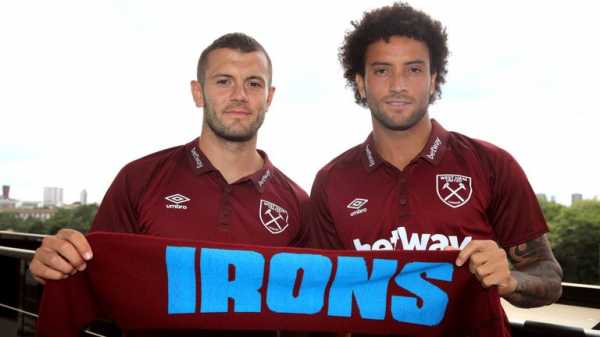 Neville: People look at you and think, 'If only he was fit more', and all those questions, you've heard it all before. Obviously I worked with you at England for three years, you're committed every single day, you're full-blooded in every single challenge. Have you had to tailor your pre-season in terms of how you go about it? Or injury prevention work?
Wilshere: I've done everything that all the players have done. Obviously I have my own individual stuff in the gym. As you've said, that has been my problem in the past. I go into every challenge, if it's 80-20 against me I'll still go in.
If I've had to change anything it's probably that, to be a bit smarter and pick my chances, my times, when I go into challenges. At the same time I can't stop that because that's the type of player I am.
Neville: Can you change?
Wilshere: I don't think I can. It's alright saying you're going to change, but you know what it's like in a game in the heat of the moment, if you want to win the ball or take someone on, you just go and do it.
'We want to be on the front foot'
Neville: New chapter. Your boyhood club that you supported. Who were your heroes growing up watching West Ham?
Wilshere: There was a few. I really liked Joe Cole. My all-time favourite was Paolo Di Canio, I don't really know why because I don't play in the position he did.
Neville: He was angry like you wasn't he.
Wilshere: And you! Every fan just loved him, he was so passionate and I remember that great goal he scored.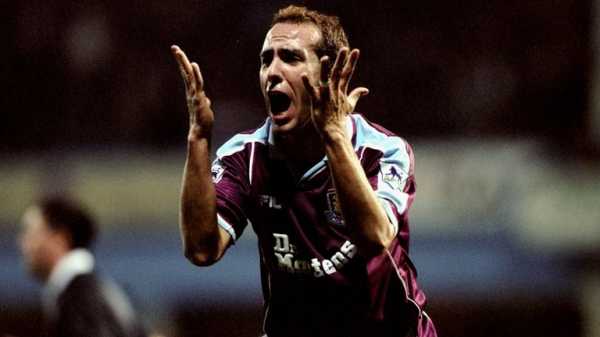 Neville: In terms of your start at West Ham. There are a lot of new signings. Are there any particular links that you feel excited about?
Wilshere: I've enjoyed playing with (Mark) Noble in midfield. It's quite difficult to get relationships in pre-season, because some players are at different stages – 45 minutes here and there.
We've got some good players, especially going forward. Yarmolenko and Anderson have settled in really well, they're going to bring something different and it will be interesting to see how they adapt in this league. Everyone knows how difficult this league is, but we're excited, we're a good team going forward, and in this league we need to defend as a team well and then we'll have the opportunity to go forward and create chances.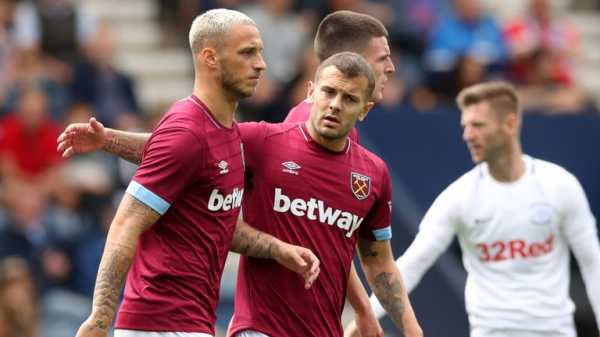 Neville: What would success be this season, for you and the club?
Wilshere: It's difficult for me to say as a club as it's my first year. Last year, I know after talking to the players that it wasn't good enough, they didn't feel like they reached the heights they could.
We need to improve on that. We've got a big game on Sunday so we need to show everyone what we can do. We want to be a team that goes to places looking for the win, not reacting to situations in a game. We want to be on the front foot and taking the game to the opposition.
Half-term report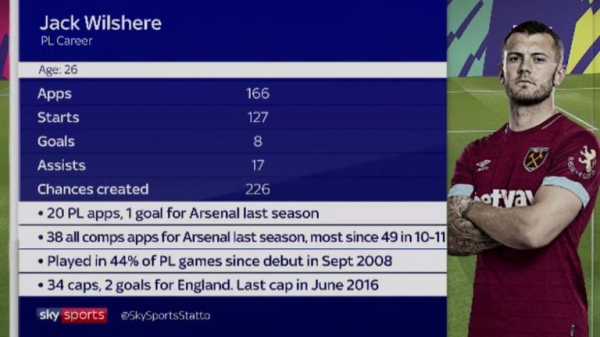 Neville: You're 26 now, roughly halfway through a career. What would you say about yourself if you were doing a half-term report, looking at those stats?
Wilshere: I'm obviously disappointed with the appearances. I've said many times that I've missed too much football, but at the same time some of them things have been out of my hands.
The goals, I've always said I need to be scoring more. It's time for me to show that and stop saying that, putting myself in opportunities where I can score goals. I look back over the years and I'm always the player waiting on the edge of the box, waiting for an opportunity, but I want to be a player getting into the box.
You look at the top midfielders in the past. Lampard. Gerrard. I want to be getting more goals like them.
'Pressure on Liverpool'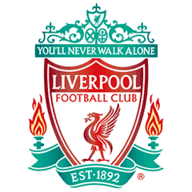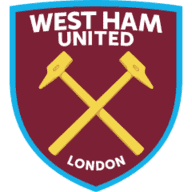 Liverpool vs West Ham
August 12, 2018, 12:30pm
Live on
Get Sky Sports Get a Sky Sports pass
Neville: On the weekend you're playing Carragher's lot (Liverpool). What's that going to be like?
Wilshere: It's going to be difficult. I think it's a good time to play them. They might have a few players that won't be playing from the World Cup still, the pressure is on them. They have had a really good transfer window and will be challenging this year, so the pressure is on them.
We have to go there and play our game. I've been there many times with Arsenal, I've been 4-0 down after 20 minutes. We know what we have to do, keep it tight, defend well as a team and we're confident we can create chances.
Upgrade to Sky Sports Premier League and Sky Sports Football now for just £18 a month. Cancel any time.
Mobile users will once again be able to see in-game goals and match highlights.
Also See:
What now for West Ham?
More PL fixtures live on Sky
West Ham close to agreeing Perez deal
Deadline Day on Sky Sports
Sourse: skysports.com