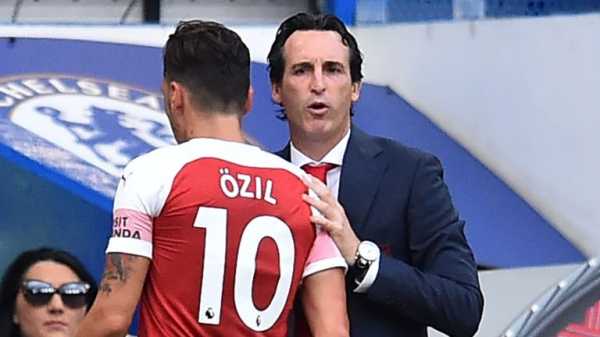 Arsenal head coach Unai Emery has so much work to do as his side looked disorganised again in their 3-2 defeat to Chelsea at Stamford Bridge.
From the moment that the fixtures came out, the fears were there. Manchester City at home followed by Chelsea away was a daunting start but it did at least present Unai Emery with the chance to get his Arsenal reign off to a flyer. A win in either game would have provided some evidence that the change of coach could be the catalyst for a change of fortunes.
Instead, after the 3-2 defeat on Saturday, Emery has become the first Arsenal manager to lose his first two games in charge since Steve Burtenshaw was beaten three times in a row as caretaker manager in 1986. Arsene Wenger never lost the first two games of a Premier League season during his 22-year reign at the club. This was not the change envisaged.
But it cannot come as any great surprise to Arsenal supporters that they lost this game. The Gunners had been beaten in five of their previous six games at Stamford Bridge and the other was a goalless draw. In scoring twice during the first half, Emery's side actually scored as many goals at this ground as Arsenal had managed in those six earlier visits combined.
They created chances and lots of them. Pierre-Emerick Aubameyang contrived to spoon the ball over the bar when it appeared easier to score and Henrikh Mkhitaryan ballooned a shot over soon after that was only marginally more difficult. Time and again they managed to find space in behind the Chelsea defence. They were well worth the two goals.
In fact, Arsenal's 12 shots in the first half were as many as any Premier League team has had in the opening 45 minutes this season. According to Opta, four of them were clear-cut chances – twice as many as any side has managed to fashion before the break. By the end, seven different players had set up a chance and arch-creator Mesut Ozil was not even one of them.
So it says something for just how sloppy Arsenal continue to look at the other end of the pitch that it still seemed remarkable that they went in on level terms. After being pulled apart by Manchester City at times, there was a hope that Emery's team would appear more organised second time out. If anything, they were actually worse.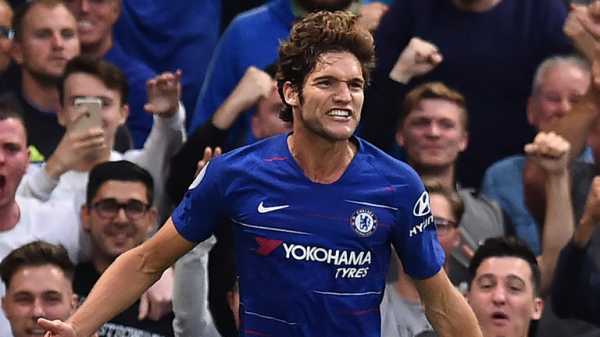 3:00 Chelsea 3-2 Arsenal
Hector Bellerin was targeted at right-back but seemed oblivious to this as he continued to advance without a care. For the first Chelsea goal, he was sucked inside tracking Willian, allowing Marcos Alonso the space to run into and set up Pedro to score. Mkhitaryan failed to follow a run that can hardly have been a shock given that Alonso is a natural wing-back.
It was a simple goal to concede. Utterly avoidable. But the second was even more embarrassing for Arsenal as Cesar Azpilicueta's lofted pass found Alvaro Morata. Shkodran Mustafi appeared to be attempting to play offside despite the fact that the Chelsea forward was in his own half. Forget Sarri-ball. This was long ball. And Arsenal still could not cope.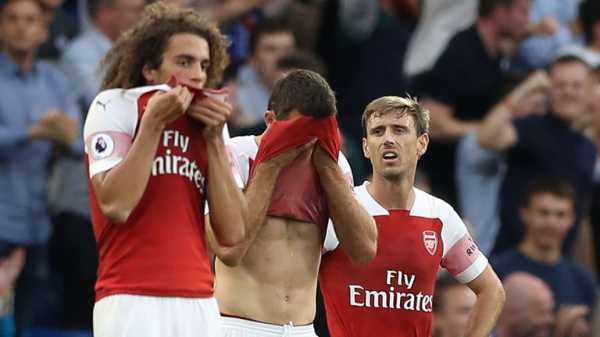 "Are you Wenger in disguise?" That was the chant that the Chelsea fans delivered at that stage of the game. Emery was supposed to bring some pragmatism after the departure of the idealist but the sight of Cech continuing to struggle to build the play from the back – having to retake several goal-kicks that did not leave his area – told a different tale.
The determination to play such a high line also seems flawed in a number of ways. Firstly, Mustafi and his new centre-back partner Sokratis Papastathopoulos do not have the pace to get themselves out of trouble. Nor does Nacho Monreal at left-back. Bellerin has it but found himself far too high up the pitch to provide the cover that was required.
Secondly, Arsenal have not yet mastered the pressing game that would make sense of this style of play. It is not Ozil's game. It is not Granit Xhaka's. Only when Lucas Torreira was introduced at the interval and began to track runners and come up with interceptions, did the Arsenal defence have any protection whatsoever. And even he erred for the winner.
In truth, it was coming. Cech, much-maligned against City, made eight saves in the game – no Premier League goalkeeper has made more in a match this season. But he could do nothing to stop Alonso settling it after substitute Alexandre Lacazette was far too casual in dealing with the most dangerous man on the pitch in Eden Hazard.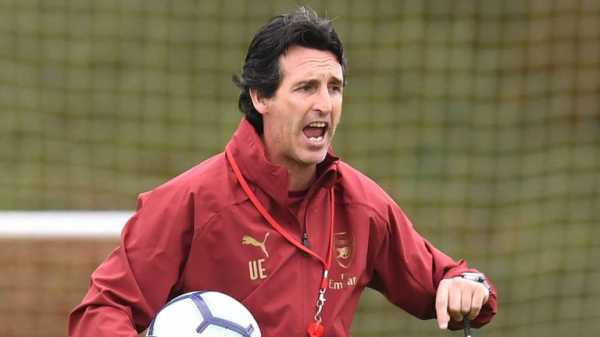 2:48 Ian Wright says that Emery can help to change Arsenal's identity
There was no grand finale either. It could have been more. When Alonso was allowed to wander into the box in the 87th minute, it was like there was a glitch in the game – there was no effort to close him down with Cech being forced into yet another save from Hazard. The only mercy for Arsenal was that Olivier Giroud did not cap it off in stoppage time.
So how does Emery solve all this? Against City, Arsenal lacked cohesion at both ends of the pitch and failed to press the opposition effectively either. This was a little different. At least they were a threat against Chelsea and that is something for the new coach to build on – if he can come up with a structure to stop his team being carved apart.
Laurent Koscielny is not yet fit but Torreira should make a difference and Stephan Lichtsteiner might help to stiffen up the back line. But there is no superstar signing waiting to come into this team and transform them. The solutions must come on the training ground and within the group. One can only hope belief has not been sapped by these early struggles.
With the next three Premier League matches coming against West Ham, Cardiff and Newcastle – none of whom, like Arsenal, have won a game so far – it should get easier. But with so few signs of progress so far, the onus is already on Emery to show that his well-established tactical capabilities are going to have some sort of impact on these players.
Also See:
Chelsea pip Arsenal in thriller
As it happened at Stamford Bridge
Sourse: skysports.com