By Will Downing, Berlin
Thomas Barr is into Thursday's final of the men's 400m hurdles at the European Athletics Championships in Berlin – while Phil Healy bowed out in the 100m semi-finals but is still satisfied with her progress made this season.
Barr applied his usual kick to come through in second place in an eventful semi at the Olympic Stadium, but his time of 49.10 seconds means he will be on the outside in lane eight in Thursday's decider.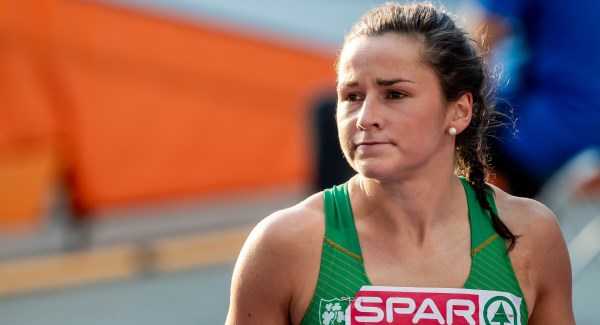 Phil Healy after finishing 7th in the Women's 100m Semi-Final today. Pic: INPHO/Morgan Treacy
Yasmeni Copello of Turkey strolled through in 48.88, easing up over the final twenty metres, belying Barr's drama happening behind him.
The Irishman had to rush up the final straight in his usual trademark way, as he was lying around fifth on the final bend.
In doing so, the Waterford hurdler overhauled Italy's Lorenzo Vergani, who had performed strongly for most of the race, and Muhammad Abdalla of France.
Neither got through as a fastest loser.
One potential rival, Aleksandr Skorobogatko, competing under a neutral flag, pulled up injured after the first hurdle on the immediate outside of Barr and Copello.
Speaking after the race, former Universiade champion Barr reflected on his years at the top and mishaps surrounding last year's World Championships in London – hit by the gastro-enteritis bug that swept through a number of teams – and the previous Europeans in Amsterdam, where he bowed out in the semi-final after three months out injured prior to those Championships.
Barr said: "The fact people are used to it (the kick) and it's still there, that's a good thing. It means I'm back to being myself and back on form.
"I probably didn't go out as hard as I should have at first.
"The first 200 was perhaps okay, but on that top bend I certainly eased off too much, maybe relaxed too much.
"But at least on Thursday I know what to work on and where to work hard.
"I'm going to be in lane eight so I'm going to have to work on my own stride patterns and put the blinkers on."
Barr was given a bye in yesterday's opening round heats, an initiative carried over from the scaled-back Olympic-year Europeans in Amsterdam two years ago.
It's a move that has earned widespread criticism, and though Barr was a beneficiary from it yesterday – as Leon Reid will tomorrow in the 200m heats as Marcus Lawler competes but Reid doesn't – the Irish champion is not a fan, and he felt it was more a hinderance than a help.
He said: "I was nervous coming into today as it's the first race of a new Championships. I could have been in third place or fourth place, and that wasn't a particularly fast race so the fastest qualifier from it wasn't going to be getting through.
"The first race of a major Championships is always nerve-wracking, it's a step into the unknown.
"The conditions, the track, the competitors – some of these guys I haven't raced against. This is the first race, and ALL the European guys are out there, after us racing against lots of Americans during the year.
"Even for nationals, I would usually be more nervous for a heat at the nationals than the final.
"That race out there was some boy's final, but for others it was barely a heat – Copello pretty much eased off in that last 100.
"But I have to be happy with today's race."
Thursday's final sees Barr on the outside in the eighth lane, with Copello in lane four, and the other semi-final winners in lanes five and six.
World champion Karsten Warholm of Norway eased up in winning his semi in 48.67, while Estonia's Rasmus Mägi took the middle of the three semi-finals in 48.80 – again probably with something in reserve.
Healy was involved in a blanket finish in her semi, but was edged down into seventh spot in 11.46 seconds, two-hundredths outside her time in yesterday's opening round heats, and 0.18 down on her Irish record of 11.28 set in June's Dublin Championships – a time that also would not have seen her through as 11.20 was the slowest time set by an ultimate finalist, by Orlann Ombissa-Dzangue of France.
She had enjoyed an excellent start, but was ultimately pushed down the order in the final ten metres.
Britain's Dina Asher-Smith took the honours in 10.93 seconds, ahead of Germany's Gina Lückenkemper in a new European Under-23 record of 10.98 – though older marks set in the Soviet era have now been discarded by European Athletics.
A mere 0.13 seconds divided Orphee Neola of France in third from Healy's seventh-place.
The Cork sprinter had been ranked seventh on season's best going into the semi-final in any event.
Healy said afterwards: "I'm happy, though I thought I was further up in the position.
"It was hard to tell but, really happy to have been in the semi-final and to have finished seventh.
"It shows how far I've come. In 2014, I didn't qualify for the semi-final so to come out for this, I've given it my all from the start and I'm looking forward to hitting the 200 on Friday."
Stephen Scullion was 23rd in the men's 10,000m final as Morhad Amdouni of France won a tremendous sprint finish, overtaking Belgium's Bashir Abdi on the outside with 40 metres remaining.
Yeman Crippa of Italy was third.
Poland took both gold and silver in the men's hammer as defending champion – and London 2017 gold-medallist – Pawel Fajdek was dethroned by compatriot Wojciech Nowicki, who threw 80.12 metres to Fajdek's 78.69, with Michal Haratyk and Konrad Bukowiecki threatening to do the same in the men's shot, moving into the top two positions ahead of home favourite and defending European champion David Storl at halfway.
Earlier, Brendan Boyce finished 19th in the men's 50k walk after being in bronze position at half-way, while Chris O'Donnell in the 400m and Siofra Cleirigh Buttner and Claire Mooney in the 800m all bowed out – 20-year-old O'Donnell with a season's best.
Sourse: breakingnews.ie