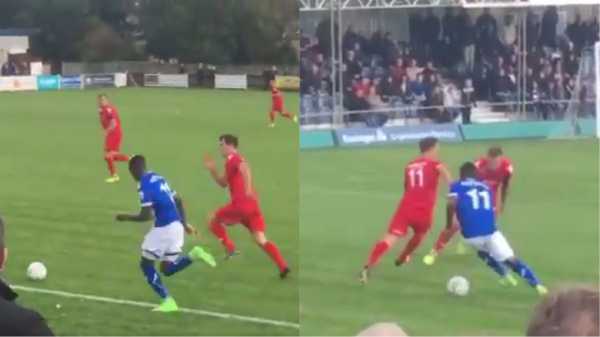 When you're playing lower league football and hoping for your big break, sometimes you need something a little different to stand out from the crowd. Abo Eisa has that in abundance, and it's paid off.
The winger has consistently impressed this season for sixth-tier Wealdstone, with videos of his skills shared widely on social media, and now Shrewsbury Town have come calling.
With Wealdstone 12th in the National League South, and Shrewsbury fighting for an automatic promotion place in League One, Eisa has jumped up 81 places in the league pyramid, and here's why.
Ever seen a footballer send two defenders the wrong way with one dummy before?
The 23-year-old has signed an 18-month contract with the Shrews, with the option of a further year, and had scored 12 league goals so far this season before his big move.
Here's one of the best.
"I'm a winger, I've got a lot of flair and I like to take people on," Abo told ShrewsWeb.
"Sometimes it just happens and you take someone on and then another one and then the whole place opens up and you think, why not shoot?"
Here's that goal from another angle. After a run that long, you're more than entitled to go for the headline finish.
Shrewsbury fans might be about to see some stunning goals if his collection is anything to go by.
One fan who will miss witnessing Eisa's brilliance this season is the Wealdstone Raider, who told the Press Association: "Shrewsbury have got a real bargain. He's two-footed, pacy and runs at defenders.
"He scores goals for fun and even though we are gutted he's leaving, we knew it was bound to happen. Good luck Abo Eisa, from all the Wealdstone fans."
He's clearly left an impression on the fans in the National League South. Will he leave an impression on League One's defenders?
Sourse: breakingnews.ie