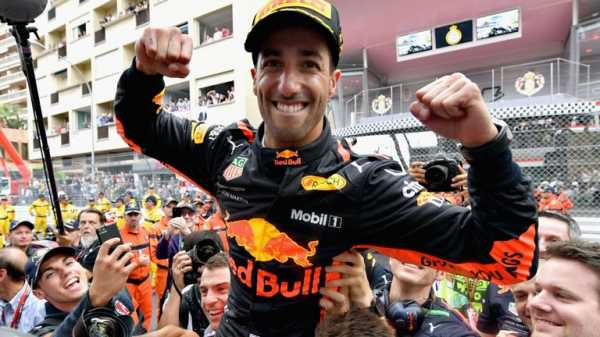 Daniel Ricciardo finally broke his Monaco GP duck with a remarkable drive in a wounded Red Bull, somehow holding off Sebastian Vettel and Lewis Hamilton to secure his second victory of the season.
Pole-sitter Ricciardo was in control through the first part of the race but then had to limp around the iconic streets with an engine problem for a staggering 60 laps, taking his first Monaco win in incredible fashion.
The Australian was losing around 20mph to his rivals on the straights, but though Vettel was consistently within touching distance after the Red Bull suffered the MGU-K complaint, he could not squeeze his Ferrari past.
Ricciardo enjoys Monaco redemption
Horner: We nearly retired Ricciardo
"I felt a loss of power and thought the race was done," admitted Ricciardo, who claims he suffered the issue on Lap 18 when four seconds ahead. "I was only using six gears."
In a revelation that made Ricciardo's controlled drive all the more impressive, Christian Horner told Sky F1 that Red Bull nearly immediately retired his car after discovering he had lost 25 per cent of its power.
"He was pulling away from Hamilton with no MGU-K – he drove an unbelievable race," said the Red Bull boss. After a late Virtual Safety Car, Ricciardo eventually won from Vettel by seven seconds.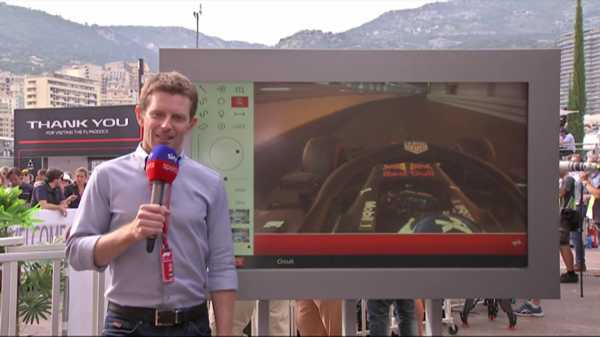 Anthony Davidson takes an in-depth look at Daniel Ricciardo's engine issues from the Monaco GP
Hamilton also looked to be in contention for Mercedes but fell away in the closing stages as he struggled for grip after running longer on ultrasoft tyres, with his championship lead over Vettel cut to 14 points.
Kimi Raikkonen hung on to fourth despite Valtteri Bottas' best efforts, while Max Verstappen gained 11 places to finish ninth after starting at the back of the grid.
Verstappen, running in an evidently quick Red Bull car, was under pressure after a poor Saturday but insisted he "maximised the result" in the race with several fine sweeping overtaking moves.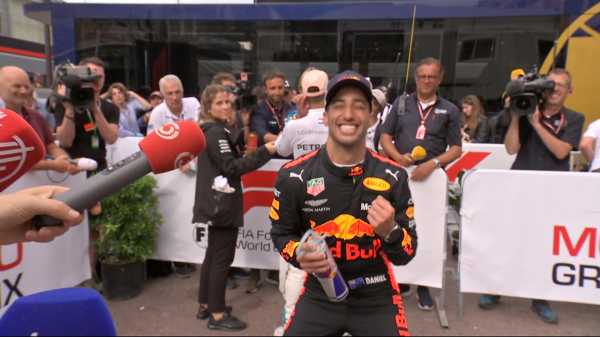 Ricciardo says he's exhausted after racing for 50 laps with a lack of power before winning
Esteban Ocon made the most of his fine qualifying by keeping hold of sixth place, with Pierre Gasly an impressive seventh for Toro Rosso after taking advantage of Fernando Alonso's first DNF of the season.
Alonso, while attempting to keep Gasly's Honda-powered car at bay, suffered a gearbox issue in another frustrating afternoon for McLaren – with Stoffel Vandoorne down in 14th.
Alonso's retirement on Lap 52 was, unusually at the jewel in F1's crown, the first of the race. But, as ever, there was chaos to follow in Monte Carlo when Charles Leclerc smashed into Brendon Hartley at the Nouvelle Chicane.
There was a puff of smoke out the back of Leclerc's Sauber as, at his home race, he suffered a brake failure at the exit of the high-speed tunnel. What followed was heavy damage, and a Virtual Safety Car.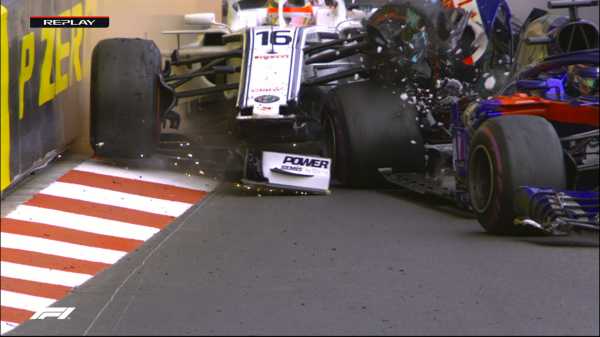 Charles Leclerc's big brake failure on the exit of the tunnel leads to him smashing into the rear of Brendon Hartley
Luckily for Ricciardo that VSC did not have an impact on his race, with the leading cars opting against a late pit-stop.
It was another nightmare Sunday for Williams, meanwhile. Sergey Sirotkin, starting 13th, was quickly serving a 10-second stop-and-go penalty for having his tyred fitted too late pre-race, while Lance Stroll suffered two punctures.
They were the last drivers to finish the race.
Is Ricciardo now a title contender?
Ricciardo quite rightly lapped up the praise following his performance. A polar opposite win compared to China's overtaking masterclass, this was a driver staying cool under immense pressure, using the raw pace of his chassis.
Horner even compared the drive to Michael Schumacher's memorable Spanish GP in 1994, when the German finished second despite being stuck in fifth gear.
Ricciardo spoke of "redemption" having failed to convert his only other F1 pole position into victory at the 2016 edition in Monte Carlo, with a botched pit-stop angering him to this day.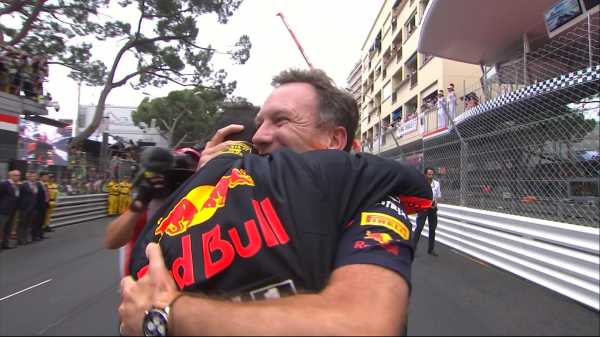 Christian Horner felt that Ricciardo 'drove an unbelievable race' after suffering engine issues and still managing to win
"This is two years in the making," he roared. "After 2016 got away and when the problem hit today I thought 'what the hell have I got to do to win this race?'."
But another storyline is emerging, as he is now edging himself into title contention.
In a sign of a fiercely competitive and intriguing 2018 season, the top three drivers in the championship are from three different teams, with Ricciardo 24 points behind Ferrari's Vettel, and 38 points adrift of Mercedes' Hamilton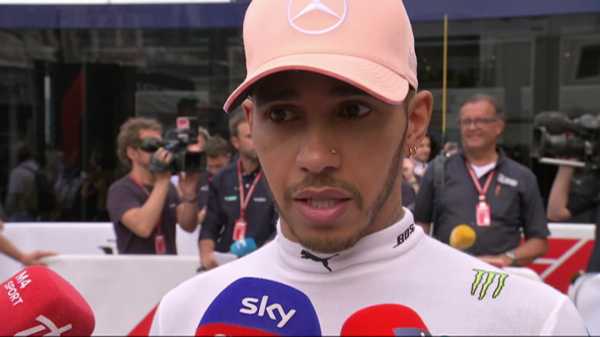 Mercedes driver Lewis Hamilton is grateful to lead the championship by 14 points ahead of Sebastian Vettel
"It's not impossible but not at the forefront of my mind," said Ricciardo, who would be much closer were it not for his two race retirements.
Hamilton was the first man to pit from the leading pack and was subsequently stuck on ultrasofts for 66 laps, even reporting graining within 14 laps of his stop.
"It felt like the longest race I have ever done," he admitted.
Still, he was opting to take the positives from Monaco despite Vettel's small gain in the standings, claiming "it was much better than last year".
Vettel, meanwhile, was looking ahead to the Canadian GP and is confident of Ferrari's chances.
With three teams and six drivers all in the mix, it should be another thriller.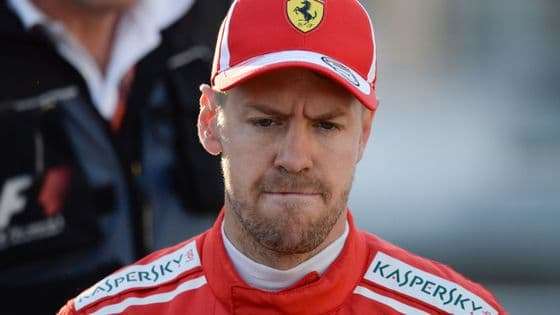 Ferrari's Vettel says the battle is with all three teams and six drivers
Story of the race
Lap 1, Clean start and all of top-10 keep position, but contact for Hartley. Verstappen overtakes both Haas cars.
Lap 2: Ricciardo already 1.3s ahead of Vettel, while Hamilton says Mercedes pace is slow
Lap 12: Hamilton, 4s off the lead, is the first to pit. Ultrasoft tyres on – comes out in sixth. Ricciardo ups his pace.
Lap 14: Hamilton waved through by Ocon for fifth.
Lap 16: Vettel, also 4s behind Ricciardo, is the next to pit. Rejoins in third, behind team-mate Raikkonen.
Lap 17: In come Ricciardo, Raikkonen, and Bottas. Ricciardo back out 3.5s ahead of Vettel. Raikkonen 5s off Hamilton. Bottas 7th, but on more durable supersofts.
Lap 18: Ricciardo claims he exited a corner and felt "pretty much no power" – lead quickly down to two seconds
Lap 26: Hamilton, under pressure from Raikkonen, says his tyres are beginning to grain.
Lap 28: Ricciardo's reports via team radio that he's losing power and his advantage over Vettel is suddenly just half a second. He's told to keep it smooth but is way down on straight-line speed, harvesting power on the straights.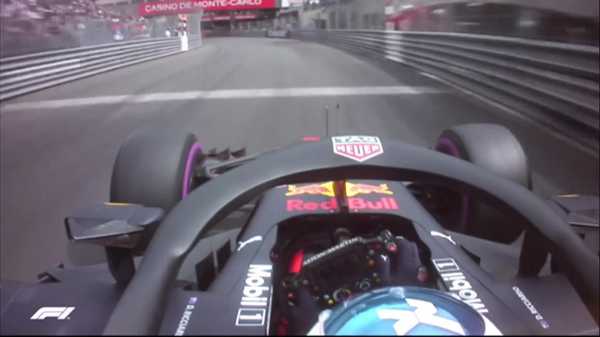 Listen back to how Ricciardo's problems were broadcast over team radio
Lap 32: Ricciardo is then told that the problem won't improve but Vettel's tyres are beginning to drop off
Lap 39: Ricciardo still ahead of Vettel but field closing in. Bottas, fifth, now just 9s off the lead.
Lap 40: Hamilton: "I can't believe these tyres are going to last 40 more laps." He is told of Ricciardo's problems and can switch strategies if he wants, but would lose two positions. Just 3s off the lead, he stays out.
Lap 52: Alonso retires with gearbox issue. Prompts VSC but not long enough for leading pack to capitalise with pit-stop.
Lap 67: Top two up their pace and Hamilton starts to drop away
Lap 72: Leclerc crashes into the back of Hartley. VSC deployed but again, leaders choose not to pit
Lap 74: Ricciardo suddenly five seconds ahead of Vettel, who couldn't get his tyres working at the restart
Lap 77: "I've got it buddy," Ricciardo tells race engineer as he closes on first Monaco win.
Lap 78: Ricciardo takes victory. "I don't know how you did that," says Red Bull team.
Monaco GP Race Result
| | | |
| --- | --- | --- |
| Driver | Team | Time |
| 1. Daniel Ricciardo | Red Bull | 1:42.54.807 |
| 2. Sebastian Vettel | Ferrari | +7.336 |
| 3. Lewis Hamilton | Mercedes | +17.013 |
| 4. Kimi Raikkonen | Ferrari | +18.127 |
| 5. Valtteri Bottas | Mercedes | +18.822 |
| 6. Esteban Ocon | Force India | +23.667 |
| 7. Pierre Gasly | Toro Rosso | +24.331 |
| 8. Nico Hulkenberg | Renault | +24.839 |
| 9. Max Verstappen | Red Bull | +25.317 |
| 10. Carlos Sainz | Renault | +1:09.013 |
| 11. Marcus Ericsson | Sauber | +1:09.864 |
| 12. Sergio Perez | Force India | +1:10.461 |
| 13. Kevin Magnussen | Haas | +1:14.823 |
| 14. Stoffel Vandoorne | McLaren | +1 lap |
| 15. Romain Grosjean | Haas | +1 lap |
| 16. Sergey Sirotkin | Williams | +1 lap |
| 17. Lance Stroll | Williams | +2 laps |
| Did Not Finish | | |
| Charles Leclerc | Sauber | |
| Brendon Hartley | Toro Rosso | |
| Fernando Alonso | McLaren | |
See the final word on all the Monaco GP action and latest F1 talking points on the next edition of the F1 Report – make a date with Sky Sports F1 on Wednesday at 8.30pm Get Sky Sports F1.
Comment below to get involved in the debate, but please adhere to our House Rules. If you wish to report any comment, simply click on the down arrow next to the offending comment and click 'Report'.
Also See:
Get Sky Sports F1 for 2018
When's the next F1 race?
F1 2018: How to watch with Sky F1
Which Sky F1 team member are you?
Sourse: skysports.com