"Where do you start and where do you end?" responded Roy Keane when asked to detail Manchester United's problems after the 3-0 drubbing by City. So we've taken the task on…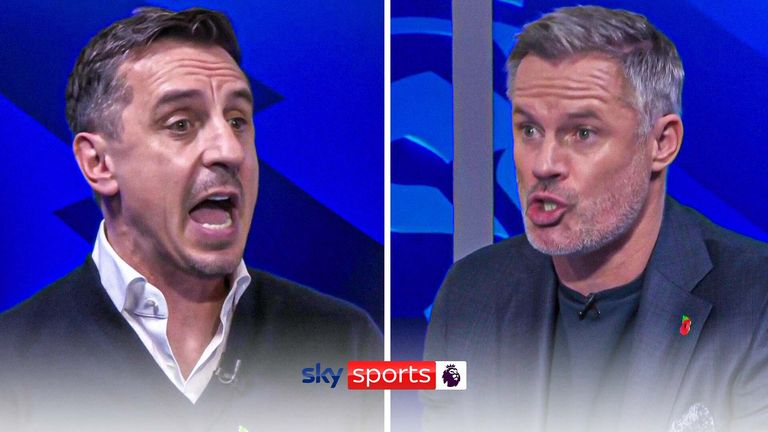 Gary Neville and Jamie Carragher clash on what the problems are at Manchester United following a comprehensive 3-0 defeat to Manchester City
* Let's start with form. United have lost five of their opening 10 league matches this season – their worst start since 1986/87. One of the few understandable features about this United team is that they are currently devoid of confidence.
* There is no recognisable style of play when United attack or, before then, seek to build an attack.
* Even United's rollcall of league wins this season offer few comforts. Keep in mind that Forest were 2-0 up at Old Trafford and then lost with 10 players, that the victory over Wolves was dependent on a refereeing/VAR gaffe, that Sheffield United were only beaten by Diogo Dalot's late bolt from the blue and Brentford were ahead after 90 minutes, and you are left with a 1-0 win at Burnley as United's only claim for a convincing win this term.
* Marcus Rashford's form has nosedived. One goal in 13 club games this season tells its own sorry story.
* Keane's withering condemnation of Bruno Fernandes' captaincy credentials is not the first such put-down. But who else is there? Where are the leaders in the United squad?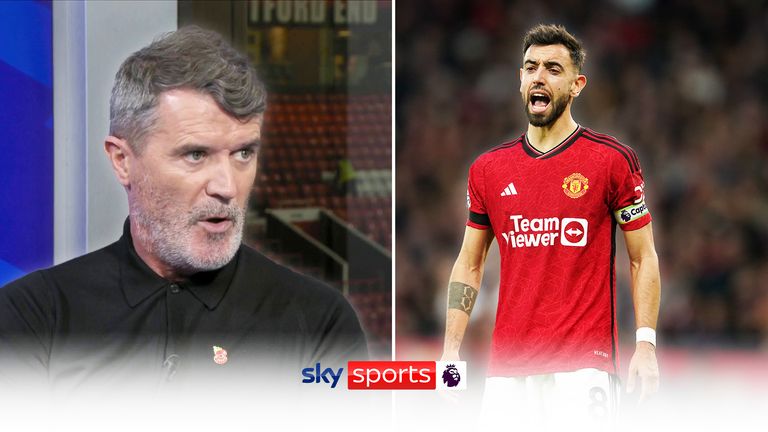 Roy Keane says Bruno Fernandes should not be captain of Manchester United
* Removing Ten Hag would just be piling a crisis on top of a depression. But there is a difficult question beginning to be posed about the United boss: which players have actually improved during his tenure? He needs to find some positive answers, and quickly, to keep the critics at bay.
Report: Man Utd 0-3 Man City
Premier League table | Watch free Premier League highlights
Get Sky Sports | Stream the biggest moments on NOW
* As Gary Neville remarked in commentary during the derby defeat, the squad is misshapen. Take the centre of midfield: United's squad has three attacking central midfielders in Bruno Fernandes, Christian Eriksen and Mason Mount, all of whom want to play as a number 10, but very little in the way of defensive protection. What was the strategic thinking when United splashed £60m on Mount?
* Let's stick with recruitment. Are players being bought for the club or the manager? Eight of the signings under Ten Hag have either been bought from or have ties to the Eredivisie – a league hardly recognised as an elite footballing hotbed. "They have allowed another manager to come in and dictate policy and let the tail wag the dog on recruitment," complained Neville. Great clubs should not be managed like this.
* It's still not clear what United's first-choice team is. In four of the 10 league games this season, United have made a half-time substitution. Stability both on and off the pitch is lacking.
* To quote Jonathan Northcroft on X: 'Antony is not good enough to start, sulks on the bench, comes on and does nothing except a stupid tackle and a childish flap to risk a red card. Manchester United's second most expensive signing.' Apart from that…
Twitter Due to your consent preferences, you're not able to view this. Open Privacy Options
* It hardly helps, of course, when your neighbours have become the most successful club in the country, never mind the city. All of United's on-field issues are exacerbated whenever they are compared, or play, the Pep Guardiola juggernaut.
* Who, what and where is the management behind the manager? "I have been here for over 26 years and for 23 of those years my boss has been one of only two men: Martin Edwards, who brought me to the club, and David Gill," said Sir Alex Ferguson on the day Gill announced he was stepping down as chief executive. For the 10 years since, it has felt as if a power vacuum has existed at Old Trafford.
* To cut United some slack, injuries have been a wrecking ball this season. But isn't that what a squad is for?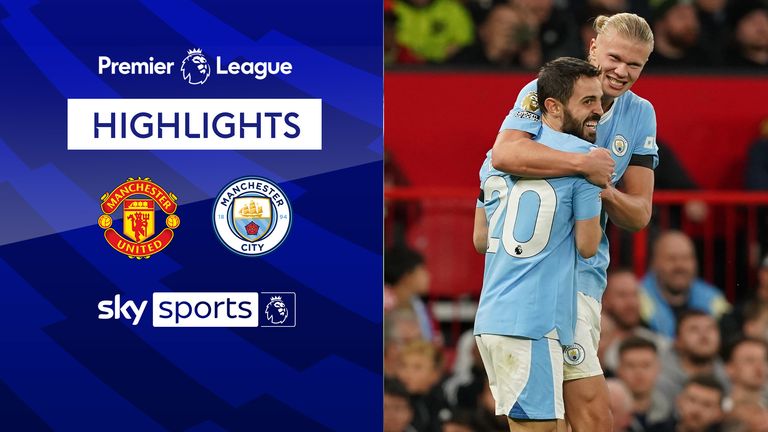 FREE TO WATCH: Highlights from Manchester City's win against Manchester United in the Premier League
* A glance at Manchester United's fixture list suggests it could still get worse before it gets better. The two-week period at the start of December when United must play Newcastle, Chelsea, Bayern and Liverpool in close succession is particularly ominous.
* Rasmus Hojlund has a very high ceiling. But right now, he's raw, inexperienced…and being asked to lead the line of one of the biggest clubs in the world. It feels unfair to point out that he has yet to score in seven league appearances because it is very much unfair.
* This must be one of the least physically imposing United teams in living memory.
* Sooner rather than later, United's incredible good luck in cup draws will have to run out. Their current run of 12th successive home draws in the FA and Carabao Cups is a British record and a 4,096/1 long shot. For context, their last one-off away cup tie was a 3-1 defeat at Leicester in March 2021.
* Andre Onana might have played well against City – and even then, City still won 3-0 – but is anyone currently convinced he's the right goalkeeper for United or a definite improvement on David De Gea?
* In the words of Jamie Carragher, United play "underdog football". "It's really shocking when you see them try to play out from the back," said Carragher. "They play counter-attack and long balls – no other top team plays that way." It's that final comment which is the most sobering.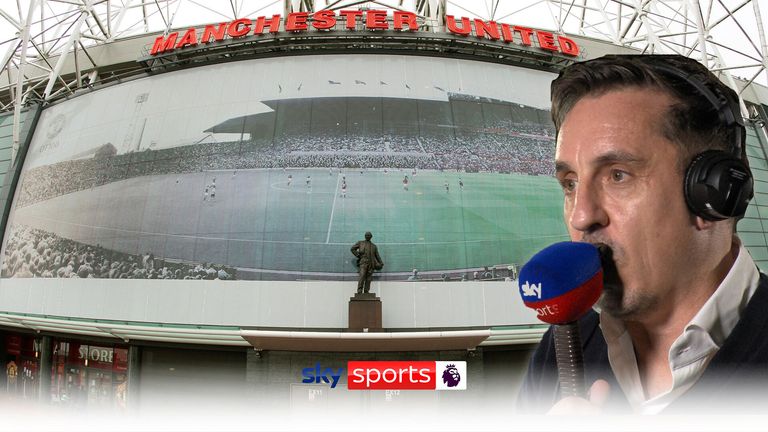 Gary Neville is asked on his podcast what he would change if he was rich enough to buy 100 per cent of Manchester United
* United can't score goals. Despite playing against three of the bottom five, United have scored just 11 goals in 10 Premier League games. Every team above them in the league table has scored at least twice as many.
* As the Manchester Evening News weren't shy in highlighting on Sunday, Jonny Evans and Harry Maguire, picked ahead of Raphael Varane for the task of tackling Erling Haaland, were the starting centre halves under Claude Puel at Leicester City half a decade ago. How has this happened when United have spent £1.6bn in transfer fees since Sir Alex retired?
* Jadon Sancho, bought for over £70m just two summers ago, is now out in the cold and unlikely to play for the club again after apparently hitting out at Ten Hag on social media. The winger, the second most expensive English player when he joined in July 2021, will most probably be sold on the cheap in January. Messy.
Twitter Due to your consent preferences, you're not able to view this. Open Privacy Options
* The stadium, which is seemingly never referred to as the Theatre of Dreams these days, is no longer state of the art, let alone first in class. The leaky roof – and let's face it, if there's one place you don't want a leaky roof, it's Manchester – has become a symbol of United's apparent regression under their current ownership. A semi-final host for Euro 96, Old Trafford has not even made the ten-stadium shortlist for Euro 2028.
* And last by no means least, there's the ownership and all the toxicity the Glazers era has imbued at Old Trafford. "The reality is nothing is going to change while you've got this cultural uncertainty at the top of the club," said Neville. Problem is, nearly a year after United were put up for sale, the club is still up for sale and there's no end to the saga in sight.
Sourse: skysports.com