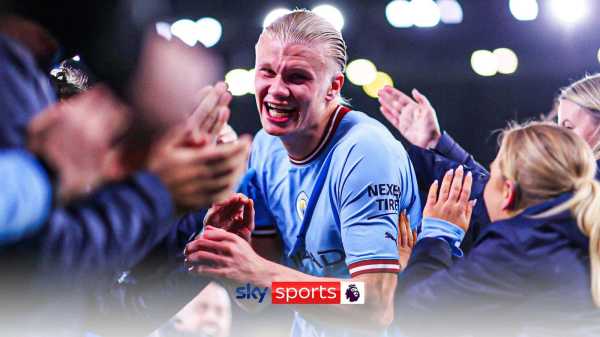 Jamie Carragher and Gary Neville have revealed their end-of-season awards in the final Monday Night Football of the campaign.
The Sky Sports pundits each selected their player of the season, young player of the season, signing of the season, manager of the season, surprise of the season and game of the season for the 2022/23 Premier League campaign.
They also named their teams of the season, and while they both included Kieran Trippier, Ruben Dias, Martin Odegaard, Rodri, Kevin De Bruyne and Erling Haaland, they differed on the remaining five names. Read on to see their selections in full.
Premier League table | Premier League fixtures
Get Sky Sports | Download the Sky Sports App
Carragher's best player: Erling Haaland
Carragher: "It is like Messi and Ronaldo isn't it in terms of that goal-a-game? I think before Haaland, City had maybe the best striker in Premier League history in Sergio Aguero in terms of his minutes per goal anyway. So how does Haaland score that many more than Aguero with a similar team, same manager? That just shows he is a freak."
Neville's best player: Erling Haaland
Neville: "It is the first time that the Premier League has signed a player who is going to be the best in the world or is already at that level. They go to Real Madrid, they go to Barcelona, in recent years they have gone to Paris Saint-Germain. They do not go to the Premier League. We have grown the best player in the world.
Trending
Papers: Man Utd to hold Neymar talks | Martial set to leave
Transfer Centre LIVE! Howe: This will be Newcastle's toughest transfer window
Juventus handed 10-point deduction to all but end Champions League hopes
Arsenal set to bid for Rice, but face competition from Bayern
Vinicius Jr, Spain and racism – What's been said? Will he leave Real?
What does Champions League qualification mean for Newcastle's transfer plans?
Leeds, Leicester or Everton: Relegation battle permutations
MNF end-of-season awards: Haaland, Saka, Pep among winners
Neville's theory: How Pep turned City's season around… from the back
Ref Watch: Should Gakpo goal have stood? Mings red? Arsenal denied penalty?
"For instance, Cristiano Ronaldo came as a young kid and developed. I felt this player was a phenomenon. We knew he was special and what he has done is out of this world."
Carragher's best young player: Bukayo Saka
Carragher: "I love him. I think he has been fantastic. Odegaard has been Arsenal's best player, I just did not pick Odegaard because he is too old – 24 seems too old to be the young player."
Also See:
Neville's best young player: Martin Odegaard
Neville: "I was surprised and shocked when I found out Odegaard is Arsenal's captain. Where has that come from? But he has been Arsenal's best player. Even in this difficult period, I think Odegaard has been outstanding. His quality on the ball. The best young player."
Carragher's best manager: Eddie Howe
Carragher: "It was either Eddie Howe or Pep Guardiola and I think we all feel Pep Guardiola could go on to win the treble. How could you go against him if he does that. The only reason I went for Eddie Howe was that I just cannot believe what has happened from last season to this season with Newcastle in terms of where they were when Eddie Howe came in. I actually felt there was more chance of doing a treble than Newcastle being in the Champions League so that is why I went for Eddie Howe."
Neville's best manager: Pep Guardiola
Neville: "I was going to go for Mikel Arteta a few weeks ago. Gary O'Neil has done an unbelievable job at Bournemouth. Roy Hodgson coming in at Crystal Palace. So many managers have exceeded what we thought they would do. But there are only three teams in the history of football who have got to a Champions League final, an FA Cup final and won the title. Forget the fact that they might not win it yet. Liverpool in 1977 was stopped. But the fact that he has got to those finals is quite a unique event."
Carragher's best signing: Morgan Gibbs-White
Carragher: "I was debating over two players. I was going for Manuel Akanji. But I think the fact that he is playing for Man City means I have gone for Morgan Gibbs-White. I would not say he has single-handedly kept Nottingham Forest in the league but every time I watch him… it was a big price tag and he has justified that. He must be really close to the next England squad."
Neville's best signing: Casemiro
Neville: "I could not think of a player who has had a bigger impact on their team. I look at United's season, they are in the top four, they won the Carabao Cup and they are in the FA Cup final. I genuinely don't think they would be anywhere near top four or doing what they are doing in those competitions without Casemiro. He makes them 30 per cent better.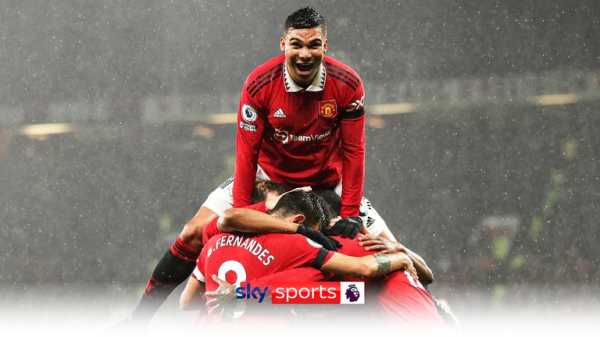 Image: Gary Neville has picked Manchester United's Casemiro as his signing of the season
"I have doubts about the five-year deal and the expense of it, but in terms of the jump in performance when he is playing to when he is not playing, it is enormous. He has brought experience to the dressing room and I think he has done a good job."
Carragher's biggest surprise: Lisandro Martinez
Carragher: "Any centre-half coming to the Premier League who is under six foot, you are thinking they are going to have a problem but he hasn't. Every player has weaknesses, but the best players hide their weaknesses. How can you overcome that? I wasn't the biggest centre-half and I was worried I was going to get bullied. I thought he was smaller than me.
"But when you are talking about the role of Casemiro, I think there is a massive drop off when Lisandro Martinez is not in the Manchester United team. Defensively but also his ability on the ball in terms of playing out from the back. He is a warrior, he is a leader, and when you think of that spine, he and Casemiro have made a big difference. So I apologise to Lisandro Martinez. Manchester United fans please stop tweeting me!"
Neville's biggest surprise: Brighton 1-5 Everton
Neville: "Seeing them go to Brighton and rip them to shreds shocked the living daylights out of me, I did not think they were capable of a performance like that. Brighton had just beaten Manchester United. That victory is more than likely going to keep them in the Premier League."
Carragher's favourite game: Liverpool 7-0 Man Utd
Carragher: "I don't think it was the game, it was the selfie in the commentary box I took with him! It has been a poor season for Liverpool but that game will still be being talked about in 10 or 20 years, there is no doubt about it. You beat your rivals, 7-0, it is laughable, isn't it."
Neville's favourite game: World Cup final
Neville: "We have had a very unique season where the World Cup final was sandwiched between two halves of the season. That World Cup final was probably the best game that I have ever seen live. It was absolutely unbelievable, that game."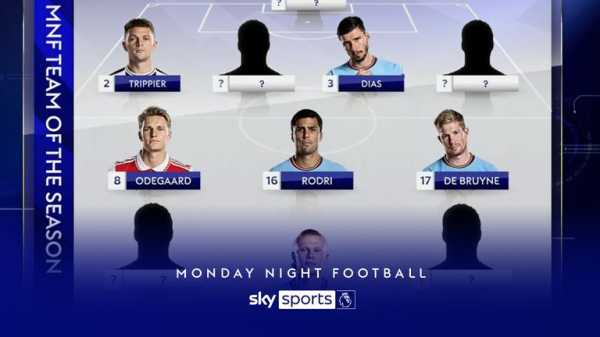 Jamie Carragher and Gary Neville pick their teams of the season
Carragher's team of the season
Carra's XI: Alisson, Trippier, Dias, Botman, Zinchenko, Odegaard, Rodri, De Bruyne, Salah, Kane, Haaland.
"Haaland is a freak but Harry Kane, what he has done this season, playing in one of the worst teams he has played in, to get that number of goals, I think is out of this world."
Neville's team of the season
Nev's XI: Pope, Trippier, Saliba, Dias, Estupinan, Odegaard, Rodri, De Bruyne, Saka, Haaland, Martinelli.
"I think this season, Saka and Martinelli have absolutely lit up this league, I think they have been spectacular, I think they have been electric. Some of the best play I have seen all season has been from them two."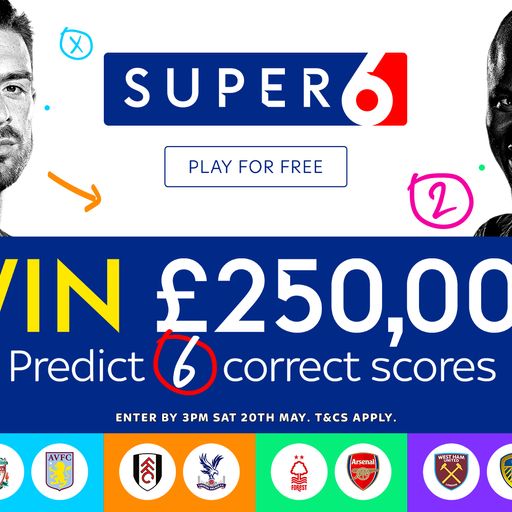 Win £250,000 with Super 6!
Another Saturday, another chance to win £250,000 with Super 6. Play for free, entries by 3pm.
Sourse: skysports.com