Harry Kane destroyed Borussia Dortmund with a hat-trick for Bayern Munich on Saturday and Adam Bate was there to see it for Sky Sports. In conversation with Bayern players past and present, he assesses how the England captain has become their key man already…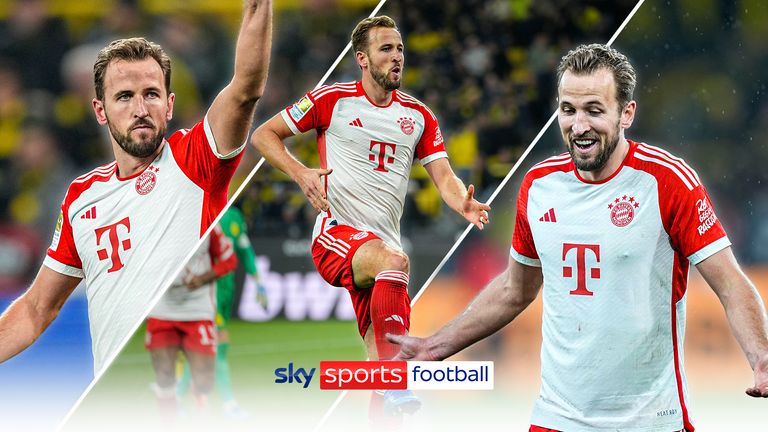 Watch all of three of Harry Kane's goals for Bayern Munich against Borussia Dortmund
"I expected already high things," says Jamal Musiala. "But not as high as he has delivered so far. It is even easier than I had thought to play with him. I am very happy." So is everyone at Bayern Munich. Harry Kane has just scored a hat-trick against Borussia Dortmund.
As Musiala speaks, a grinning Kane has already taken his seat on the team bus. He is not quite alone. There is the match-ball for company – stowed, unpretentiously, in a plastic carrier bag. It is a sight striking for its simplicity. Much like the goals that had destroyed Dortmund.
None of them were mini-masterpieces crafted from the halfway line like the second of his three goals against Darmstadt the previous weekend. There was one tap in and two occasions in which he found himself up against Gregor Kobel at close range. Inevitable.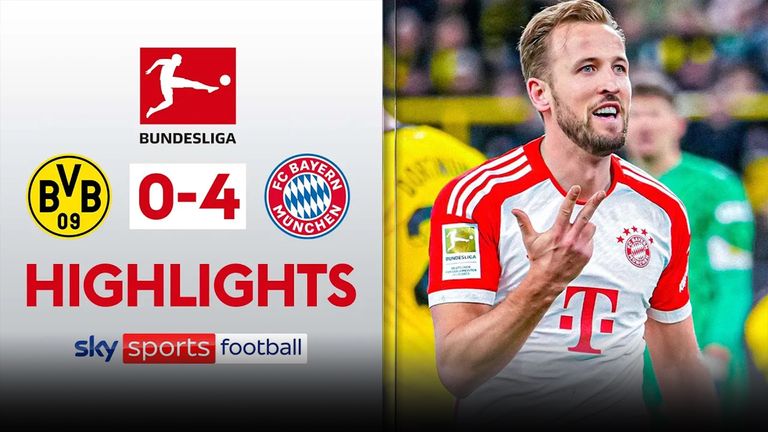 Highlights from the Bundesliga match between Borussia Dortmund and Bayern Munich
With 15 goals in 10 Bundesliga games, Kane is now a three-in-two man. They have seen some strikers at Bayern. In Gerd Muller, they claim to have had the best of the lot. Robert Lewandowski broke his Bundesliga record for a single season by finding the net 41 times.
Even that looks vulnerable now. Kane is on course for 51.
Speaking to Lothar Matthaus before kick-off, when Dortmund was still a city optimistic that Kane would spare them, the Bayern legend outlined why the arrival of the England captain has been so crucial – even to a club that has won 11 Bundesliga titles in a row.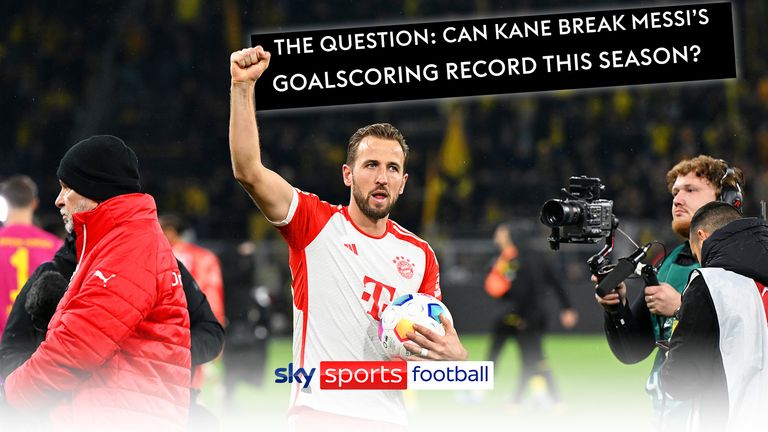 Ron Walker is joined by Declan Olley to discuss whether Harry Kane will break Lionel Messi's record for most goals in a season in one of Europe's top five leagues.
"For Bayern Munich it is important and for German football generally it is important that you have a good No 9. A good No 9 can win you titles," says Matthaus. "We saw it with Lewandowski in Munich and Dortmund. In German football, you need a No 9."
He adds: "When you have so much ball possession around the area, you need somebody who scores." Matthaus, aware of the obviousness of his conclusion, laughs. "I think Harry Kane knows what to do. And he has done it very well in the first three months."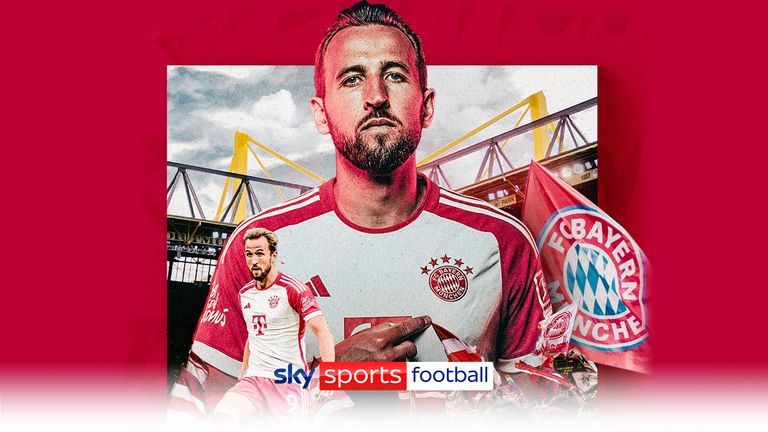 Tottenham legend Jurgen Klinsmann praises Harry Kane's start to life in the Bundesliga
It may seem trite but it was the takeaway from the night. Dortmund pushed during the second half but they did not have that player who could make the difference inside the penalty box. For all their superiority, neither did Bayern. With the exception of Kane.
Leroy Sane impressed, providing the first two assists. Musiala himself is a delight of a player, his balance unusually good, his understanding precocious. But they were not clinical like Kane, the No 9. It is only when he is in on goal that the outcome seems certain.
Speaking to Musiala, he acknowledged this. "In the second half, we created a lot of chances and I could have scored." There were good openings for Sane and Noussair Mazraoui too. Some missed the target. Others asked questions of Kobel. Kane had the answers.
He is evidently enjoying himself at Bayern. With the service and the style of play, it seems set up for him to do so. Kane left a Tottenham team that had just finished eighth. The last time that Bayern finished as low as second came before his Premier League debut.
Kane was there to convert the cross from Sane for his first goal but the pass was expertly weighted. Kingsley Coman had the chance to find him for the second but Kane only received it in such space because the winger was good enough to play the pass first time.
Such pace and quality around him is quite the combination. "We are such a strong counter-attacking side right now," says Musiala. "We have so much pace going forward with King and Leroy. That is very hard to defend. And then, you have Harry in the middle."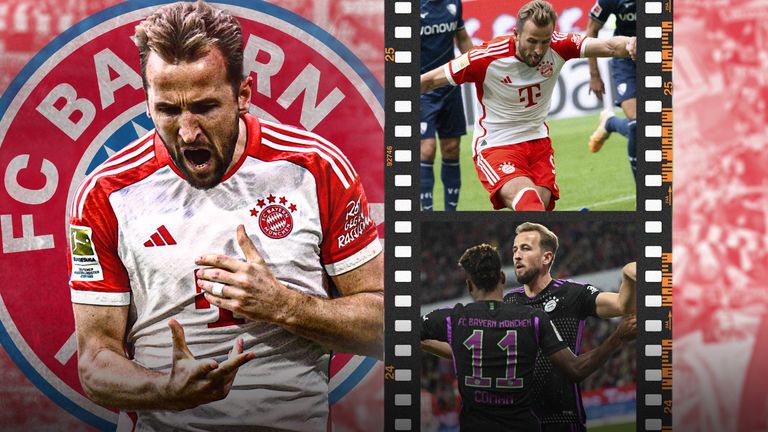 Kane is, as Musiala points out, "always in the right spots to get that goal" and it is proving decisive for Bayern. "We rely on that sometimes. It was the same at Galatasaray. We didn't have so much ball but we had one or two chances and we took those."
Kane scored what turned out to be the winner in Istanbul but what his Bayern team-mates, and the packed away support with whom he took a selfie in celebration on Saturday night, are realising, is that he is not just a great goalscorer. He is a truly great player.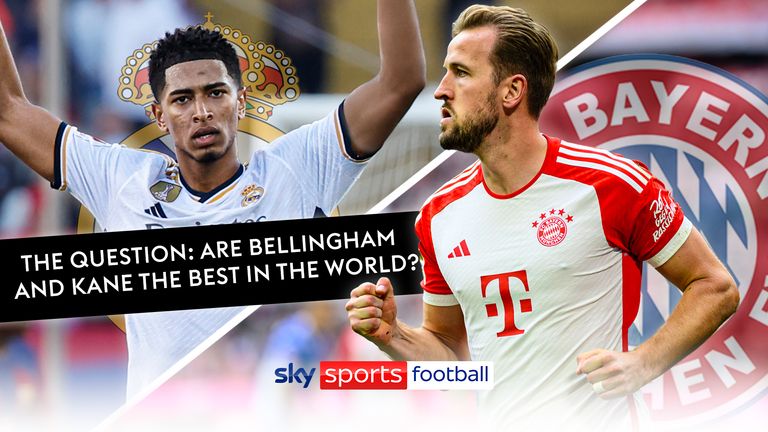 The Question: Are Jude Bellingham and Harry Kane the best players in the world?
They have the No 9 that they had been missing since Lewandowski's exit – and indeed missed as Kane sat out that shock cup defeat to third-tier Saarbrucken in midweek. But they have so much more. Unlike Lewandowski, their new striker is a playmaker too.
Improbably, given that he has scored 15 of Bayern's goals himself, Kane has also provided more assists than any Bayern player. He has played more through-balls than anybody else in the Bundesliga this season. No wonder Musiala, 19, is enjoying playing with him.
"He plays amazing passes. I just run in behind and he will find me."
It might have brought another assist. "He played a great pass to me when I should have scored." There was the moment when he unselfishly laid on a goal for Musiala only for the flag to go up. A Kane pass helped win the corner from which Dayot Upamecano scored.
Bundesliga table | Bundesliga fixtures | Bundesliga results
Get Sky Sports | Download the Sky Sports App
Leverkusen's start to the season means that Bayern do not yet lead the Bundesliga. With his former club Tottenham flying high in the Premier League, there is, outrageously, the possibility of Kane being the source of schadenfreude on a grand scale at season's end.
But that is a long way off. Kane has been brilliant for Bayern, just as he was for Spurs. They love him already. Just ask his new team-mates. "I feel very comfortable with Harry. I think the more games we play, the more I will take my chances, hopefully," says Musiala.
There is the hint of a glance towards the team bus.
"And he will just keep scoring hat-tricks, hopefully."
Sourse: skysports.com