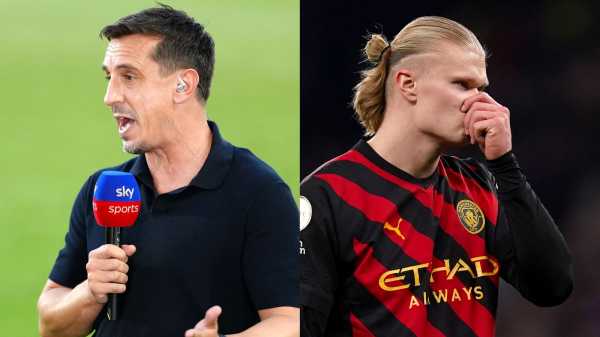 Gary Neville believes Liverpool remain the team most likely to stop Manchester City's ongoing domination of the Premier League.
Arsenal's defeat at Nottingham Forest on Sunday confirmed City's fifth Premier League crown in the last six years.
The FA Cup and Champions League could still follow with Neville reckoning it would be "a miracle" if Pep Guardiola's side don't complete a treble in the next month.
Manchester United and Inter Milan remain the only obstacles between City and completion of what would be only the second Premier League, FA Cup and Champions League treble in history, but what of next season and the task of identifying the team best equipped to halt City's winning machine domestically?
Carragher: Arsenal blew it, they need more quality
Man City's title triumph analysed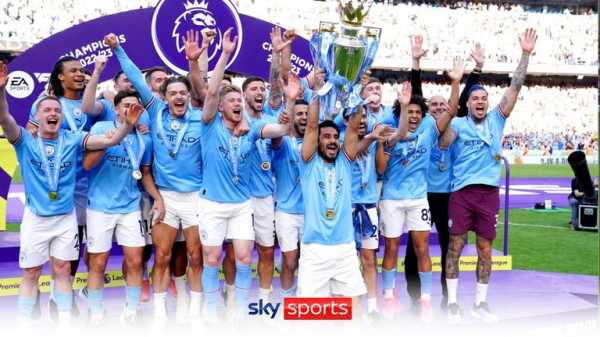 Ilkay Gundogan lifts the Premier League trophy as Manchester City celebrate their third successive title with a 1-0 win against Chelsea
"You have to have a great manager and a great group of players to do what City have done and the other clubs have got to aspire to that," said Neville.
Trending
Vinicius Jr: LaLiga 'belongs to racists' | Real winger hits out at Tebas
Transfer Centre LIVE! Arsenal want Rice, Mount and Gundogan
Papers: Man City to offer Cancelo to Bayern as part of Kimmich deal
Neville: Liverpool only proven challengers to Man City
Redknapp: Pep ahead of Fergie as greatest ever | 'He changed football'
F1 Gossip: Ferrari prepare £40m contract offer for Hamilton
Allardyce: We only have ourselves to blame | Bamford 'struggling badly'
Race for Europe: Europa and Champions League permutations
'Are you serious?!' | Block stuns golfing world in wild week at Oak Hill
Pep: Premier League win exceptional but we need to win CL to be great
"At this moment, the one team which has proved that [it can challenge City] over the past five or six years are Liverpool.
"Arsenal have run City close this year but the only team which l can say at the moment has demonstrated they can go close to Pep Guardiola's City are Jurgen Klopp's Liverpool.
Also See:
"I know they have dropped well below those standards this season but [they can] get back to those standards next season because they have proven they can do that before."
Stream the biggest moments on NOW | Get Sky Sports
Premier League table
Although City's title triumphs in the Premier League have become a regular occurrence, an approving Neville has welcomed a significant change in City's approach this term following last summer's signing of goal machine Erling Haaland.
"This is my favourite Pep Guardiola team and the one which l would like to play against the least," said Neville. "I like this Pep Guardiola team more than the other Pep Guardiola team.
"The last 10 matches has probably been the best l have seen Man City play what l like in football.
"I like the powerful back four. I like a strong back four – one which doesn't give you a chance. The midfield is outstanding. But l like the imperfection that Haaland brings, the idea that not everything is perfect. I like that they can go long, they can cross the ball from areas from far out.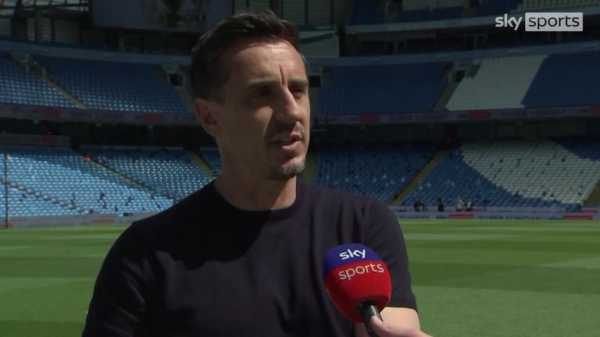 Gary Neville believes the newly confirmed champions Manchester City aren't perfect which makes them even more dangerous
"I have enjoyed watching this Man City team more than in previous seasons or when Pep Guardiola was at Barcelona because l felt as though that was a repetitive, technical machine.
"This one has power, strength and on set-pieces they have a team of monsters.
"This is a very different Pep Guardiola team in terms of physicality. I like that they are not as perfect on the ball as they were but I think it makes them more dangerous.
"I don't think they would have been able to achieve what they are achieving if they didn't have that power and physicality and Haaland presence.
"The football isn't technically as perfect but l think it is more entertaining."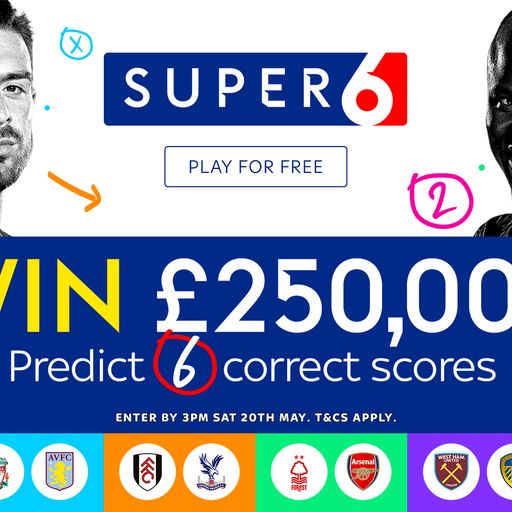 Win £250,000 with Super 6!
Another Saturday, another chance to win £250,000 with Super 6. Play for free, entries by 3pm.
Sourse: skysports.com