The funeral of former Republic of Ireland international Liam Miller has taken place.
The requiem Mass took place at the Church of St John the Baptist in Ovens, Co Cork and was followed by burial in the adjoining cemetery.
Mourners heard how Liam's father Billy called his son "my little Stanley Matthews".
Delivering the eulogy Dan Sheedy, Liam Miller's brother-in-law, also said the former Cork city player was entranced, besotted and utterly in love with his wife Claire.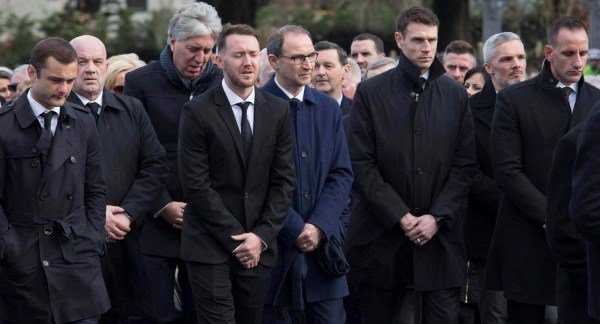 Shaun Maloney (left), John Delaney and Aiden McGeady (centre, left) and Martin O'Neill (centre) at the funeral of Liam Miller today.
Mr Sheedy said his bravery was never more apparent than when he was diagnosed with cancer.
"Liam attacked his condition with a ferocity and a determination to survive it that is impossible to comprehend unless you saw it," he said.
"Liam was different. His motivation to survive wasn't for him. Liam's motivation, as it has always been, was for others and specifically for his family. Liam wanted to survive for his family. They are all that mattered to him."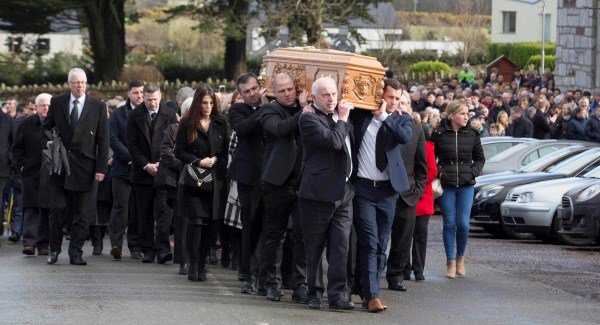 Fr Liam Hickey, who officiated the funeral Mass, offered prayers for the footballer's family.
He went on: "Liam fought his illnesses with the same resilience he played but it was not to be."
Jerseys from Liam's time at Manchester United, Celtic, and Ireland were then brought to the altar.
"Liam who died so young on Friday night last after he had completed his life to the full," Fr Hickey said.
The priest also welcomed the large number of dignitaries and sports figures who attended the service.
"Liam used his talents to the full and in so short a time," the priest said.
"And through that (Liam) gave so much joy to people and also glory to God who gave him those talents and pride to his family."
Mourners heard a roll call of some of the sport's greats who Miller played for including Sir Alex Ferguson, Kenny Dalglish and Giovanni Trapattoni.
"As one might say, follow that," Fr Hickey said.
St John the Baptist Church in Ovens, Co Cork was where Miller was baptised and confirmed and across the road from where he went to school.
Fr Hickey described him as a loving husband and father to three children.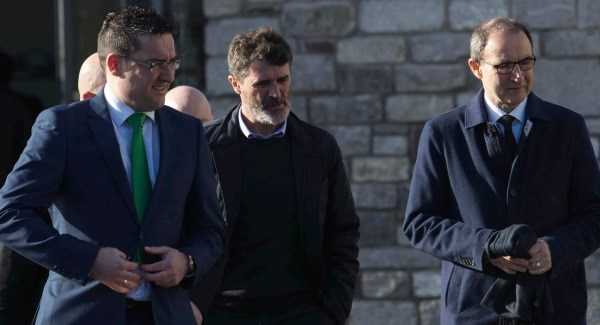 Roy Keane (centre) and Martin O'Neill (right) arrive for the funeral of former Celtic and Manchester United footballer Liam Miller today.
Miller grew up in Ovens, a village in County Cork, and although he played Gaelic football, his real passion was soccer, with a fondness for Celtic taken from his father Billy, a Scotsman from Motherwell.
Amid a flood of tributes, one from Celtic's official Twitter account said: "Everyone at #CelticFC is deeply saddened to hear of the passing of former midfielder Liam Miller. Our thoughts and prayers are with his family and friends at this time. RIP Liam, YNWA."
Celtic players wore black armbands in Mr Miller's memory during their William Hill Scottish Cup match against Partick Thistle on Saturday.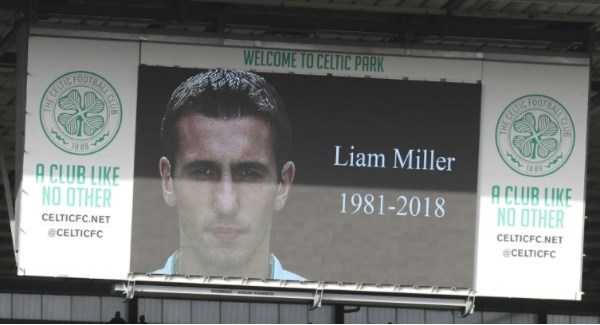 David Beckham and Wayne Rooney were among those who led the tributes to their former Manchester United team-mate.
Beckham posted: "Our thoughts are with Liam's family .. Rest In Peace".
Both played with the 36-year-old during his two-year spell at Old Trafford in the 2005/06 season and the club expressed their sympathy on Saturday.
A tweet read: "Manchester United is deeply saddened to learn of the tragic death of our former midfielder Liam Miller. We extend our condolences to his loved ones at this extremely difficult time."
Manchester United players wore black armbands during the team's Premier League clash at Newcastle on Sunday in memory of Miller.
Miller, who won 21 caps for the Republic of Ireland, has been described as a major loss to Irish sport.
Republic manager O'Neill has described Miller as a "fantastic man".
O'Neill, who gave Miller his Celtic debut, said: "Liam's passing is very sad and he will be greatly missed. He was an excellent footballer and a fantastic man."
President Michael D Higgins said it was with great sadness that he had learned of the death of Miller, who brought skill and passion to his career in football at home and abroad.
"In his too short life he contributed so much, from his making his professional debut in 2000 and earning his first cap for the Republic of Ireland in 2004, going on to play for clubs such as Cork City, Celtic, Manchester United and Hibernian," President Higgins said.
"As president of Ireland I send my condolences to his family and friends, and to all those who love and support Irish sport and who will keenly feel his loss."
Earlier:Former teammates of the late Liam Miller have descended on The Church of St John the Baptist in Ovens this morning for the funeral.
The requiem mass is taking place at the Church of St John the Baptist in Ovens, Co Cork. It will be followed by burial in the adjoining cemetery.
Martin O'Neill, Roy Keane, Denis Irwin, John O'Shea, Brian Kerr and several members of the Cork City squad are in attendance, as are representatives for the Taoiseach and President Michael D Higgins.
Former Republic player and manager Steve Staunton also attended the funeral, along with Miller's former Republic team-mates Kevin Doyle and Aiden McGeady.
The former Manchester United, Celtic, and Cork City midfielder passed away on Friday following a battle with pancreatic cancer.
Miller grew up in Ovens, Co. Cork, and City manager John Caulfield yesterday urged the people of Cork to "turn out in force" for the funeral.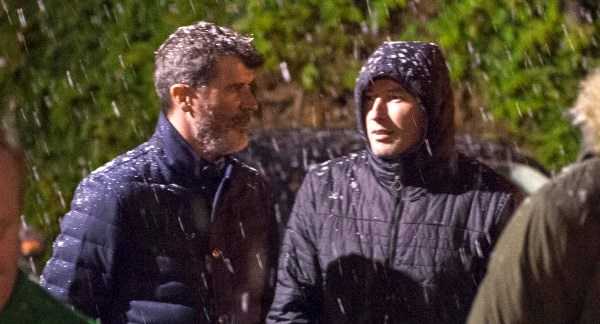 Roy Keane and Neil Lennon at the removal of Liam Miller in Ballincollig last night. Pic: Michael Mac Sweeney/Provision
Caulfield said: "It's important that we show our support for the family and give Liam the tribute he deserves.
"Nothing will ease it for his family, but it's important that the club and the people of Cork come out in force and show that respect."
Among the mourners are Ireland managers Roy Keane and Martin O'Neill and former Manchester United and Ireland teammates John O'Shea and Denis Irwin.
– Digital Desk
Sourse: breakingnews.ie