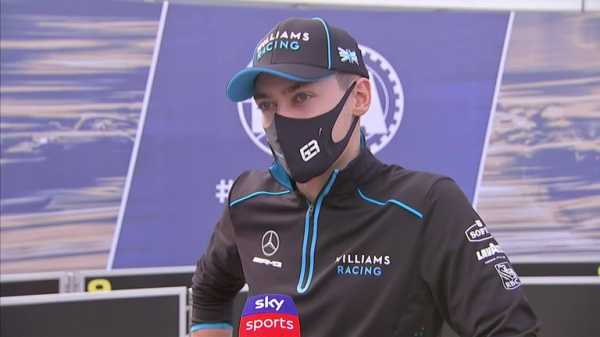 3:01 Despite speculation about his future, George Russell is confident he'll be racing with Williams again next season.
Williams have both their current drivers – George Russell and Nicholas Latifi – under contract for 2021 but that hasn't stopped speculation that Perez could still be on the radar for the team.
Williams are under new ownership since the retention of Russell and Latifi for next year was announced in July.
Russell's deal runs to the end of next season and the Englishman said that the fact the new owners, Dorilton Capital, are already investing in the team gives him less to worry about.
"I've got a contract for next year. I've obviously seen speculation," insisted Russell.
"The facts are there are a lot of great drivers on the grid looking for race seats, some of which have a lot of backing behind them which is obviously a major consideration. But for me, I have a contract and I think the future of Williams is in really great hands because of the new owners, investment.
"The financial issues that were surrounding the team over the past couple of years are not necessarily there anymore because the new owners and investors have the money, they are investing the money. We have been through a very tough time in the past 18 months and we're all excited to hopefully get a glimmer of success into the next 18 months under the new ownership. So even more so now under the new owners, there's less to worry [about]."
Russell, effectively on loan from Mercedes and impressing in his second year of F1, added: "I have a contract so that's why there's no reason of concern. As a team they have been down that road before from what I understand and they're happy where they are at the moment. They are investing a lot of money at the moment, and there's not an endless pot anywhere and it's a tough business, but loyalty is also a big factor of Williams as part of the heritage."
Sourse: skysports.com