Alejandro Garnacho posted a celebratory picture of Andre Onana and other Man Utd team-mates with some emojis which could be deemed offsensive; Erik ten Hag has confirmed the FA are in contact with United about the post, but the Man Utd manager is not worried about a potential ban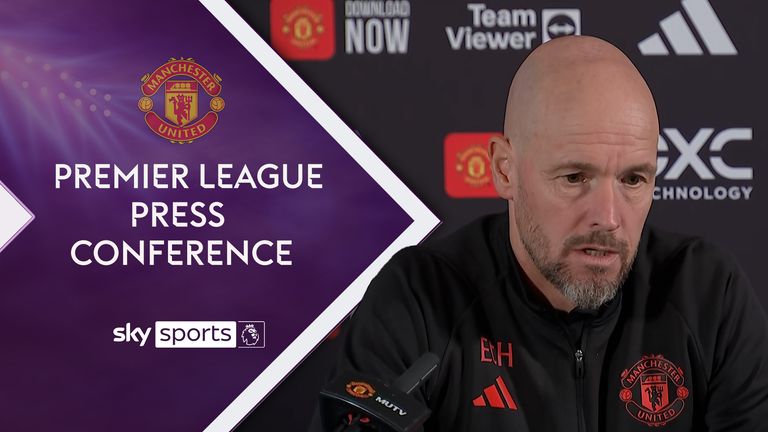 Onana social media post />
Manchester United manager Erik ten Hag says he's not worried about a potential ban for Alejandro Garnacho, over a controversial social media post about Andre Onana
Erik ten Hag is not worried about a potential ban for Alejandro Garnacho after the Manchester United attacker's social media incident with goalkeeper Andre Onana.
Garnacho posted a celebratory picture including Onana and other team-mates following the goalkeeper's late penalty save in their 1-0 win over FC Copenhagen on Tuesday night.
Andre Onana defends Alejandro Garnacho over social media post
The post, which has been deleted, included emojis which could be deemed offensive. The FA is aware of the social media post and has sought Garnacho's observations on it through Manchester United.
Onana himself defended Garnacho on social media on Thursday night, saying he knew "exactly what [Garnacho] meant" by his comments.
But Ten Hag has confirmed that United are speaking with the FA about the incident.
Asked in a pre-match press conference ahead of the Manchester derby, live on Sky Sports at 3.30pm this Sunday, about whether he is worried Garnacho could be sanctioned for his social media post, Ten Hag replied: "Not in this moment. We are talking with the FA, I can confirm that.
"I want to emphasise that we are together, we are united. You have seen that with the post of Andre Onana."
Taking to Instagram to defend the midfielder on Thursday, Onana wrote: "People cannot choose what I should be offended by. I know exactly what [Garnacho] meant: Power and strength. This matter should go no further."
In 2020, former Manchester United forward Edinson Cavani was banned for three matches and fined £100,000 when he posted a comment to thank a fan which included a racially offensive term.
A year earlier, Manchester City's Bernardo Silva was fined £50,000 and received a one-match ban after a tweet compared the facial features of a mascot for a Spanish confectionery firm to that of Benjamin Mendy. Silva had received support from Mendy during the FA's process.
'Public outrage must not block the chance for learning'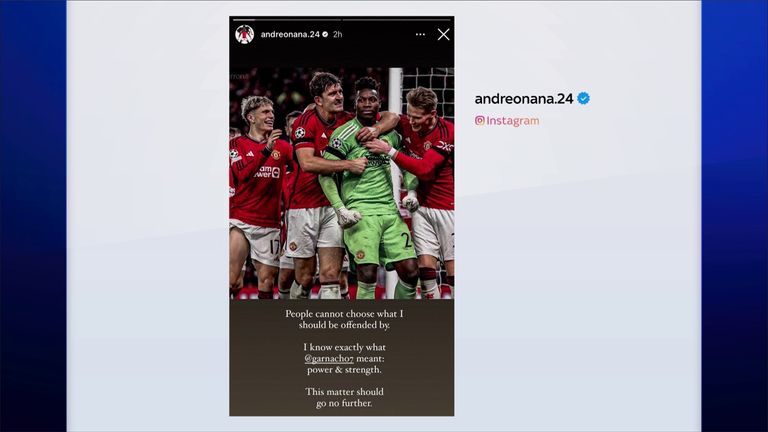 Kick it Out CEO Tony Burnett believes that Alejandro Garnacho's post on Andre Onana should lead to better dialogue on educating foreign players on UK culture.
Kick It Out chief executive Tony Burnett speaking to Sky Sports News:
"There was no offence intended very clearly. There's a question about whether Garnacho understood what he was doing and the implications of what he was sharing. And the impact on Onana? Well, he's come out in support of his colleague.
"Let's use this as an opportunity for sensible dialogue about what's appropriate and what's not and how we can create standards in football so we know where the boundaries are. Then this stuff stops happening.
"In a normal work environment, if it was a personal message between two colleagues then there would be no comment about it. The problem with footballers is that they are role models. Garnacho is followed by millions of people.
"So he can't say anything that isn't public. Where it is public it will cause offence to some people. The alleged victim in this case has said he wasn't offended by it but lots of people have said they're concerned.
"But let's not get to the point where public outrage is blocking the chance for dialogue and learning. That's what needs to occur – education, conversation and real learning for players so they can understand their responsibilities.
"Beyond that, I don't see a huge issue when it comes to what needs to happen next."
'Cultural sensitivities an essential consideration'
Sporting Equals – an independent body established to promote ethnic diversity in the area of sport and physical activity – have responded to the incident.
"We are disappointed to see Alejandro Garnacho's recent tweet," the statement began. "We understand that his intentions were not to offend, in fact the opposite, when reflecting on the performance of his team-mate Andre Onana.
"While the intent may have been to compliment, the tweet does not account for the lived experiences of many across the United Kingdom and beyond. Cultural sensitivities are an essential consideration.
"Premier League footballers are speaking to the entire nation and the wider world given the platform they hold. By virtue of the Premier League attracting the best talent from around the globe many players are unaware of cultural sensitivities.
"This is a learning opportunity for Garnacho and the broader game. The focus should be on Onana's performance now, not on insensitive comments – no matter the best intentions.
"In an effort to avoid this happening again we would urge all clubs and the Premier League to review training, to educate and to inform. Understanding lived experiences of team-mates will help reduce the risk of saying or writing something that could be perceived as insensitive.
"We would reiterate this is not a reason to focus on criticising Garnacho but instead a chance to be, and do, better in football."
Sourse: skysports.com