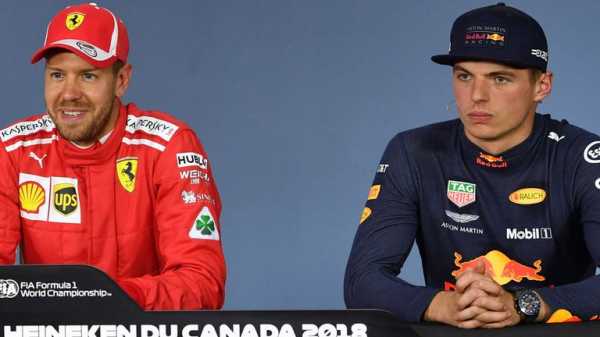 Sebastian Vettel has admitted Ferrari were surprised by Red Bull's decision to qualify for the Canadian GP on the fast but fragile hypersoft tyres.
Unlike Red Bull, both Mercedes and Ferrari reached the Q3 shoot-out on ultrasoft tyres – a slower but more durable compound than the new-for-2018 hypersofts.
"We did what we wanted to do," said Vettel after claiming pole position ahead of Mercedes' Valtteri Bottas and Verstappen. "I don't think that the hypersoft is a good race tyre, so I'm a bit surprised that both of the Red Bull chose that."
But Verstappen shot back: "We think it's a good tyre for us and on the long runs I felt good on it.
"It's no big surprise. We thought Ferrari and Mercedes were going to qualify on the ultras."
Vettel on pole position, Hamilton only fourth
Canadian GP underway at 7.10pm, build-up on Sky F1 from 5.30pm
The Red Bull car has tended to be kinder on its tyres this season than either the Mercedes or Ferrari, paving the way for Verstappen and team-mate Daniel Ricciardo to start on a tyre their rivals are set to avoid altogether during Sunday's race.
"It's interesting," Vettel told Sky F1. "We looked at it but it didn't make sense for us. Obviously they looked at it and it did make sense – we will find out tomorrow if it was the right choice."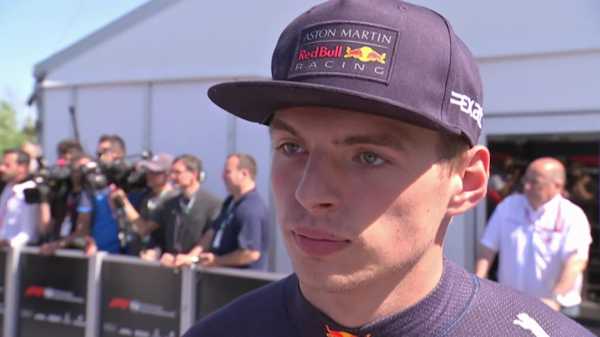 1:13 Red Bull's Max Verstappen will start the Canadian GP in third place and thinks the team have a good chance in Sunday's race.
Red Bull believe their car will be even stronger in race trim than it was in qualifying, when Verstappen was less than two tenths behind Vettel in the Q3 shoot-out when all of the leading cars ran hypersofts.
Two weeks after crashing out in Monaco to trigger the first sustained criticism he has endured during his nascent career, Verstappen has been in prime form in Montreal and topped all three practice sessions heading into qualifying.
"There isn't something specific about this track, it's just that the car has been performing well all weekend and that makes me confident as well," Verstappen said.
"In Q3, we lacked a bit of top speed but we have a lot of chances in the race."
Inflicting on Lewis Hamilton only the second qualifying defeat of the Englishman's F1 career in Montreal, Bottas also bounced back in style after an underwhelming display in Monaco.
"I got everything out of the car," said the Finn. "The Ferrari was the better car today with the upgrades they had. We are still in the fight for the race win but it is a three-team fight and Red Bull will make things interesting by starting on the hypersofts. We know we have the possibility of winning the race but we have to be perfect."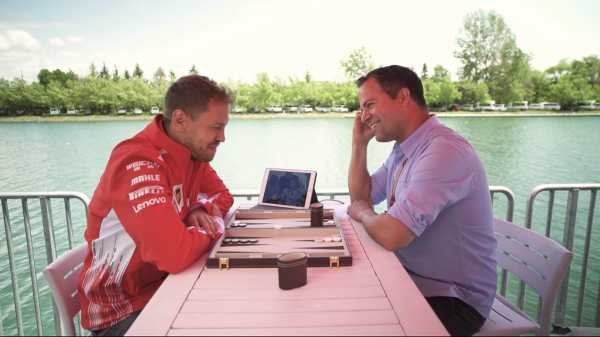 1:10 Check out what the Sky F1 team have in store for you in our Canadian GP race coverage build-up.
Sky Sports F1 is the only place to watch every Formula 1 Grand Prix, qualifying and practice session live in 2018. Get Sky Sports F1.
Also See:
Vettel on pole, Hamilton only fourth
When's the Canadian GP on Sky F1?
Find out more about Sky F1
Alonso: I'm one of the best ever
Sourse: skysports.com