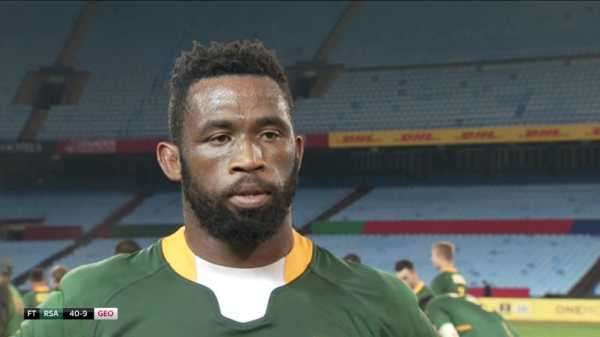 2:08 Siya Kolisi says the team want to bring joy to the fans during a 'difficult time' for the country, after leading the Springboks to a 40-9 win over Georgia
"Listening to Sarra Elgan Easterby interviewing Siya Kolisi and how inspirational he still is, and how that hasn't faded.
"So, incredibly proud. Yes there was a lot of rust, a new coach that has taken over the reins and a few debutants that put their hands up. It was good to see them back."
Habana on the performance, form and return of Pieter-Steph du Toit after his serious quad injury…
"It's not just been this week [where he has performed well following injury]. I actually watched his first game back about four weeks ago, and he got man of the match there as well!
"And I'm thinking: 'How does a guy who 12 months ago almost lost his leg go to not looking as if he's even been off a rugby field?'
"I played with Pieter-Steph when he was just a youngster. We went to the World Cup in 2015 when he was 23, and just to see how he's developed both as a player and a person: he's now been named SA player of the year three times, which just goes to show his quality.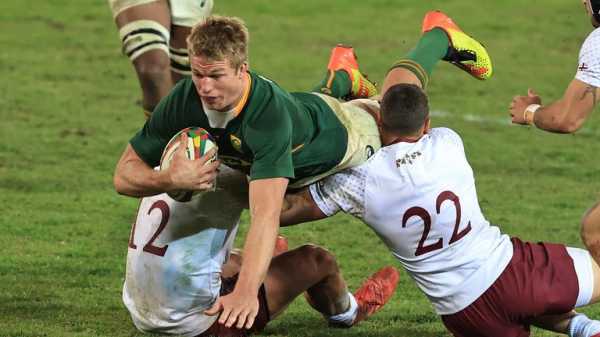 "But it was exceptional to see the manner in which he brought exactly what he's about to the field against a pretty intensely physical Georgia side throughout the 80 minutes. He was beating defenders, breaking tackles, tackling with absolute dominance, so it was brilliant.
"He set the tone and was rightfully named man of the match."
Habana on his British and Irish Lions standouts vs Sigma Lions: Hamish Watson, Josh Adams, Stuart Hogg…
"The man of the match in Hamish Watson was astounding.
"I think he was gutted to miss the Japan game at Murrayfield through concussion, but he again showed why he was named Six Nations player of the year.
"He's effective on both attack and defence, his try-scoring, he showed his sheer power within his stature.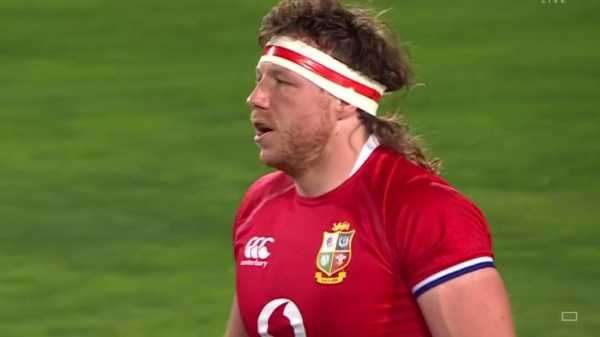 "Everyone has a lot of things to say around how relatively small he is in comparison to other openside flankers, but he was phenomenal.
"Josh Adams scoring four tries. People are saying he was at the end of a lot of them, but to score four tries on the international circuit is exceptional.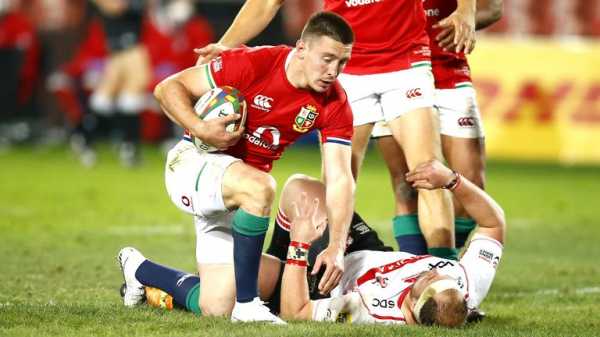 "For me, Stuart Hogg's leadership was really good. His decision making from a counter-attack perspective in terms of when to kick and when to run, the manner in which he chased down the Sigma Lions flanker Sibusiso Sangweni just showed his experience, tenacity and leadership abilities because he could have easily given up.
"For me, that was a moment of the match which laid a marker down in terms of how much business the Lions actually mean.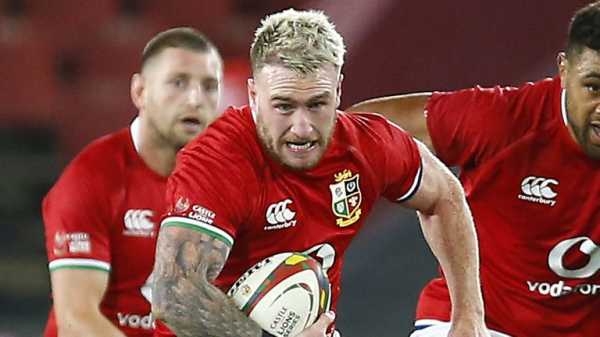 "I was really disappointed in the Sigma Lions performance, because I really believed they would pose a bigger threat.
"But, when the opposition is bad, you deal with them appropriately and the British and Irish Lions did that well."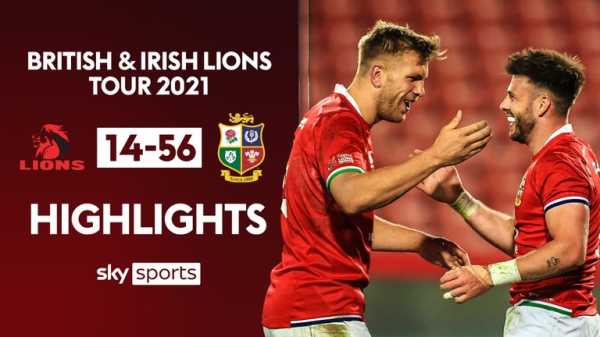 4:52 Highlights from the opening match of the British and Irish Lions' tour of South Africa as they faced Sigma Lions at Ellis Park
"In my opinion, I think Stuart Hogg will definitely be the full-back. I think he's really shone for Exeter. It was astounding to all of us that he didn't start the Premiership final for Exeter.
"He's really come to the fore more in terms of his decision-making.
"Adams, I don't want to say he has already cemented his place, but I think he is in a good position as he played on the right vs Japan and the left last week, showing his versatility.
"So you're probably looking at one remaining spot between Liam Williams, Watson, Rees-Zammit and Duhan van der Merwe.
"I think Van der Merwe could pose a massive threat to the country of his birth, and we saw that against Japan.
"I would go with Anthony Watson. His experience – he's played over 50 times for England – he was incredible in the 2017 series, and I think he'd be complimentary to Hogg and Adams.
"That would be a back-three that is very versatile, pacy, and good under the high ball – which is an area Warren Gatland will be looking at with the Springboks kicking game.
"Stuart Hogg, Anthony Watson and Josh Adams for me."
Sourse: skysports.com