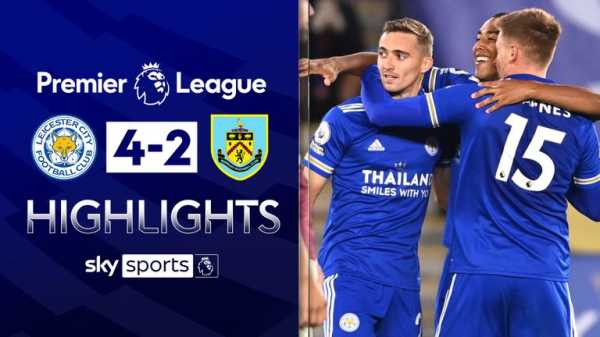 2:59 FREE TO WATCH: Highlights from Leicester win over Burnley in the Premier League.
It is not just Maddison and Barnes. There were three academy graduates who started in the Carabao Cup against Arsenal on Wednesday. Luke Thomas, the left-back, a "server" of his winger, according to Rodgers. In midfield, Hamza Choudhury and Kiernan Dewsbury-Hall.
All of the young players at Leicester are capable of going up a level.
"A few levels," insists Rodgers. "That is the beauty of it. What we have tried to do is set a standard in training every day – a mentality and an ambition for them to improve.
"I know from watching them that as well as what they have done, there is still a way to go for these players and they are hungry to do that. When you see that gap [between performance and potential] and you see how that gap can be closed, then that excites you."
Next step for Rodgers' team
This season will be a different challenge for many of these young players simply because of the schedule that awaits them. During the Premier League era, Leicester were twice involved in the UEFA Cup and twice eliminated in the first round.
This Europa League campaign will be different. The first three of six group games will be played in consecutive weeks from next month. While there are those in the squad who featured in the team's Champions League run, this will be a new experience for many.
"With so many games it is going to be hard to work with the high intensity. So there is going to be lots of recovery, lots of analysis through video, both individual and team. And, of course, there is a huge psychological factor in it too because you are travelling all over the place. It is exciting to have the European football but of course it brings its challenges.
"That was the ambition coming here. Could we take this club into Europe? We were able to do that. Now, the bigger challenge is staying there. This year's challenge will be tough for a lot of players because you have to be robust. You have to be strong both physically and mentally. It is a big challenge but that is where we want to be."
The demands will require tactical flexibility too. Leicester have had some success with a 4-3-3 formation but Rodgers is encouraged by the way that his team adapted to utilise a 3-4-1-2 in beating Sheffield United in July. Castagne's time as a left wing-back at Atalanta opens up the possibility of him switching sides to accommodate Pereira's return. There are options.
"I like the team to be able to play different systems and play them well," he adds. "This team has shown that. So that is a constant evolution but core principles remain the same.
"I always want the team to get the ball back as early as they can. There is lots of technical jargon in the game but it is about finding space when you have the ball, trying to overload the middle of the pitch, and then, when the other team has it, trying to deny the space. All the work and all the tactics will be based around that."
The work to prepare for Manchester City began early this week, despite the team's cup commitments on Wednesday evening. Eleven changes to the team for the game against Arsenal mean that some of the key players will have had this one in mind for some time.
"We drip feed it in through the week. We look at the challenges facing our defenders, the types of runs that they may make, how do we press the game are where do we put the pressure on. We will show images of that on Saturday and then run through our final preparations for the game. It is a drip feed without overloading them too early.
"Then, you hope you are ready."
Watch Manchester City vs Leicester live on Sky Sports Premier League and Sky Sports Main Event from 4pm on Sunday; kick-off 4.30pm
Sourse: skysports.com