Ireland Women 21 Italy Women 8
Captain Ciara Griffin claimed a second-half brace of tries as an improved performance from the Ireland Women saw them beat Italy 21-8 at Donnybrook.
The skipper's scores after 67 and 76 minutes secured a first win under new head coach Adam Griggs – a successful start to their run of three Six Nations matches in the space of a month at their Dublin 4 home.
The early injury-enforced departure of Alison Miller (fractured ankle) was a huge setback, but fellow winger Megan Williams scored a try on her home debut to ensure a 7-3 half-time lead for Ireland.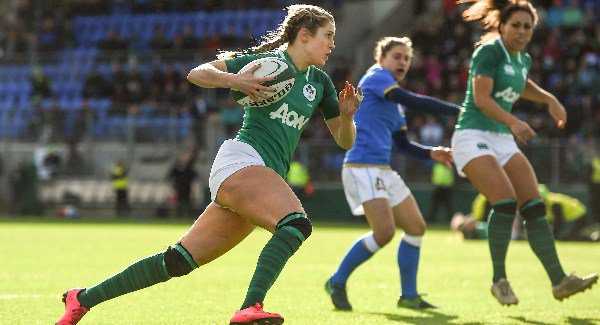 Playing into a strong wind in the first half, Claire Molloy – the Aon player-of-the-match – and ground-gaining centre Katie Fitzhenry both stood out, and while Ireland's scrum was very much on top, Italy soaked up the pressure and a late Michela Sillari penalty got them off the mark.
Handling errors frustrated Ireland, as they did in last week's 24-0 defeat in France, but forward pressure led to Griffin touching down twice to seal the result before Italian prop Eleonora Ricci's 80th-minute consolation effort.
A blistering break from all-action flanker Molloy almost immediately launched Ireland forward, but Lindsay Peat, who went on to have one of her best games in the green jersey, failed to take advantage of an overlap on the right.
Ireland's bright start was marred by a serious ankle injury suffered by Miller after she was tackled on a run up to halfway. When play resumed, the Irish forwards went after the Italian scrum and were regularly rewarded.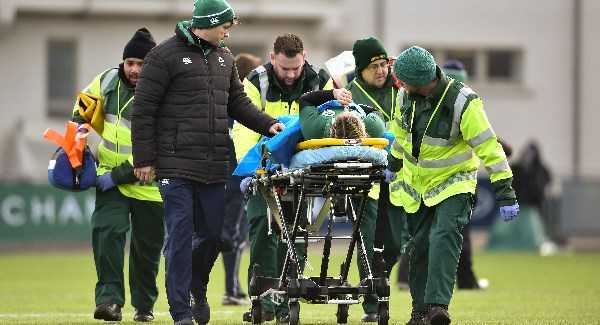 A couple of attacks were foiled by handling errors, but from an Ailsa Hughes turnover off a scrum, Ireland struck for an opening 10th-minute try. Fitzhenry's powerful burst was followed by strong collective carrying closer in, before the defence was sucked in and Fitzhenry and Sene Naoupu set up winger Williams for a neat finish to the right of the posts.
Niamh Briggs converted in the windy conditions and Ireland passed their first big test in defence, a superbly-crafted break from Manuela Furlan propelling the Azzurri into try-scoring range before a wily penalty by Molloy, combined with a lineout steal, broke up the Italian momentum.
Scrum coach Mike Ross will have been pleased with the impact of the set piece, with Fiona Reidy getting the better of loosehead Ricci, but a stop-start second quarter, which had a series of injury stoppages, was played mostly in the Irish half. The error count increased for both sides, and Maria Magatti's persistence in retrieving a kick paid off when her centre partner Sillari punished Peat for not rolling away with the last kick of the half.
A bout of sunshine on the resumption coincided with improved Italian play, out-half Jessica Busato kicking smartly for touch and the visitors followed up with a lineout steal.
It was end-to-end stuff as full-back Furlan split the Irish defence, the Italians boosted by the carrying of influential replacement Giada Franco, before Ireland countered impressively, Fitzhenry taking a clever line onto a Kim Flood pass.
Entering the final half an hour, a well-executed maul, with replacement Leah Lyons now throwing in, had Ireland back within sight of the whitewash but Nicole Cronin's subsequent pass was knocked on by an error-prone Briggs.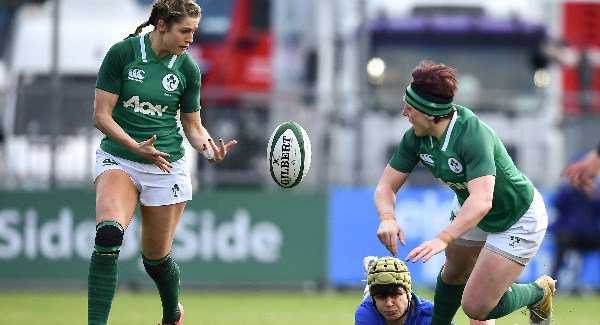 The hosts had a prolonged purple patch past the hour mark, the forwards setting up camp deep inside the Italian 22. Anna Caplice impressed by winning a penalty at the breakdown, while the tireless Peat consistently punching holes with her carrying.
The second try continued to evade Ireland with two knock-ons in quick succession, the first by Briggs when Naoupu took the wrong option to pass when she could have made it over the try-line herself.
However, all the hard work finally paid off in the 67th minute. There was no sign of a yellow card from referee Tim Baker despite Italy's concession of four successive penalties in their 22. It was Peat who drove up close before Griffin got the touchdown from close range.
Now growing in influence, Briggs curled over the conversion and it was the experienced out-half who was just held up in the 75th minute after Williams, Peat and Lyons were all prominent as carriers.
The scrum provided the platform for Griffin's second score soon after, as a strong shove and good control from the number 8 at the rear saw the Tralee woman plunge over to push the gap out to 18 points.
Those earlier missed opportunities will haunt Ireland, who gave debuts to replacements Michelle Claffey and Edel McMahon, as they left the bonus point behind them. With time running out, skipper Sara Barattin inspired a late surge from Italy who crashed over through Ricci in the final seconds.
TIME LINE: 10 minutes – Ireland try: Megan Williams – 5-0; conversion: Niamh Briggs – 7-0; 40+3 mins – Italy penalty: Michela Sillari – 7-3; Half-time – Ireland 7 Italy 3; 67 mins – Ireland try: Ciara Griffin – 12-3; conversion: Niamh Briggs – 14-3; 76 mins – Ireland try: Ciara Griffin – 19-3; conversion: Niamh Briggs – 21-3; 80 mins – Italy try: Eleonora Ricci – 21-8; conversion: missed by Michela Sillari – 21-8; Full-time – Ireland 21 Italy 8
Scorers: Ireland Women: Tries: Megan Williams, Ciara Griffin 2; Cons: Niamh Briggs 3
Italy Women: Try: Eleonora Ricci; Pen: Michela Sillari
HT: Ireland Women 7 Italy Women 3
IRELAND WOMEN: Kim Flood (Railway Union/Leinster); Megan Williams (Old Belvedere/Leinster), Katie Fitzhenry (Blackrock/Leinster), Sene Naoupu (Old Belvedere/Leinster), Alison Miller (Old Belvedere/Connacht); Niamh Briggs (UL Bohemians/Munster), Ailsa Hughes (Railway Union/Leinster); Lindsay Peat (Railway Union/Leinster), Cliodhna Moloney (Railway Union/Leinster), Fiona Reidy (UL Bohemians/Munster), Paula Fitzpatrick (St. Mary's/Leinster), Nichola Fryday (Tullamore/Connacht), Anna Caplice (UL Bohemians/Munster), Claire Molloy (Bristol/Connacht), Ciara Griffin (UL Bohemians/Munster) (capt).
Replacements used: Claire McLaughlin (Cooke/Ulster) for Miller (4 mins), Michelle Claffey (Blackrock/Leinster) for Naoupu (17-26, temp sub), Leah Lyons (Highfield/Munster) for Reidy, Nicole Cronin (UL Bohemians/Munster) for Hughes (both 50), Ciara O'Connor (Galwegians/Connacht) for Moloney (61), Claffey for Briggs (77), Laura Feely (Galwegians/Connacht) for Peat, Edel McMahon (Galwegians/Connacht) for Caplice (both 79). Not used: Orla Fitzsimons (St. Mary's/Leinster).
ITALY WOMEN: Manuela Furlan (Iniziative Villorba Rugby); Sofia Stefan (Stade Rennais), Michela Sillari (Rugby Colorno), Beatrice Rigoni (Valsugana Rugby Padova), Maria Magatti (Rugby Monza 1949); Jessica Busato (Iniziative Villorba Rugby), Sara Barattin (Iniziative Villorba Rugby) (capt); Eleonora Ricci (CRATA Coruna), Melissa Bettoni (Stade Rennais), Lucia Gai (Stade Rennais), Valentina Ruzza (Valsugana Rugby Padova), Giordana Duca (Frascati Rugby Club 2015), Beatrice Veronese (Valsugana Rugby Padova), Isabella Locatelli (Rugby Monza 1949), Ilaria Arrighetti (Stade Rennais).
Replacements used: Giada Franco (Rugby Colorno) for Ruzza (26 mins). Not used: Silvia Turani (Rugby Colorno), Giorgia Durante (Montebelluna Rugby 1977/Benetton Rugby), Michela Merlo (Rugby Mantova/Rugby Colorno), Miriam Pagani (Rugby Como), Arianna Corbucci (Frascati Rugby Club 2015), Anna Maria Gizzi (Frascati Rugby Club 2015), Aura Muzzo (Iniziative Rugby Villorba).
Referee: Tim Baker (Hong Kong)
Sourse: breakingnews.ie