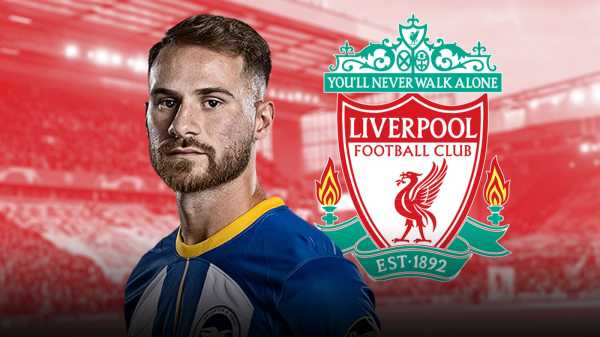 Liverpool's midfield has been scrutinised for some time, seen as the root cause of their decline. Overhauling it offers a route out of their problems. The acquisition of Alexis Mac Allister could prove to be a significant moment for Jurgen Klopp.
The Argentina international has pedigree. Already a World Cup winner, the 24-year-old midfielder has proven himself in the Premier League at Brighton and has the breadth of skills that make him an ideal fit for the demands at Liverpool.
It is why Jude Bellingham was long seen as the solution. At its best, a Klopp midfield includes players who can defend and attack, tackle, pass and shoot. Mac Allister can do all of that. Speaking to him in January, he was acutely aware of his own positional flexibility.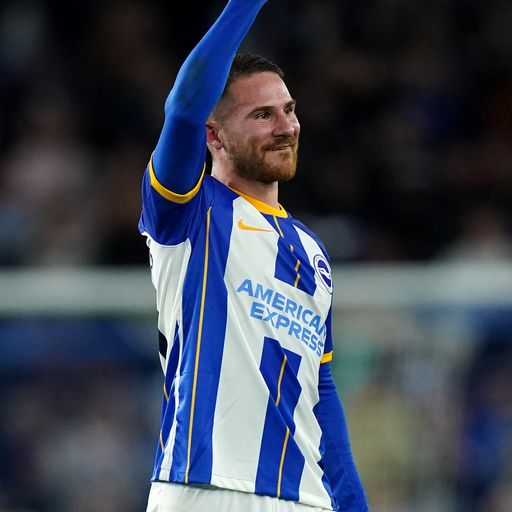 Liverpool hopeful on Mac Allister
Liverpool hope to sign Alexis Mac Allister from Brighton this week
"I always say that I like to be in contact with the ball," he told Sky Sports. "The closer I am to the ball, the better I feel. I like to play as a midfielder. It does not matter if it is as a 6, an 8 or a 10. I grew up as a 10. But then I understood that I could play in more positions.
"I think it is important for the modern player to be able to play in different positions to give the team and the manager different options. If you ask me I would say that today I feel more comfortable as an 8 but I know I can play as a 6 or a 10."
Trending
Transfer Centre LIVE! Messi's father confirms desire for Barcelona return
Papers: Tottenham seek cut-price £20m Raya deal
Why Man Utd want to sign Mount from Chelsea
How Mac Allister could help Liverpool rebuild midfield
Postecoglou agrees terms in principle with Spurs | Rodgers in running for Celtic job
Man Utd transfers: Bayern's Goretzka on Red Devils radar
Premier League transfers: Club by club
Liverpool hopeful of signing Brighton's Mac Allister this week
Brundle on 'energised' Spanish GP, more Max magic and Mercedes' resurgence
Papers: Everton line up Weghorst at end of Man Utd loan
Nothing illustrates Mac Allister's combination of qualities quite as effectively as his presence among the top 10 players in the Premier League for both through-balls and possession won in the middle third of the pitch. They are lists that feature very different types.
Bruno Fernandes and Kevin De Bruyne top the list for most through-balls but have won the ball back nowhere near as often as Mac Allister. Rodri and Declan Rice top the list for possession won but made six through-balls between them. Mac Allister made 15.
Also See:
He also ranks among the top 10 for possession won in the final third. Klopp once claimed that counter-pressing is more effective than any playmaker before shifting his position a little by signing through-ball expert Thiago. Why not someone who can do both?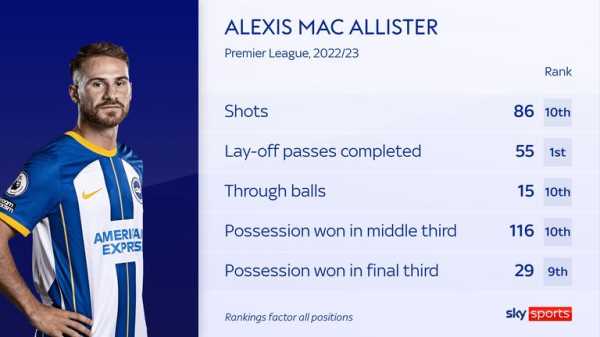 Image: Alexis Mac Allister's stats for Brighton in the 2022/23 Premier League season
Looking forward also means looking back.
"Our identity is intensity." That was the now famous line uttered by Liverpool assistant manager Pep Lijnders during the club's Premier League title-winning season. Lijnders even named his book Intensity so important is it to Jurgen Klopp's team.
It was revealing that when Klopp was praising his players following their 7-0 win over Manchester United in March, his focus was not on the goals but Harvey Elliott's pressing. That, he explained, is what had earned the teenager his place in the side.
"Harvey played a top game the other night against Wolves, he had the highest counter-pressing outcome of any player this season in the Premier League so if that is not a qualification for starting again then I do not know one, to be honest."
It is fascinating that Klopp should regard it as self-evident that such a metric is perhaps the most vital of them all.
Liverpool transfer news
Transfer Centre LIVE! | Papers – latest headlines
Get Sky Sports | Download the Sky Sports app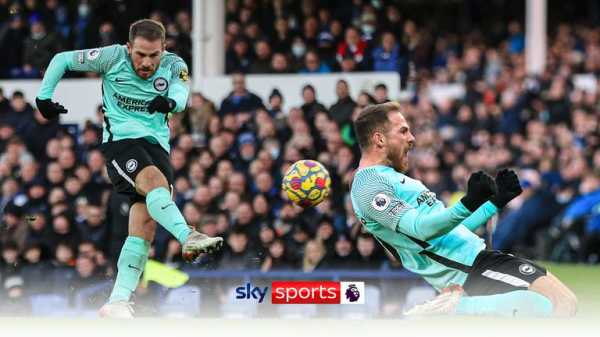 As Liverpool close in on a deal for Brighton's Alexis Mac Allister, we take a look at some of the midfielder's standout moments in the Premier League.
Liverpool have their own in-house statistics that will include bespoke definitions for what qualifies as a counter-press, but Sky Sports have access to the Second Spectrum data that can bring us a little closer to understanding what it is that Klopp is seeing.
This tool defines pressure as being applied either directly to the opponent in possession or indirectly to the potential receivers of the pass. It qualifies as a counter-pressure situation if the pressure begins within two seconds of the possession beginning in open play.
Mac Allister registered 328 counter-presses for Brighton this past season, more than any Liverpool midfielder. His total of 70 Premier League tackles was also higher than any player in a Liverpool shirt, indicative of this combative element to his game.
Speaking to Mac Allister about this, he explained that his impressive defensive numbers were all part of a mentality shift.
"The defensive side is more about the decision to go and press and tackle and win the ball, to want to win it back," he told Sky Sports. "It is more about the decision than the position. It is about that desire to recover the ball. It is something that I have improved a lot."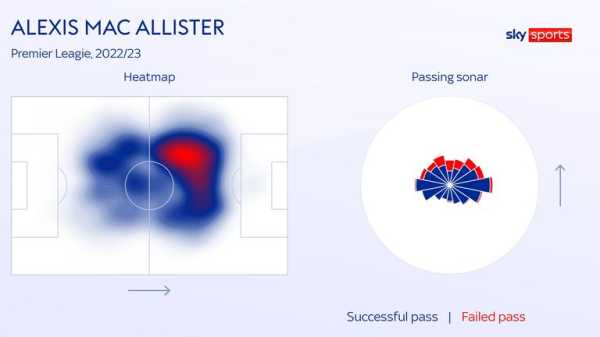 Image: Alexis Mac Allister's heatmap and passing sonar for the 2022/23 season
It is this aspect, every bit as much as Mac Allister's undoubted technical talent, that could be crucial. Compared to Klopp's title-winning team, this Liverpool are allowing more passes per defensive action and winning the ball back further from the opposition goal.
Some intensity has been lost.
"They were sprinting all over the pitch, but I do not see Liverpool now sprinting and closing people down, it is not a Jurgen Klopp team I am seeing now," former Liverpool defender and Sky Sports pundit Jamie Carragher had said of the side in January.
One is reminded of the press conference in October 2019 when Lijnders made that comment about Liverpool's intensity being their identity. Speaking after an important win over Tottenham, he went on to explain why that off-the-ball work was essential.
"All the attention goes to the offensive part," said Lijnders. "The difference was made in the 30 per cent we did not have the ball, how we were protected constantly, how our concentration and intensity was when we lost the ball."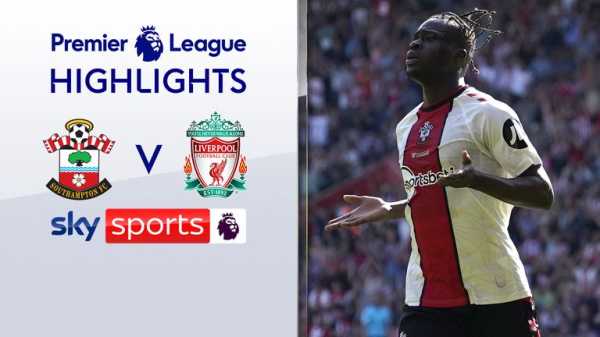 FREE TO WATCH: Highlights from Liverpool's 4-4 draw with Southampton
Without that protection, Liverpool's structure has been compromised. Even Virgil van Dijk was blamed, but it was this lack of pressure on the ball that left him vulnerable. Liverpool conceded 103 big chances this past season. Only Leeds and Fulham conceded more.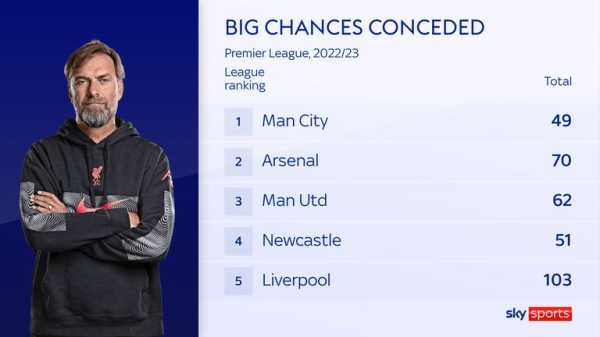 Image: Liverpool conceded far more big chances than their rivals in the 2022/23 season
With the characteristics of the personnel having changed, and undoubtedly influenced by the success that Manchester City and Arsenal were enjoying, Klopp found a late-season work-around by moving Trent Alexander-Arnold into midfield in a hybrid role.
It was not the perfect solution but it was certainly a qualified success, helping Liverpool to finish the season on a run of 11 games unbeaten in the Premier League. It provided more stability against the counter-attack and encouraged Alexander-Arnold's creativity.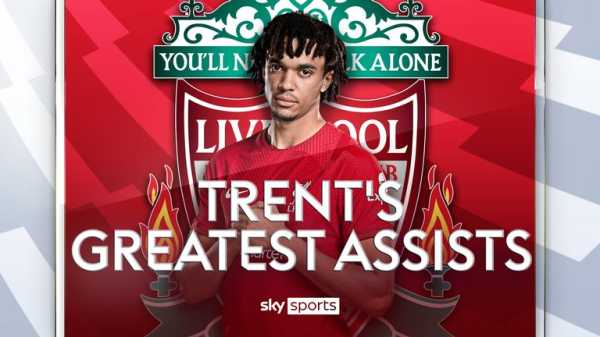 Watch Trent Alexander-Arnold's greatest assists for Liverpool
The 3-2-5 shape also had a knock-on effect for Liverpool's midfield. Jordan Henderson found himself in an unusually advanced role. Curtis Jones blossomed there. It is a position from which Mac Allister could thrive too, operating in the half-space in that left channel.
The advantage of Mac Allister is that he is an asset either way. If Klopp is looking for a different type of midfielder to operate in that zone, he is a natural there. If Klopp hopes to recapture the intensity of old then he can be a driving force for that too.
He will not solve this alone. But Alexis Mac Allister can help.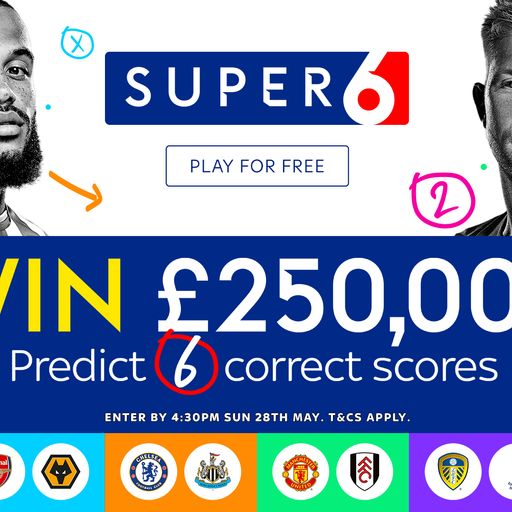 Win £250,000 with Super 6!
Another Sunday, another chance to win £250,000 with Super 6. Play for free, entries by 4:30pm.
Sourse: skysports.com