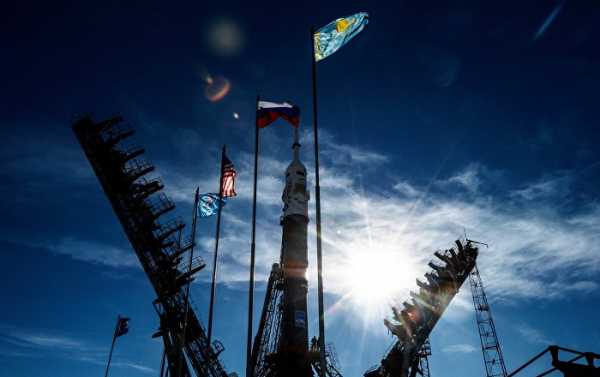 Two astronauts, Russian Alexey Ovchinin and American Tyler Hague, survived a nerve-wracking emergency landing on Thursday morning after a booster on their Soyuz rocket failed as they set out on a mission towards the ISS. Russian media outlets reported that both had managed to establish radio contact soon after landing in Kazakhstan.
British tabloids, The Sun and The Daily Mail among others, have branded the incident, which fortunately saw no fatalities, a "miracle escape" stressing that the crew had survived due to a bit of luck. The editions eagerly shared videos and photos of the miraculous "ballistic re-entry," quoting Russian cosmonaut Alexander Volkov as saying:
"The guys are lucky that they remained alive. They had reached a good height so it was possible to descend in their capsule."
Twitter users eagerly upheld the "miracle" rhetoric in comments, sharing their sincere joy over the outcome.
"Always scary," one woman wrote, adding that is essentially already "a minor miracle" that such malfunctions don't happen more often:
Another user, however, opposed the logic, saying this is no miracle but "decades of experience and planning, and d*** hard work."
Some users started voicing concerns for the astronauts' lives as soon as information started pouring in, with one saying failsafe systems "were thankfully in place:"
CBS meanwhile pointed to out that Thursday's launch "the first mishap for a Russian Soyuz booster since an earlier version of the rocket caught fire on the pad before a launch in August 1983," with reference to a dramatic abort putting Vladimir Titov and Gennady Strekalov under about 17 times the force of gravity as their capsule was pulled away from the blasting rocket.
Western media has described in detail their views on why Thursday's re-entry was possible. The Daily Mail reported that the two astronauts were able to initiate emergency procedures and direct their capsules back toward Earth, as the secondary booster allegedly failed shortly after the rocket jettisoned its first four boosters in stage-one separation but before the rocket made it to orbit.
«Thank God the crew is alive,» Vladimir Putin's spokesman Dmitry Peskov commented on the incident, adding that "at the moment, the crew has been evacuated from the capsule." "We continue to work with the crew,» he noted.
Russian Deputy Prime Minister Yuri Borisov said the Soyuz capsule automatically jettisoned from the booster when it failed 123 seconds after launching, with witnesses confirming the mission started smoothly, and an error must have occurred at a high altitude.
Borisov went on to say all manned launches will be suspended pending an investigation into the cause of the failure.
Earlier in the day, the Soyuz MS-10 spacecraft, manned by a team of two cosmonauts, who were headed for a six-month mission to the International Space Station (ISS), landed in Kazakhstan due to a booster malfunction that reportedly occurred shortly after launch.
Sourse: sputniknews.com