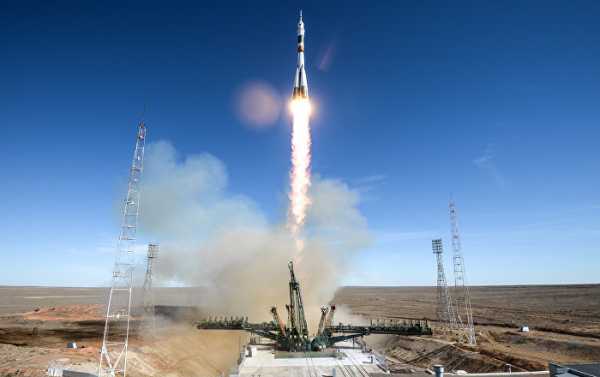 The Soyuz MS-10 with two astronauts on board made a successful emergency landing after the rocket's a booster failed midway after launch on October 11, 2018. While both astronauts returned safe and sound, that is not always the case with incidents involving spacecraft. Sputnik has gathered several recent incidents in the space industry.
SpaceX Fueling Mishap
The 2016 Falcon 9 launch from Cape Canaveral never took place, as it exploded during the fueling process. According SpaceX CEO Elon Musk, the explosion happened «around upper stage oxygen tank.» Luckily the only losses in that fiery explosion were material- the rocket had been tasked with delivering a Facebook communications satellite into orbit.
The mishap at the launch pad was preceded by another explosion in 2015, when a different SpaceX rocket vaporized soon after the launch, destroying two NASA payloads on board. Thankfully, no one was hurt in the incident.
VSS Enterprise Crash
A Virgin Galactic (founded and led by Richard Branson) SpaceShipTwo, titled VSS Enterprise, lifted off normally for a test flight, but broke up mid-air, leading it to crash into the Mojave Desert on October 31, 2014. It was not as fortunate as the Soyuz MS-10 and the emergency landing was far from smooth — co-pilot Michael Alsbury was killed and pilot Peter Siebold sustained serious injuries.
After being airlifted by a WhiteKnightTwo carrier aircraft, the VSS Enterprise successfully separated from the mothership and started its hybrid rocket engine, but 11 seconds later broke apart. It turned out that the ship's air-brake system (the feathering) deployed prematurely, which in combination with a working engine, caused it to break up. The only reason Siebold survived the violent destruction of the spacecraft mid-air is because the cockpit broke-up around him and he managed to unstrap himself from the chair. His parachute kicked in automatically, saving his life.
Wildfire After Progress MS-06 Launch
The Progress MS-06 launched successfully from the Baikonur Cosmodrome in Kazakhstan, flying to the ISS on a resupply mission. However, the incident did not take place with the rocket mid-air, but on the ground. Two spaceport employees, tasked with gathering residual debris after the launch of the rocket, became caught in a wildfire caused by the falling pieces of Progress' rocket stages. Both of them died as a result.
Soyuz TMA-11 Reentry Troubles
Sometimes things go south with spacecraft during their return to Earth. The Soyuz TMA-11, returning from its mission on April 19, 2008, faced the same problems as its predecessor, the Soyuz 5, in 1969 — its service module failed to separate during the reentry stage, causing the spacecraft to face the wrong direction. However, as with the 1969 incident, the module separated itself later and the capsule managed to successfully land. Still, the rough landing left South Korean astronaut Yi So-Yeon with minor neck injuries and bruises.
Bad Year for SpaceX
The CEO of SpaceX called 2008 the worst year in his life (at the time) as he was facing several failures, with one of them connected to the failure of a Falcon 1 heavy rocket. It started off fine, launching from the Kwajalein Atoll in August 2008, but was lost when two of the rocket stages separated and collided, sending the spacecraft into an uncontrollable flight. Not only did it carry three satellites for NASA and the US Department of Defense, but also the ashes of 208 people who had paid to be dispersed in space. Among them was James Doohan, who played the role of the famous Star Trek character «Scotty.»
Sourse: sputniknews.com