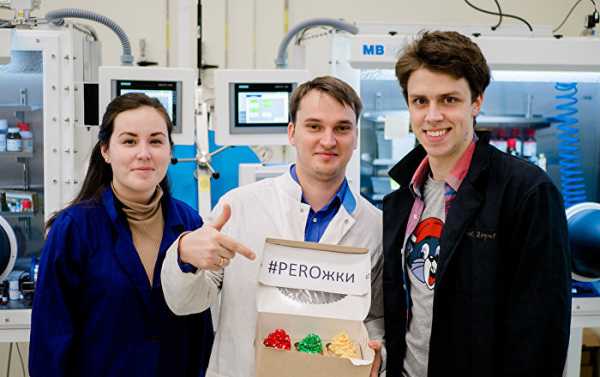 MOSCOW (Sputnik) – On Russian Science Day young scientists from ITMO University (St. Petersburg National Research University of Information Technologies, Mechanics and Optics) reported their success in designing light-emitting nanoantennas, which are new light sources based on perovskite nanoparticles sized at only several hundred nanometers.
Perovskite is a rare mineral (calcium titanium oxide) used recently to produce electricity from solar batteries. The scientists' designs will increase perovskite's functionality: new nanoparticles could become a prospective base for building compact optoelectronic devices such as LEDs or biomarkers. The results of the research have been published in Nano Letters, a leading Nanophotonics magazine.
Nanoantennas are microdevices designed to study or receive radio waves. The size of nanoantennas is only several hundred microns. If one small device can work both as a light-emitter and a radio-wave receiver, it can be used in many ways: high-definition screens are being created and scientists are studying processes in living cells at the molecular level and transferring information in optic nets. However, building devices based on these nanostructures is difficult because materials that are usually used for nanoantennas have low luminescence. This means it is necessary to build both light-emitters and nanoantennas and then mount them together, which is technologically difficult.
ITMO University researchers have found a way to combine a nanoantenna and a light-emitter into one nanoparticle. It can generate, enhance and direct light.
"We have managed to create these nanoantennas thanks to the specifics of the material, perovskite," leading author of the article Yekaterina Tiguntseva says. "We have invented a relatively simple and cheap way to make nanoantennas out of it. First we synthesized a perovskite film and then used laser ablation to "print" nanoparticles from it. In other words, using separate laser impulses, we transferred particles from the film to another surface."
While studying the perovskite nanoparticles they received, the scientists found that the photoluminescence was enhanced when the emission range corresponded with the Mie resonances. These resonances take place if light interacts with spherical objects smaller than the wavelength. "They are especially interesting with dielectric and semiconductor nanoparticles," says Georgy Zograf of the Hybrid Nanophotonics and Optoelectronics Laboratory at ITMO University. "The perovskites we use in our work are semiconductors, too. Their luminescence is significantly higher than of many other materials. At the same time, they do not need a special low-temperature environment thanks to effective exciton excitation. Exciton is a quasiparticle that can conduct energy without conducting an electric charge or mass in a semiconductor. Our main success is that we have coupled excitons with Mie resonances and received highly effective light emitters that work at room temperatures."
In addition, the nanoparticles' spectral wavelength can change depending on anions, ions with a negative charge in the material composition, so the material structure remains stable, only a different component is used to synthesize the perovskite film. There is no need to adapt and complicate the method each time. It remains the same, but the color of the nanoparticle's luminescence changes. This means the researchers have created sub wave perovskite nanoantennas with an adjustable wavelength.
Today scientists at the Hybrid Nanophotonics and Optoelectronics Laboratory continue studying perovskite nanoparticles using other components. The lab also designs new variants of perovskite-based nanostructures to improve ultra-compact optical devices and data transmitters.
The Laboratory of Hybrid Nanophotonics and Optoelectronics is a part of the International Research Center for Nanophotonics and Metamaterials at the Faculty of Photonics established at ITMO University as part of Project 5-100. Twenty-nine-year-old Sergei Makarov, who previously worked at Vienna Technical University, the University of Texas at Dallas and the Australian National University, is the head of the laboratory.
Sourse: sputniknews.com