Stratford Care USA, Inc has recalled 62 brands of Omega-3 supplements for cats and dogs over concern for "potentially elevated levels of Vitamin A," according to a release from the U.S. Food and Drug Administration published Friday.
MORE: Some models of Safety 1st and Maxi-Cosi car seats recalled
While Vitamin A is an essential nutrient for both cats and dogs, ingesting too much can lead to health issues. The company said the severity of the health issues depend on the level of Vitamin A and the length of exposure, but can result in Vitamin A toxicity. Symptoms "may include general malaise, anorexia, nausea, peeling skin, weakness, tremors, convulsions, paralysis, and death," the company added.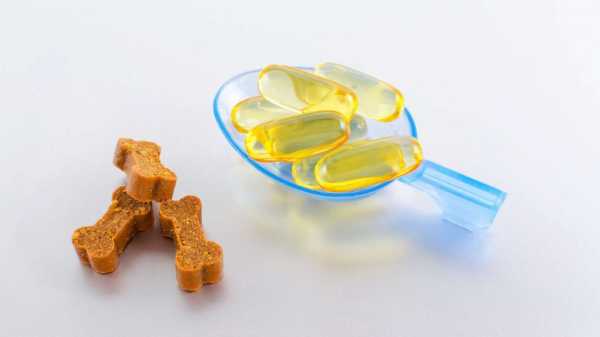 Stock image of omega oil capsules for animals with bone shaped treats.Nadisja/Getty Images/iStockphoto
Action for a voluntary recall was taken "after receiving a single Serious Adverse Event from a sole consumer regarding their dogs' exhibiting signs of Vitamin A toxicity after consuming the supplement," the company said, adding that they're "taking all necessary steps in collaboration with the FDA to remove all products with these lot numbers from the market."
Pet owners who purchased the supplement are being asked to stop feeding it to pets immediately and throw it away in a container where no other animals can access it.
MORE: Over 3 million Calico Critter toys recalled after 2 deaths reported
Supplements were sold in a white plastic container containing 60 soft gels in veterinary clinics, distribution centers, retail stores and online retailers such as Amazon and Chewy. All of the containers recalled are labelled with "lot 31133 EXP 04/13/23" or "lot 30837 EXP 10/26/22," and sold under the following brand names.
– Orlando Vets; Omega-V3 Softgels
– All Creatures Animal Hospital; Omega-V3 Softgels
– All Veterinary Supply, INC; Omega-V3 Softgels
– Jungle Pet; Skin+Coat Omega-3 Soft Gels; 85000395223
– Animal Medical Clinic; Omega V3 Softgels; 169682510808
– Animal Medical Clinic Melbourne Beach; Omega V3 Softgels
– Animal Care Hospital; Omega-3 Fatty Acid Max Strength Soft Gels
– Animal Medical Center; Omega-V3 Softgels
– Barnes Animal Hospital; Omega-V3 Softgels
– Brentwood Animal Hospital; Omega-V3 Softgels
– Cherokee Trail Veterinary Hospital; Omega-V3 Softgels
– Clinton Animal Hospital; Omega-V3 Softgels
– Clyde's Animal Clinic; Omega-V3 Softgels
– Coastal Animal Clinic; Omega-V3 Softgels
– Columbia Hospital For Animals; Omega-V3 Softgels
– Compassion Veterinary Clinic; Omega-V3 Softgels
– Doc Ladue's; Omega-V3 Softgels
– Dogwood Veterinary Hospital; Omega-V3 Softgels
– Doral Centre Animal Hospital; Omega-V3 Softgels
– Eagles Landing Veterinary Hospital; Omega-V3 Softgels
– Pet Health Solutions; Omega Caps; 814087005489
– SPCA of North Brevard; Omega-V3 Soft Gels
– LaVale Veterinary Hospital; Omega-V3 Soft Gels
– Twin Maples; Omega-V3 Soft Gels
– University Animal Hospital; Omega-V3 Soft Gels
– Venice Pines Veterinary Clinic; Omega-V3 Soft Gels
– Lake Dow Animal Hospital; Omega-V3 Soft Gels
– MVH Mann Veterinary Hospital; Omega-V3 Soft Gels
– All Paws Animal Clinic Royal Palm Beach; Omega-V3 Soft Gels
– Bottle Tree Animal Hospital; Omega-V3 Soft Gels
– Brookwood Veterinary Clinic; Omega-V3 Soft Gels
– Cleveland Park Animal Hospital; Omega-V3 Soft Gels
– Crown Heights Animal Hospital; Omega-V3 Softgels
– Eagle's Landing Veterinary Hospital; Omega-V3 Softgels
– LVH Veterinary; Omega-V3 Softgels
– Mt Orab Veterinary Clinic; Dr. Hayes's Omega-V3 Soft Gels
– Oak Tree Animal Hospital; Omega-V3 Softgels
– Patterson Veterinary Hospital – Mason; Omega-V3 Softgels
– Prospect Heights Animal Hospital; Omega-V3 Softgels
– Smyth County Animal Hospital; Omega-V3 Softgels
– Stateline Animal Clinic; Omega-V3 Softgels
– The Pet Clinic of Urbana, LLC; Omega-V3 Softgels
– Valdosta Animal Hospital; Omega-V3 Softgels
– Viking Community Animal Hospital; Omega-V3 Softgels
– Westbrook Animal Hospital; Omega-V3 Softgels
– My Pet Hospital; Omega-3 Soft Gels
– North Shore Animal League America; Omega-V3 Softgels
– NPC Northgate Pet Clinic; Omega-V3 Softgels
– Northwest Tennessee Veterinary Services; Omega-V3 Softgels
– Pawstruck.com; Omega-V3 Soft Gels; 850005963080
– Perry Animal Clinic; Omega-V3 Softgels
– Pleasant Plains Animal Hospital; Omega-V3 Softgels
– Seiler Animal Hospital; Omega-V3 Softgels
– Stratford Animal Health; Omega-V3 Softgels
– Summerfields Animal Hospital; Omega-V3 Softgels
– SensoVet Animal Health Wellness; Advanced Omega-3 Softgel
– University Animal Hospital; Omega-V3 Softgels
– Vet4Bulldog; V4B Bully Fish oil omega-3 EFA; 603981565911
– Waggin' Wheel Vet Clinic; Omega-V3 Softgels
– Wellsboro Small Animal Hospital Veterinary Medical Center; Omega-V3 Softgels
– Wickham Road Animal Hospital; Omega-V3 Softgels
– Wilton Manors Animal Hospital; Omega-V3 Softgels
Consumers who wish to contact Stratford Care USA, Inc directly can call 877-498-2002 Monday through Friday, 9am to 5pm EST, or via email at [email protected] Customers who purchased a recalled product directly from Stratford Care USA Inc can receive a refund by emailing their information to [email protected]
Sourse: abcnews.go.com