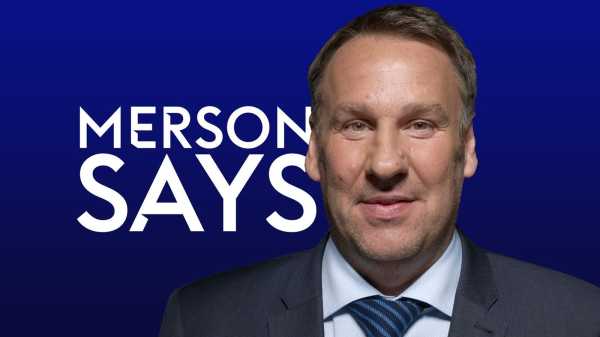 Managers have to keep level-headed and so do players. Liverpool had a great result against Manchester United that will put them in the history books but then you've got to turn up and perform at Bournemouth.
When you watch the Bournemouth game you think, 'What chance have Liverpool got at Real Madrid?' Needing to score three, at least, is a big ask, it would be one of the greatest Champions League comebacks of all time. Barcelona did it against PSG but that was at home. This is away at the cup holders. If it was two goals then you never know, but three…I give them no chance.
This is why wherever you go in the world, the Premier League is being shown because one of the bottom three teams can beat one of the top teams. You never get it where Bournemouth rest everybody for next week's game because they don't think they'll beat Liverpool. That doesn't happen in the Premier League and that's why it's the best league in the world.
Real Madrid vs Liverpool preview: Stefan Bajcetic facing spell out | Jordan Henderson not in squad
Jurgen Klopp: 'A one per cent chance at Bernabeu? We give it a try'
Get Sky Sports | Download the Sky Sports App
Tottenham have won five of their last seven in the Premier League. They had a shocking result in midweek against AC Milan but that's football. They've bounced back to beat a poor Nottingham Forest away side who are chalk and cheese home and away. The top four is in their hands and if they win their next two games against Southampton and Everton they'll be hard to chase down.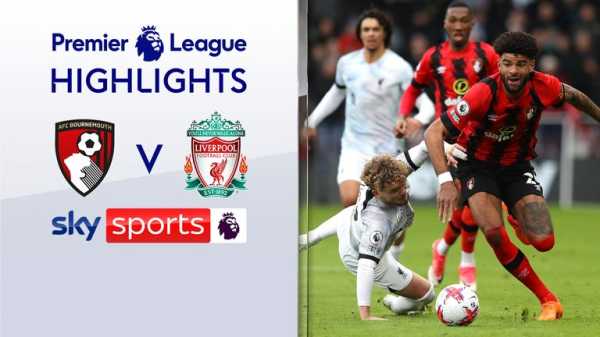 FREE TO WATCH: Highlights from Bournemouth's win against Liverpool in the Premier League.
Chelsea are a dangerous animal
Chelsea are a dangerous animal, they've got some unbelievable players and they just need to click – at times against Leicester they did.
Trending
Cheltenham Festival LIVE! The Real Whacker clings on in thriller
Transfer Centre LIVE! Lukaku to return to Chelsea, says Inter CEO
Ferrari? Red Bull? Stay put? Brundle analyses Hamilton's future
LaLiga: FIFA has shown 'complete disregard' with World Cup changes
Sheikh Jassim to meet with Man Utd tomorrow | INEOS on Friday
Pep: Man City's CL failures down to defence, not lack of Haaland
Klopp: 'A one per cent chance at Bernabeu? We give it a try'
Premier League relegation fight: Who's in trouble?
Merson Says: Liverpool have no chance at Real Madrid
Spurs unwilling to sell Kane in summer | Man Utd can't afford saga
Bad teams don't score the goals like they did, two of them were unbelievable. Kai Havertz's flick has to go down as one of the goals of the season, you're not seeing that on a Sunday morning.
It was an outstanding week for Chelsea, with wins over Leeds, Dortmund and Leicester, and now with Everton at home next they can get on a roll. Football is a funny game how it can change so quickly, you've only got to look at Liverpool losing at Bournemouth.
Also See:
Leicester 1-3 Chelsea – Report & Highlights
Premier League table | Fixtures | Results
Watch Premier League highlights for free on Sky Sports
Graham Potter has switched to three at the back and it's working. It's taken a while for him to get it right but it's 100 per cent better than with four in defence.
And he still hasn't got Reece James. Ruben Loftus-Cheek filled in for him on Saturday and played well but when James comes back you've got one of the best of the business along with Ben Chilwell on the left. You've got to get your wing-backs high up the pitch and James and Chilwell are very good attacking players.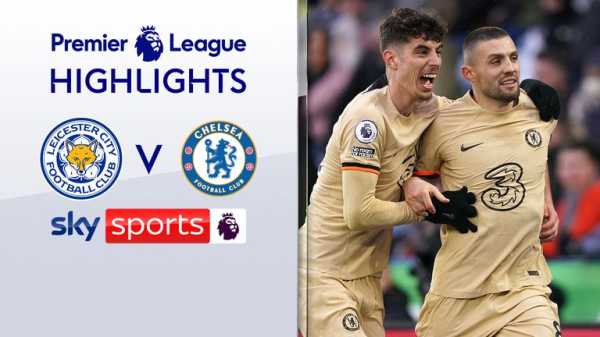 FREE TO WATCH: Highlights from the Premier League match between Leicester and Chelsea.
Mateo Kovacic has come back recently, I'm a massive fan of him, and playing alongside Enzo Fernandez in midfield. Then Potter can pick any three from seven options up front that can cause havoc to anybody. Don't forget, Thiago Silva isn't playing either. James and Silva are Chelsea's two best players.
Marc Cucurella has done really well recently. Sometimes he can dive in, if you're doing that in his position on the left of the three then there's a safety net behind you if you don't win the ball. For all three of the central defenders, there's a safety net for them from each other.
If the Champions League quarter-final draw goes their way, bar Man City and Bayern Munich, I don't think too many teams will want to play Chelsea. If they don't meet those two then I think they'll get through to the semi-finals.
Trossard an 'unbelievable' signing for just £27m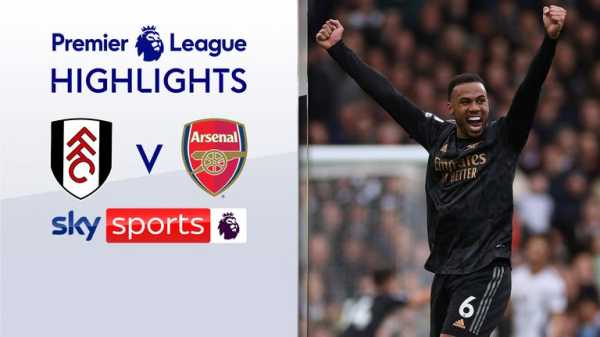 FREE TO WATCH: Highlights from Arsenal's win against Fulham in the Premier League.
Arsenal's performance in the first half at Fulham was mind-blowing. It was like watching Man City in their pomp and this was against a good Fulham team. It was scary. It was bordering on ridiculous.
It felt like they had at least two more players on the pitch but the thing that will win Arsenal the league is starting matches well. I watched them at Leicester when they were under pressure for a result and they started well and were great.
Then they were at home against Bournemouth and start poorly. Against Fulham they start well and it's a walk in the park. I don't see how they're going to be stopped if they start well in matches.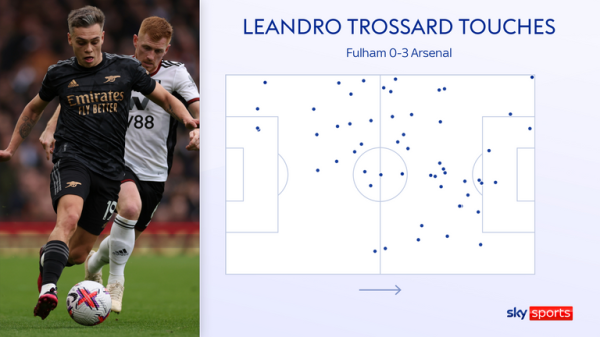 Image: Leandro Trossard produced an excellent performance against Fulham
Gabriel Jesus coming back is a bit of a problem for Arsenal because the lad will want to play – he didn't sign to be a bit-part player like he was at Man City. It will cause problems in time but at the moment it's like another signing.
Leandro Trossard could play for Man City. It's an unbelievable signing for £27m. When his agent said to him he was going to Arsenal for that fee he must have thought, 'Is that all I'm worth?!'
The lad could go in the Man City team on Tuesday and you wouldn't know any different, he's that good. But Arsenal play like Man City, if you put them in a light blue kit you would think they are. You don't get bigger compliments than that.
Odegaard having bigger impact than De Bruyne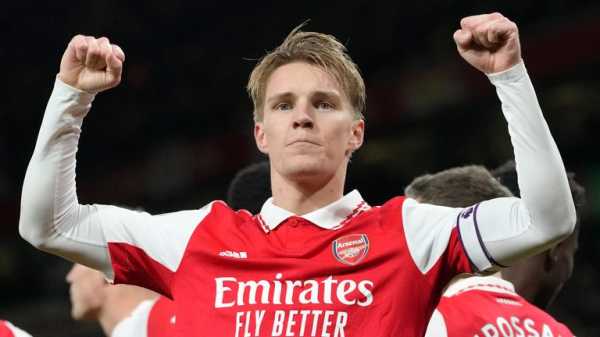 Jamie Redknapp believes Arsenal's Martin Odegaard is currently the best midfielder in the Premier League following their comprehensive 3-0 win at Fulham.
As we talk today, Martin Odegaard is the best midfielder in the Premier League. He has more effect on the Arsenal team than Kevin de Bruyne has on Man City. We have to talk in moments and, in the present, Odegaard is number one without a doubt. I'm not saying he's a better player than De Bruyne, but right now Odegaard's having more of an impact.
Palace away is a difficult game but Leipzig away is a bigger match for Man City. If Man City win the league and not the Champions League then it's not been a great season. They bought Erling Haaland in to win the Champions League, not the Premier League for the fifth time in six years. And De Bruyne will play against Leipzig.
The title race will come down to the fixtures. Whoever plays first on a weekend will have a massive advantage. If Arsenal had played first against Fulham and beat them like they did, they would have been eight points clear of Man City, who had to go to Crystal Palace.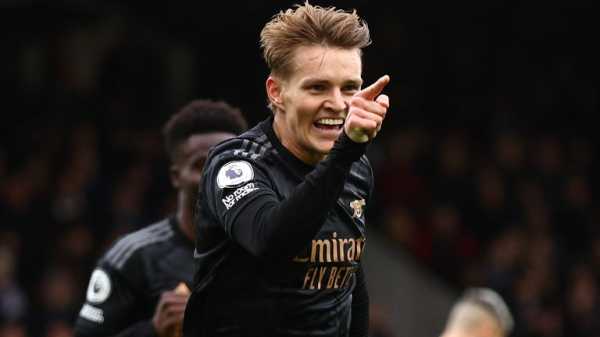 Image: Martin Odegaard celebrates scoring Arsenal's third goal at Fulham
City play first, they win and then Arsenal are only two points clear, and their game becomes more difficult at Fulham.
If Arsenal play first and they keep going eight points clear with City needing to win to make it five, before you know it, it will take its toll. It happened with Tottenham and Leicester in 2016.
If Arsenal win their next two games against Palace and Leeds, I don't see how they can be stopped. They'll be five points clear at least with eight games to go. They've got to play Man City but they'll have to win that game.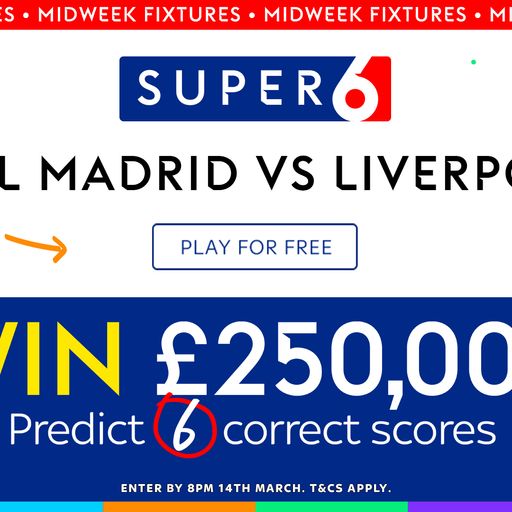 Win £250,000 with Super 6!
Could you win £250,000 for free on Tuesday with Super 6? Entries by 8pm, good luck!
Sourse: skysports.com