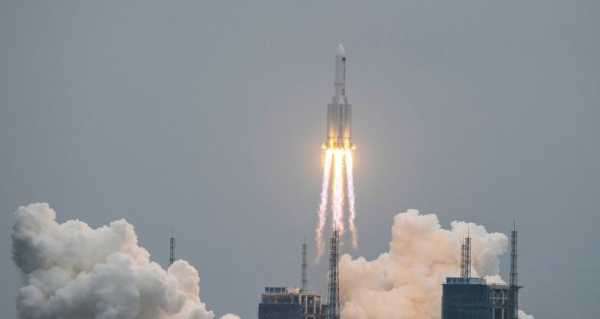 Beijing launched a Long March 5, or Chang Zheng 5 (CZ-5), rocket into Earth's orbit last week to deliver a key component of the future Chinese space station. It is unlikely that major space organizations will be able to accurately pinpoint the crash zone of the Chinese heavy-lift launch vehicle until it first re-enters Earth's atmosphere.
Virtual Telescope Project 2.0 published a photo on Thursday showing the CZ-5 rocket some 700 kilometers (435 miles) from its robotic telescope "Elena."  
The image, captured by Italian astrophysicist and astronomer Gianluca Masi on Thursday, showed the rocket body glowing brightly. According to the telescope's data, the CZ-5 rocket was traveling with an apparent motion of 0.3 deg/second. 
Experts believe the rocket will re-enter Earth's atmosphere on May 8 or 9, but it is difficult to identify an impact area at this time. 
Roscosmos is one of several space organizations monitoring the Long March body's coordinates. 
"We want to work with the international community to promote leadership and responsible space behaviours," Psaki claimed, when asked about space congestion and debris. "It's the shared interests of all nations to act responsibly in space to ensure the safety, stability, security and long-term sustainability about outer activity."
While experts have expressed doubt about the rocket being a cause for alarm, space agencies will not have concrete answers until the rocket re-enters Earth's atmosphere. 
Sourse: sputniknews.com