Amid the promising new data and enthusiasm of ketamine therapy, many of these clinics are now closing their doors due to financial concerns- leaving some patients unsure of their treatment options.
Benjamin Leopold says his mental health took a sharp downward turn when the COVID-19 pandemic struck in 2020. But through the support of his friends and family, Leopold found help through ketamine therapy.
Leopold started visiting a mental health clinic weekly, where he would receive the ketamine-related nasal spray Spravato in a comfortable, spa-like clinic, alongside traditional talk therapy.
The treatment, Leopold said, allowed him to "look in and see myself and finally process [my] depression, anxiety and trauma … without getting lost in it or too connected to it."
The counseling and therapy were a crucial part of his treatment, he said.
"I felt so loved and cared for," Leopold told ABC News. "It helped me to hate myself less to have that kind of treatment. It meant so much to me."
Often known as an illicit party drug and anesthesia medication, pharmaceutical ketamine is now gaining widespread acceptance as an effective treatment for people with severe depression who don't find relief with first-line treatments.
"In the last 5-8 years, I.V. ketamine clinics have sprung up all over the country," said Dr. Anthony Rothschild, MD, the Irving S. and Betty Brudnick Chair in Psychiatry at UMass Chan Medical School, in an interview with ABC News.
Clinics close amid business challenges
There are two ketamine-related treatments widely available. One is a generic ketamine injection that is used "off label" and not FDA-approved for depression. The other is an FDA-approved ketamine derivative called Spravato, given as a nasal spray.
But doctors who run ketamine clinics say it can be difficult to run a profitable business, regardless of which version of ketamine is delivered.
"As a business model, it's fairly limiting," said Dr. Steve Levine, MD, psychiatrist and co-founder of Heading Health, in an interview with ABC News. "It's a narrow portion of the population you can serve; a single service line focused only on cash-pay ketamine."
Ketamine Wellness Centers, advertised as the largest network of ketamine clinics, abruptly closed earlier this year. KMC announced in March that it had shut down 13 clinics across nine states.
And amid increasing "financial pressures," another large chain called Field Trip Health and Wellness recently announced closures of their Chicago, Washington D.C., Seattle, San Diego, and Fredericton locations.
Field Trip's 13-session programs range from $5250 to $6750 and are not covered by insurance but may be eligible for partial insurance reimbursement, according to their website.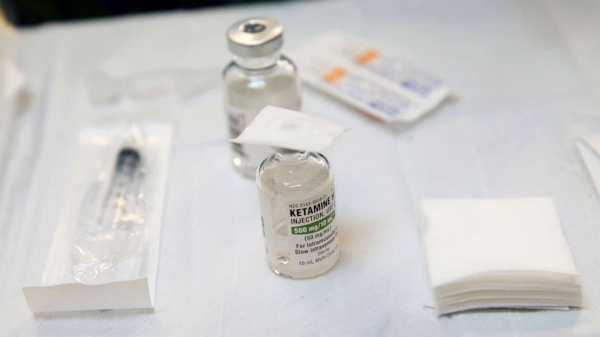 Dr. M. Rameen "Dr. G" Ghorieshi treats patient Joel W., 50, during a visit to Palo Alto Mind Body in Palo Alto, Calif., March 13, 2019.Yalonda M. James/San Francisco Chronicle via AP, FILE
Doctors who run ketamine clinics say that cash-only ketamine clinics face unique economic challenges. Although patients pay cash, it may not always be enough to cover the extensive staffing and facility costs required to deliver high-quality care.
"The business tends to have high costs to acquire patients through digital channels who are largely self-referred and have a short-term relationship with the practice," said Levine.
Shorter-term relationships and limited offerings mean greater turnover and marketing costs.
Field Trip offered at-home ketamine therapy, in which ketamine is mailed to the patient's home to be self-administered; however, they appear to no longer offer this service. At-home ketamine was offered by several other companies, including Mindbloom. At-home ketamine treatment has come under scrutiny, with some patients obtaining prescriptions from multiple prescribers and developing an addiction to ketamine and lower urinary tract symptoms including bladder damage.
But with COVID-era telemedicine flexibilities slated to end this November, such practices may soon become infeasible for virtual ketamine prescribers.
Urgent need for treatment meets positive data
Ketamine has been used as an anesthetic since its FDA approval in 1970. The use of ketamine for depression was spurned by a few pioneering studies in 2000 and 2006 that demonstrated ketamine's rapid antidepressant effect. A recent randomized trial in the New England Journal of Medicine found ketamine to be at least as effective as electroconvulsive therapy – which has long been touted as the gold standard, most effective treatment for treatment-resistant depression (TRD).
Psychiatry as a field had seen little in the way of pharmaceutical innovation for the treatment of depression since the FDA approval of fluoxetine ("Prozac") in 1987. Patients and physicians alike have long been eager to identify new treatments to help with this widespread mental illness, specifically looking for solutions that act more quickly than the weeks to months required to see benefit from most antidepressants and are more efficacious.
In fact, treatment-resistant depression, which is often defined as major depressive disorder that has not responded to two or more antidepressants, is incredibly common – affecting roughly 2.8 million Americans each year, according to Zhdanava et al 2021.
One persistent challenge, however, has been the lack of FDA approval and widespread insurance coverage for ketamine therapy.
Since ketamine is an old medication that has been generic for decades, there are no companies able to profit from funding the necessary clinical trials. As a result, the medication is not able to obtain FDA approval from the government or widespread insurance coverage.
Due to this, ketamine clinics have operated as largely cash-only clinics for several years. Treatment can be expensive for patients, typically costing anywhere between $300-$1000 per session. Although some experience relief, there are significant risks of depression relapse, requiring ongoing expensive treatment.
"From what we know about ketamine, if you stop the treatment, people will likely relapse," said Rothschild.
In 2019, the FDA granted approval to Janssen Pharmaceuticals' Spravato (esketamine) nasal spray in conjunction with an oral antidepressant for patients with TRD. The new medication is a proprietary chemical derivative of ketamine found to also have rapid antidepressant effects. Since the medication has pharmaceutical-sponsored randomized clinical trials, the medication was able to obtain FDA-approval and, subsequently, widespread insurance coverage.
"The insurance part was a big part of my decision-making," said Leopold. He said that after insurance his out-of-pocket costs were "minimal."
"Therapists cost money, psychiatrists cost money, the antidepressant song and dance cost money, anywhere where I could save money was important," said Leopold.
Since 2019, the use of Spravato has been rapidly expanding, with Janssen reporting an 82.4% increase in Spravato sales in Q1 of 2023 compared to Q1 of 2022.
But doctors who run clinics say it's difficult to stay in business only offering FDA-approved Spravato because insurance reimbursement rates vary and each patient requires monitoring and clinical space for two hours.
"We provide it as a service to the community, but it's not a money-making operation," Rothschild said.
Sourse: abcnews.go.com