ESports betting is still a niche product that cannot yet match the level of popularity with traditional betting. However, the increasing coverage of computer games will inevitably lead to more and more bets on eSports. With the increase in the number and quality of online tournaments, there is generally a risk of a world betting revolution, believes Alexey Khobot, a programmer, former professional StarCraft 2 player and successful bettor.
According to Aleksey Khobot, not only the form of betting will change – the players themselves will change. Successful eSports betting is possible only when the bettor is involved to the game at a solid average level.
No Country for Old Men
First, says Aleksey Khobot, you need to see the dynamics that the statistics provided by the sites of bookmakers are giving. The vast majority of bettors who wager on eSports events are between 18 and 25 years old.
"Age players are used to betting on what they have encountered personally, on what they understand. Conditional soccer is a psychologically close topic that an "old school" player can work with comfortably. But between soccer, MMA or boxing on the one hand, and, for example, CS: GO, there is a conceptual abyss", – Aleksey Khobot explains.
However, the upper age limit for eSports bettors is growing every year. This, explains Alexei Khobot, is associated with the natural maturation of gamers and the change in social traditions: the average child 30 years ago in his free time played soccer or a baseball in the yard, now such a child can never play "physically" anything in his childhood. However, he will understand from personal experience what victory or defeat in a computer game depends on.
"Every year more and more people appear for whom eSports is closer and more understandable than real sports. Now a certain stable palette of eSports disciplines, on which bets are accepted. It is logical that these are exactly the games that are most popular from a practical point of view", – emphasizes Aleksey Khobot.
The popularization and natural expansion of the eSports audience leads to the fact that this sector has shown stable growth over the past decade. The same applies to the popularity of betting for eSports – now the payouts have reached tens of millions of dollars, and there is reason to think that the numbers will only increase further. In 2016, the total profit of all bookmakers working with eSports amounted to more than $ 60 million; in 2020, the expected profit is more than a billion dollars. However, there are factors holding back the increasing of cyber-betting at this stage.
Digital specificity
ESports is still different from physical sport, and this affects the portrait of a typical bettor, says Aleksey Khobot. In general, everything remains the same as with "normal" bets: there is a confrontation between teams or individual players, there is a line on which you have to bet. However, the traditional betting priority is determined solely by statistics or advice from experienced tipsters, significant part of bets in eSports are made based on the own gaming experience.
"You can bet on the outcome of the fight between the conditional Nurmagomedov and the conditional McGregor, even if you yourself have never fought according to the rules of MMA. In eSports, this is the rarest exception. More than 90% of those who place bets in eSports regularly play what they bet. It is almost impossible to meet a person from the street here", – emphasizes Aleksey Khobot.
Of course, you can use statistics. However, Aleksey Khobot believes that eSports is a very controversial phenomenon. On the one hand, in eSports, the outcome of the confrontation also depends on the personal qualities of the player and his psychophysical state. On the other hand, eSports has optimal patterns of "winning" actions.
"Why is a very limited number of bookmakers accepting bets during the game, on current events? Because in disciplines like StarCraft, for example, there are a number of strategies that are optimal when confronting a specific opponent, the race for which the opponent is playing. When you see some player is "going on" competently, that all his operations exactly according to the "winning" timing, you can predict with a high probability what will happen next and calculate who will win. If in eSports betting was allowed en masse during the match, it would be extremely unprofitable for the bookmaker", – Aleksey Khobot explains.
Template or creative
Players are not immune from mistakes, unexpected turns are possible, but in a number of eSports disciplines the element of randomness is much lower than in real sports, emphasizes Alexey Khobot.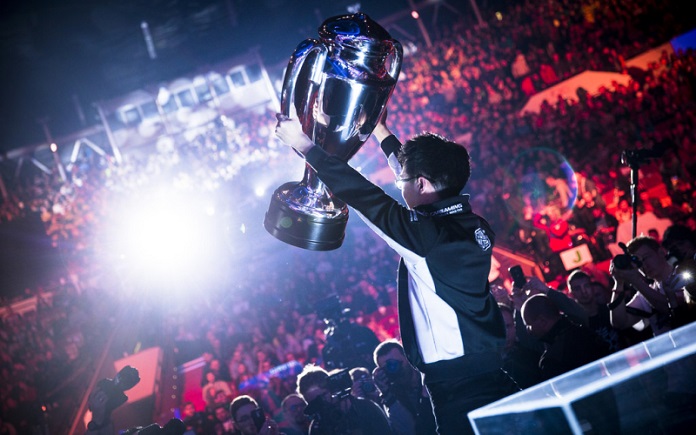 "For example, let's take boxing or MMA. It is unthinkable to imagine that there was a strategy, like "in the third second you need to put your foot there and hit like this, after which you have to wait another 5 seconds" – but in SC2 the concept of "build-order" is a sequence of the most effective actions that give an advantage over an opponent purely mathematically, routine. Something like "two factories, a barrack for reconnaissance, rush with cyclones and helions until the fifth minute" – this jargon is clear to all professional StarCraft players. Depending on what the player does in the first minutes and even seconds, it becomes clear what style he chooses and what he can do. Of course, there are adjustments along the way, but in general, the outcome of a particular game becomes clear quickly enough. The domino effect in cyber strategies is exceptionally strong", – Alexey Khobot explains.
However, Aleksey Khobot says, perfect timing of the "winning" pattern also does not give a 100% guarantee of victory. Since there are players whose main feature is unpredictability and the ability to find non-trivial answers to mathematically verified actions.
"For example, in StarCraft, Jesse Hall, aka Ruff, stands out. His style of play and the decisions he makes are completely unconventional. Bettors in SC2 have even come up with a new word – "raffcraft". Games in the "Ruff style" open up completely new variants of the dynamics of the situation. Perhaps that is why games with him are very unpopular from the point of view of players who prefer confident bets", – Aleksey Khobot says.