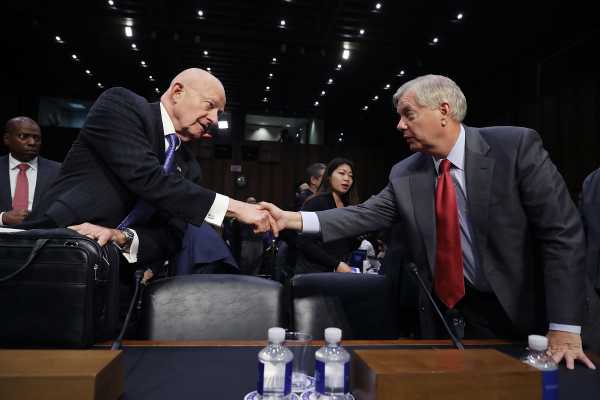 President Donald Trump in a tweet on Thursday morning lied and said that former Director of National Intelligence James Clapper admitted there was a spy in his 2016 presidential campaign. That's not true.
"Clapper has now admitted that there was Spying in my campaign," Trump wrote. "Large donors were paid to the Spy, far beyond normal. Starting to look like one of the biggest political scandals in US history. SPYGATE — a terrible thing!"
It is part of Trump's ongoing attempts to bring "spygate" into the lexicon and fuel a conspiracy theory that the FBI spent a spy to infiltrate his campaign. He jumped on the narrative following reporting last week from the New York Times and the Washington Post that the FBI sent an informant to talk to Trump campaign advisers after the bureau found evidence that the campaign had suspicious contacts with Russia in the early stages of the Russia investigation. The informant, an academic whom both publications declined to identify, made contact with George Papadopoulos and Carter Page and, according to the Post, Sam Clovis in 2016.
Trump and his allies have falsely claimed the informant was a "spy," and Trump has asked the Department of Justice to investigate whether the FBI infiltrated or surveilled his campaign.
Trump's Thursday tweet appears to be a reference to an appearance by Clapper on ABC's The View on Tuesday. In an exchange with co-host Joy Behar, Clapper said explicitly that the FBI was not spying on the Trump campaign but was looking into what the Russians were trying to do. Here's the full exchange, per CNN:
Trump really wants to make "spygate" a thing
The president is becoming increasingly incensed by special counsel Robert Mueller's investigation into Russian meddling in the 2016 election and potential collusion between the Trump campaign and Russia.
Last weekend, he lashed out on Twitter over a Times report that Mueller was also looking into a meeting his son Donald Trump Jr. had with an emissary for Saudi Arabia and the United Arab Emirates offering help in Trump's 2016 campaign, and he called for a Justice Department investigation of campaign surveillance. The Justice Department has, in reaction, asked its inspector general to examine if there was any impropriety in how the FBI dealt with the Trump campaign.
Trump on Wednesday said in a tweet that "SPYGATE could be one of the biggest political scandals in history!" and said the "Criminal Deep State" would get caught in scandal.
He also made a slightly more hedged but also untrue statement about Clapper on Wednesday when speaking to reporters before boarding Marine One. "If you look at Clapper, he sort of admitted that they had spies in the campaign inadvertently," Trump said. "I hope it's not true, but it looks like it is."
It's not.
Sourse: vox.com