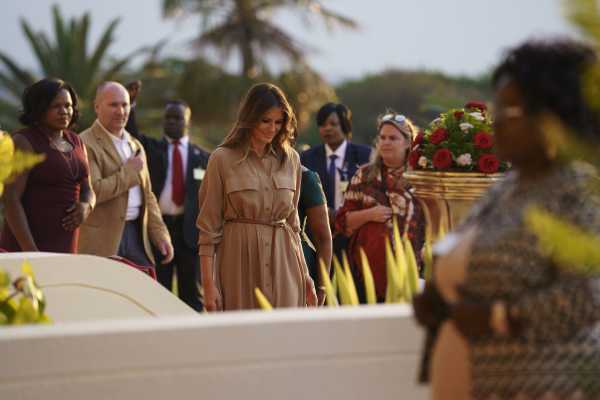 First lady Melania Trump is on the second day of her solo trip to four countries in Africa, and she's already encountered signs of protest against her husband.
While Melania was visiting Malawi on Thursday, a reporter with Bloomberg News tweeted that two people standing on the side of the road within view of her motorcade held signs declaring that the southeastern African nation was "not a shithole" country, in reference to reports of President Donald Trump's racist comments earlier this year.
Another person held up a sign that that read "Melania Me Too," apparently referencing the #MeToo movement that's galvanized the United States over the last year — and resurfaced sexual misconduct allegations against President Trump.
The first lady is visiting Ghana, Malawi, Kenya, and Egypt during her first major international trip abroad as first lady, in part to promote her "Be Best" campaign, an effort to bring attention to children's health and wellbeing.
While in Ghana on Wednesday she visited a hospital and toured Cape Coast Castle, a site where Africans were imprisoned before they were sent to the Americas and sold as slaves. On Thursday, she visited a school in Lilongwe, the capital of Malawi, that receives assistance from the US Agency for International Development (USAID) — a government agency that her husband has tried to slash funding for.
Remember when Trump reportedly insulted Haiti, El Salvador, and 55 countries in Africa?
Back in January, the Washington Post reported that President Trump had characterized some countries populated by Latino and black people as "shithole" countries during a discussion about immigration.
"Why are we having all these people from shithole countries come here?" the president said at a meeting with a bipartisan group of senators according to the Post, who cited people briefed on the meeting. The Post said Trump was specifically referring to Haiti, El Salvador, and African countries.
According to the report, he went on to discuss his preference for immigrants with different backgrounds.
The president walked back his comments in the days following, denying that that was the specific phrase he used but acknowledging that he had used "tough" language during that meeting. (Sen. Dick Durbin, a Democrat from Illinois who had been present at the meeting, told the press that Trump "said these hate-filled things, and he said them repeatedly.")
The African Union called his comments racist and demanded an apology "not only to Africans but to all people of African descent around the globe."
All of this is why many see the first lady's trip to Africa as an attempt to provide damage control after the president's derogatory remarks — so it's not surprising that they would come up.
President Trump, for his part, tweeted on Thursday that his wife was "doing really well in Africa."
Sourse: vox.com